You may remember my blog post called How To Get A Dog Diaper To Stay On A Pug. After finding out that without 'help', a dog diaper or baby diaper would only stay on our pug maybe 5 minutes at most, it felt like a massive relief to find that mitten clips would keep the diaper on for far longer. Since that post, we have continued to use diapers on Beans regularly. Her UTI cleared up, but she's still been having accidents perhaps once or twice a week. We just keep a diaper on her 24/7 to cut back on laundry and messes.
With just using the mitten clips on the diaper, we found that we'd have to pull her diaper bag up into place perhaps twice a day. On rare occasion (perhaps a couple times per week) the diaper would begin to sag enough in the front/belly area, that one of her legs would come out, even. Still, this felt manageable, just imperfect. We knew the answer would be to have something to hold up the belly portion of her diaper because that is where it would start to sag.
The bottom of her harness comes down just about 2 inches from the diaper though, so mitten clips were too long and loose. We thought we were just going to let it be, but then we were at Five Below and saw some suspenders for $5. They were highly adjustable claiming to be 'one size and I realized the clips look like the same as those on mitten clips. We decided to buy a pair of the suspenders in pink. We tried putting the suspenders on her like this: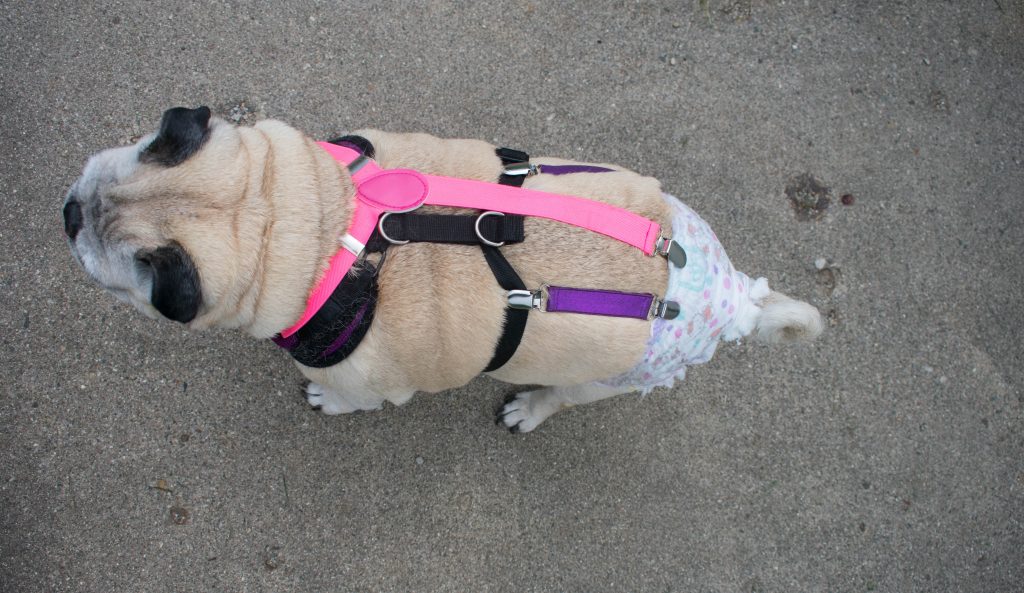 The two front straps of the suspenders go down around her neck, then tuck into her harness, and clip to the diaper under her belly.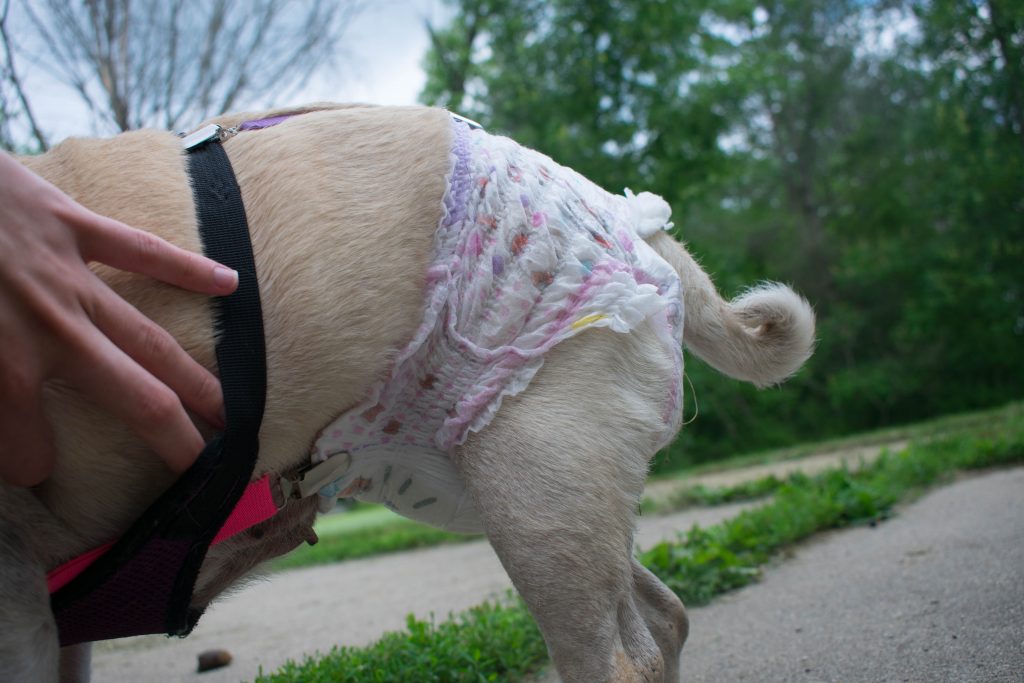 This worked great for about 2 days. By great I mean, the diaper stayed up on her butt perfectly, not sagging a bit! On day 3, the clasp that ran down her back totally gave out. On closer inspection, Ryan noticed it got bent somehow, leaving it gaping open. It would no longer shut tight enough to stay in place. The belly clips were still working great, so we tied the back strap to her harness and used it that way for a week or so.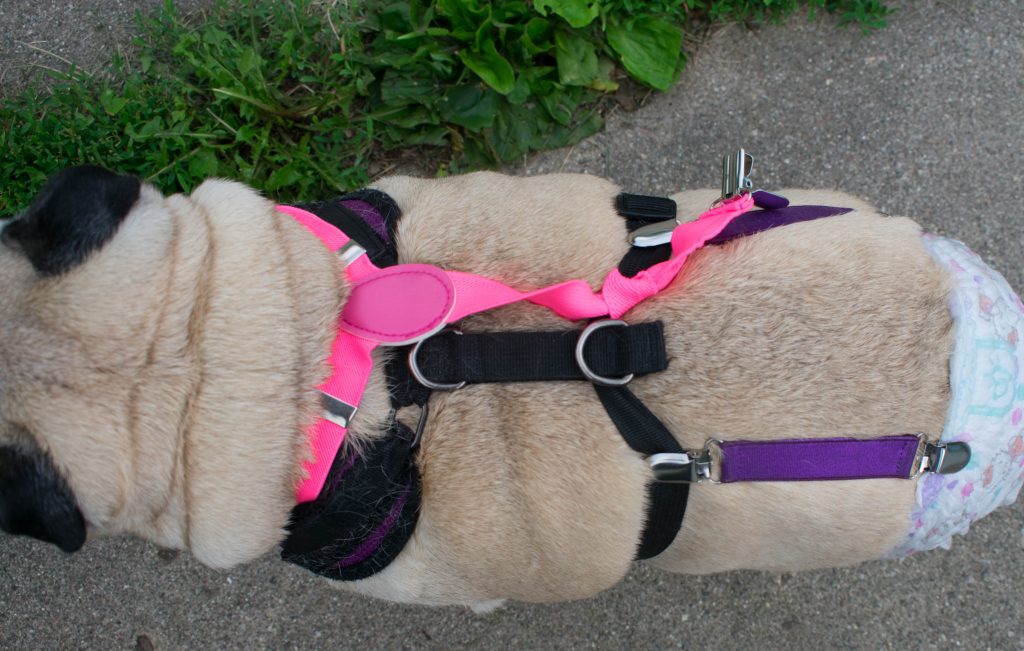 From there, I decided to look on Amazon for some new suspenders of higher quality. The old suspenders from 5 below were totally downsized as small as they would go. I measured how long teh suspenders were from the bottom to one of the ends and they were 23 inches. I knew the difference between the flimsy mitten clips and strong mitten clips were the 'teeth' in the clasps. These pink suspenders didn't have any 'teeth' in the clasps, so I set out looking for child-sized suspenders with teeth. I found these ones which come in several child-sizes. The toddler size was said t measure at 23.6 inches which was perfect, so I ordered them.
When tehy arrived at first I thought they would be too small. The strip of elastic from the back of the pants to the center divider is much shorter on these than it was on the pink suspenders. There was no way we could clasp these to the back of the diaper, and have them reach up over her shoulders and down her belly. So instead, we clipped the back strap to her harness and then brought them over her shoulders. We were able to adjust the length of the shoulders about 4 inches each, and then they fit just fine! If I were to order over again, I would probably older some designed for an older child so that we could put all 3 clips on her diaper. The measurement listed seems to be the max length so remember you can shorten them if need be.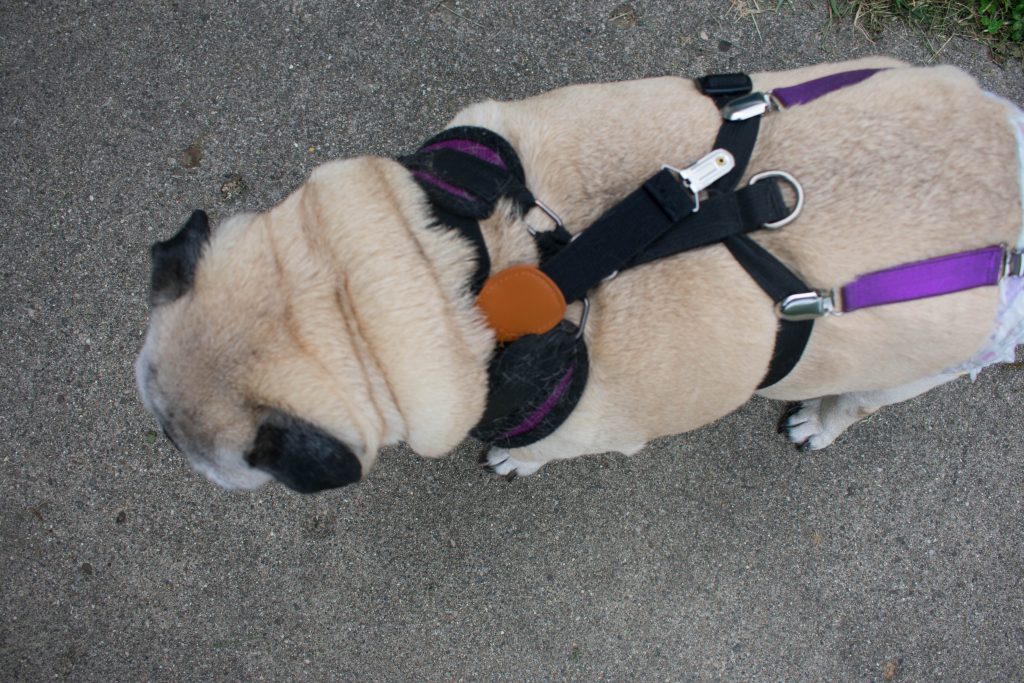 We've been using these for about a week and we haven't had them come loose from the diaper even one time. The clasps are difficult to open, I often use two hands, because they are so forceful. We have left her home alone and come back to her still wearing her suspenders and with her diaper perfectly in place. I am confident this is the full solution for keeping a dog's diaper on…at least if you are lucky like us and your dog doesn't try to bite it off or something!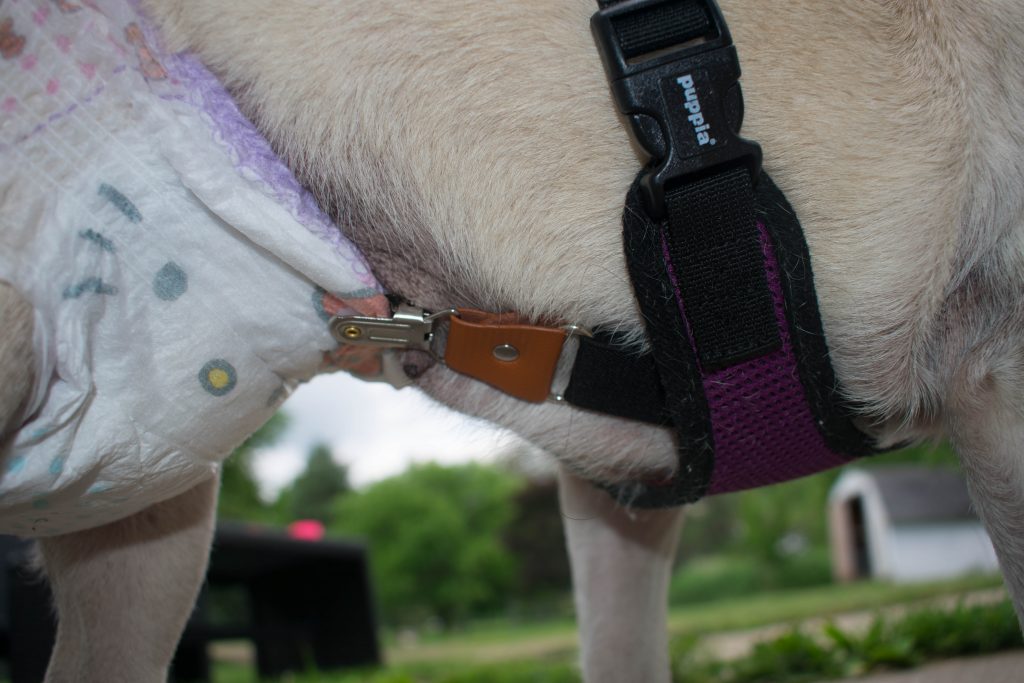 Here are the mitten clips we like and the suspenders we LOVE.
See more posts like this:
Pets