There are affiliate links in this post.
Beans is 14 years old, and has been prone to urinary tract infections since we got her when she was 9 years old. Early on she only had 1 or 2 per year, and the last year or so, she's had them almost non-stop. We have been working closely with our vet and are now trying hormone pills to hopefully assist. However, when she has UTI's she sometimes has accidents. It's sad because she wills tart peeing and keep walking at first, and then jerk around and see what is happening. It's very clear that she doesn't realize it when she first starts to urinate. While we know it's not her fault, it's still very unfortunate to have accidents in the house. We decided to figure out diapers for her until or unless the hormone pills keep her from having accidents anymore.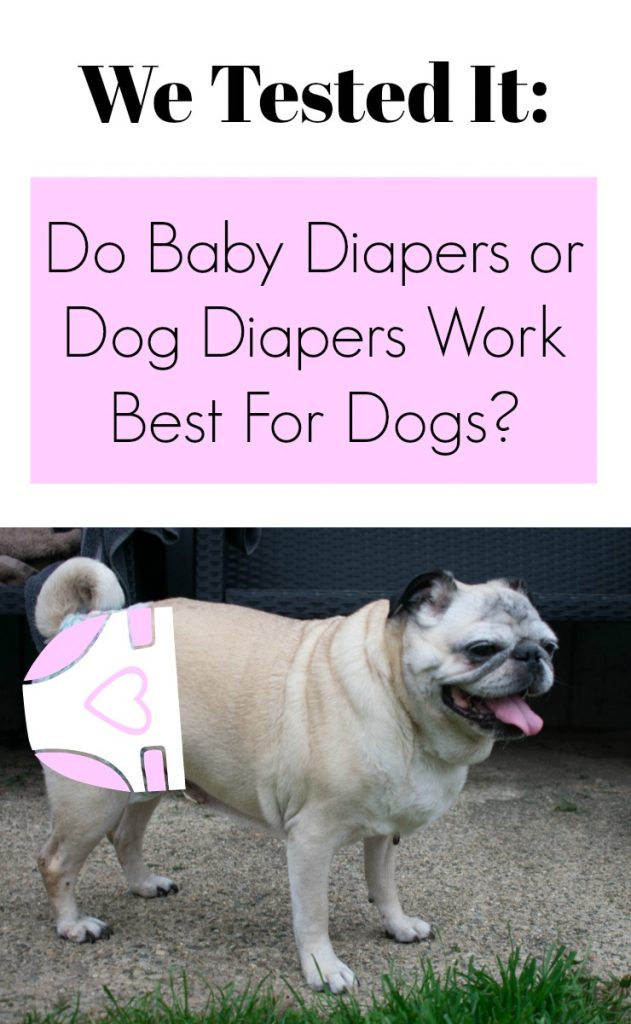 At first we tried buying dog diapers. Beans weighs 24 pounds which makes her a bigger pug. Her waist (measured just in front of her back legs) is just shy of 21 inches. So at first, we bought size medium Paw Inspired dog diapers for female dogs on Amazon. They are based on waist measurement and claim to fit up to 21.5 inch waists. This is what they look like on Beans.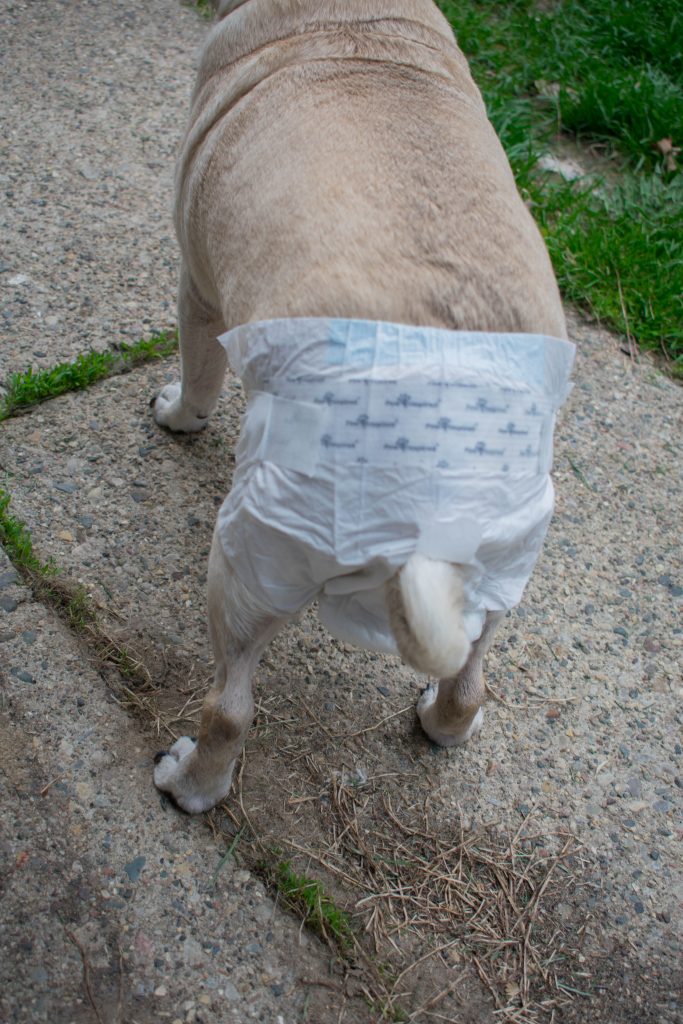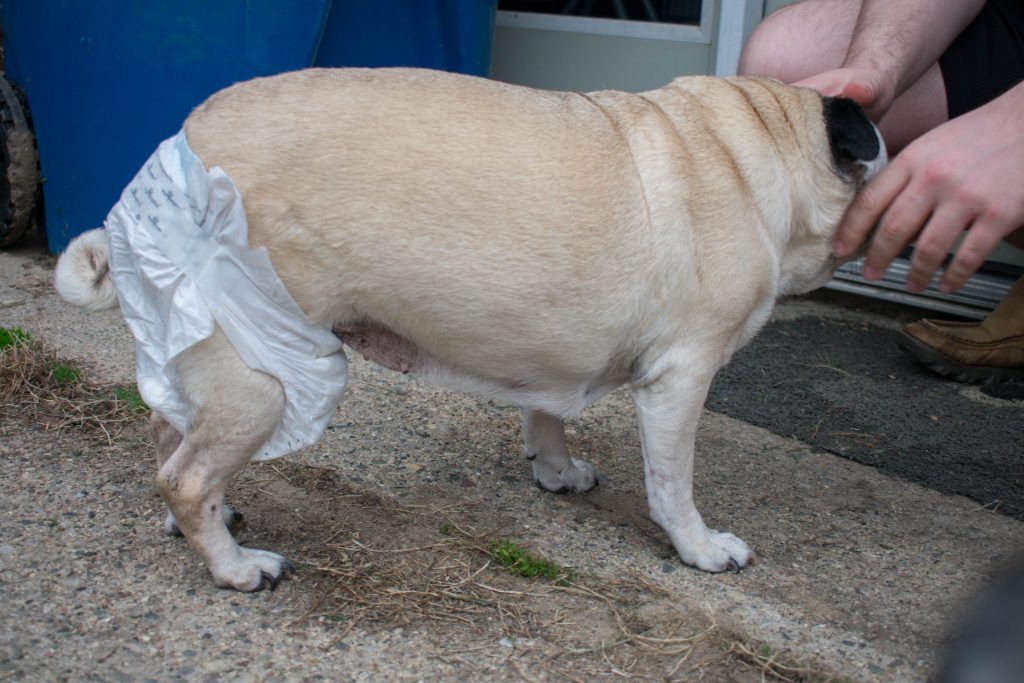 As you can see, these do not fit beans very well. This is what the diaper looked like after I put the diaper on her in the kitchen and she walked 6-8 feet outside with me. Less than 2 minutes time and it had drooped this much. The front portion of the diaper is quite thick which I imagine would make them very absorbent. However, it also makes them bunch up a lot. They have a pre-made tail cut out which is handy, and the tabs are on the front of the diaper and pull backwards (so the reverse of how baby diaper tabs are located). This is nice because you can pull the tabs onto the back and stick them which is much easier to see than sticking under the dog's belly. They just don't seem to stay up on her back/hips well at all. I debated if she would fit better in a size bigger diaper, that went further up her back, but I imagine that would also mean more fabric between her legs. This pack was about $9 for a pack of 12 diapers.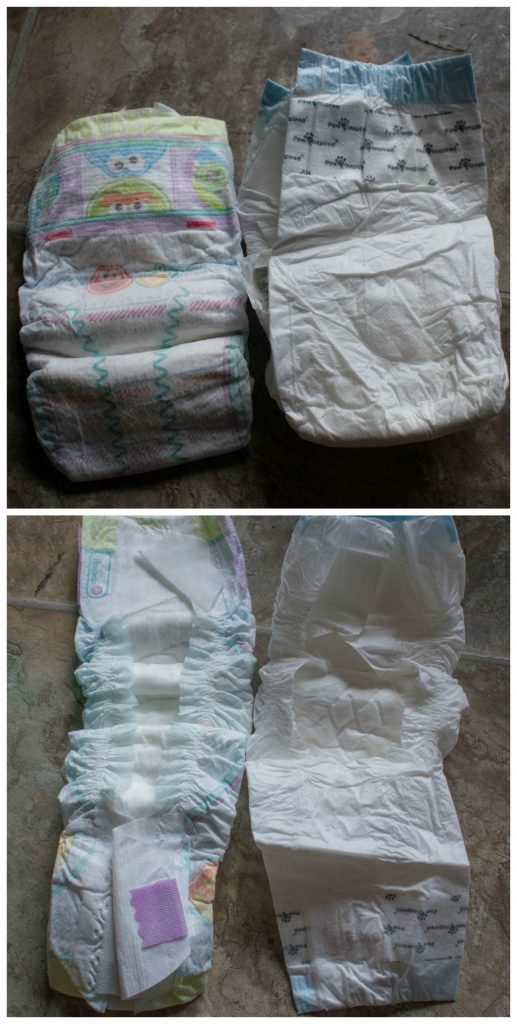 I started looking online for baby diapers for pugs. I read on a pug forum that pugs fit a baby diaper size 2, and that pampers fit small dogs very nicely. I went out and bought some size 2 pampers and they were too small to even get the tabs to stick! They were clearly way too small, so I decided to see if size 4 baby diapers would fit my pug instead. These look much closer to the size of the medium sized dog diaper as you can see above. The left is a pampers cruisers size 4, and the right is a dog diaper size medium.  This is how the baby diapers fit on my pug: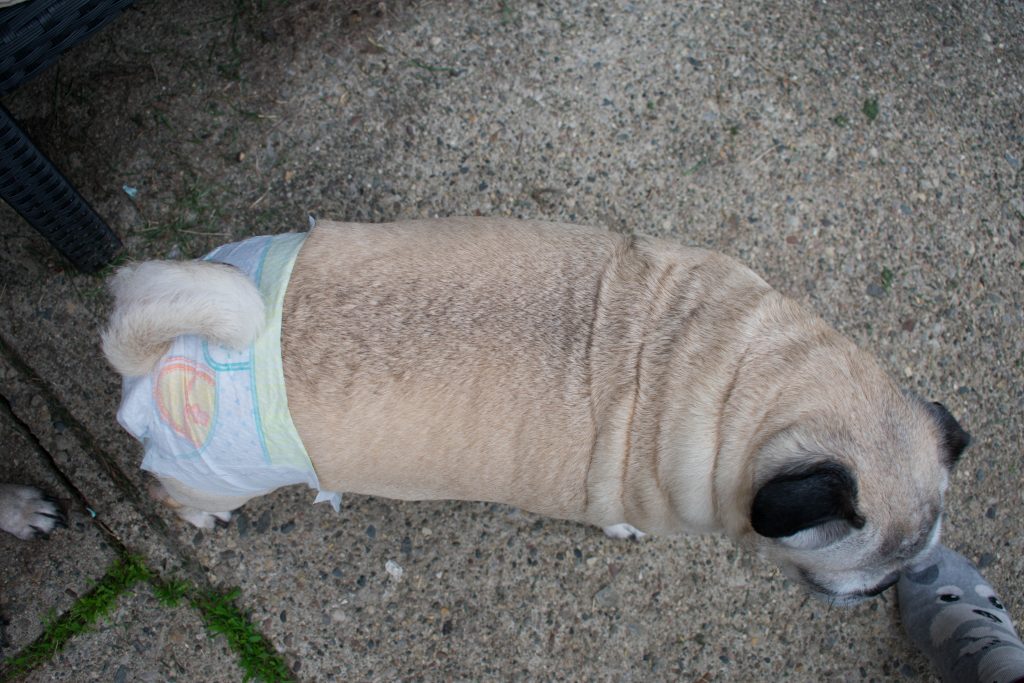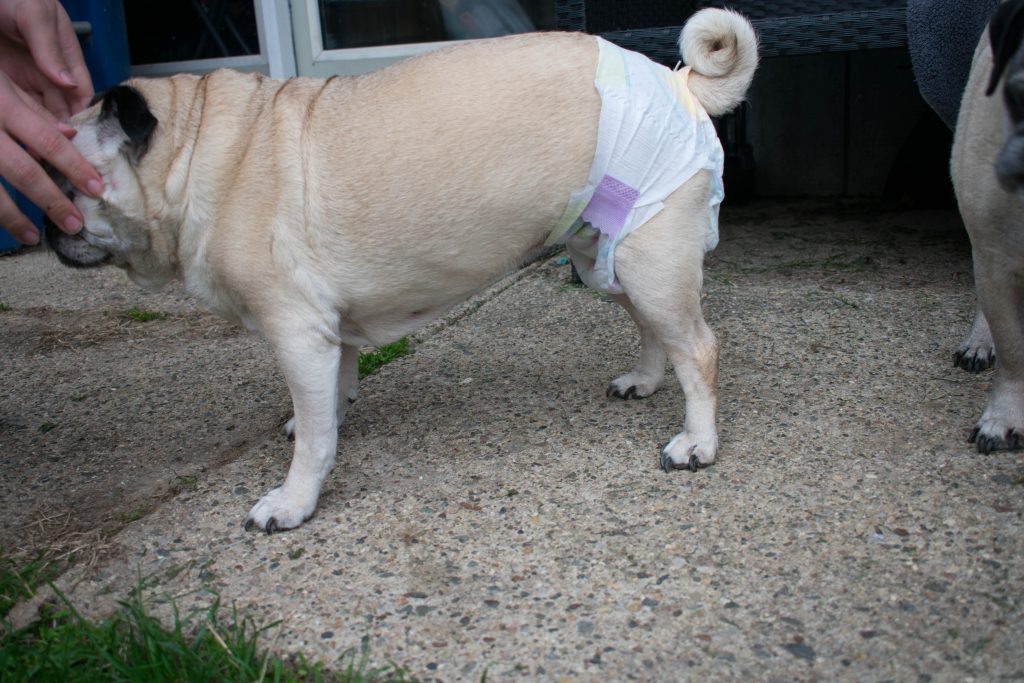 The pampers cruisers are quite similar in size. The tabs are designed for a baby so you do have to pull the tabs under your dog's belly which is a little tricky. There is also no tail hole, of course. The first time I just tried putting the diaper on the dog quickly to mark a place, and then cut a hole. I've since realized that I want to cut the hole about 2 inches up from where the curved "fake stitch" line on the diaper design stop. (photo below). I cut a bit more than an inch wide, and then snip in the center, up and down a little bit (maybe 1/4 t 1/2 of an inch) and that works well for my pugs tail. Baby diapers are much cheaper than dog diapers. Pampers Cruisers size 4 were $8.50 at my local store, for a 24 pack. So twice as many, for 50 cents less!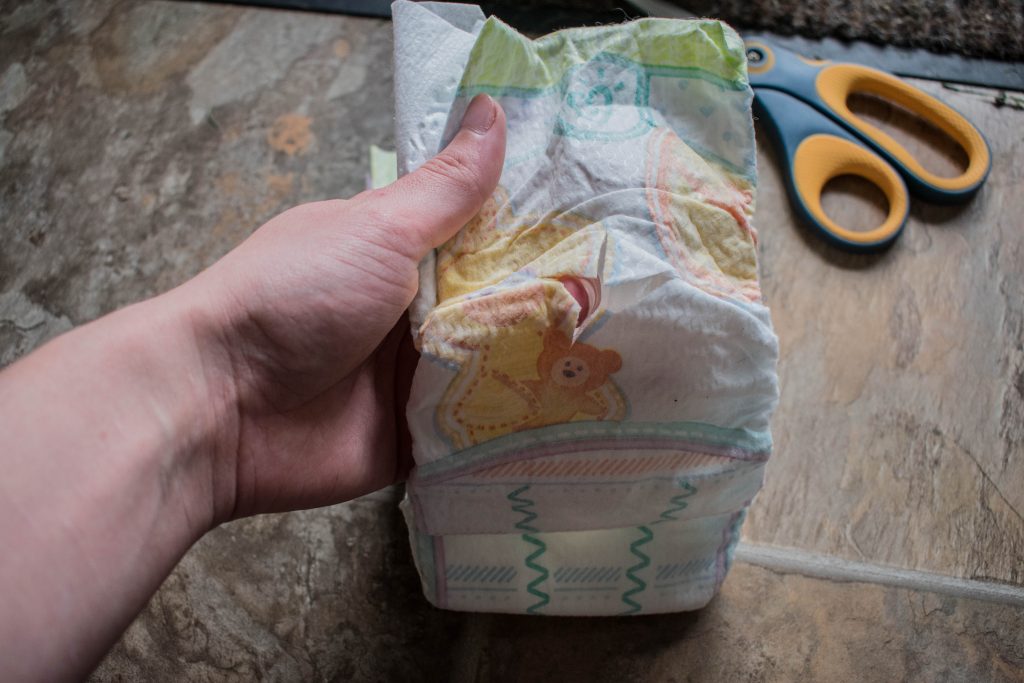 We've also tried pull-ups for dogs.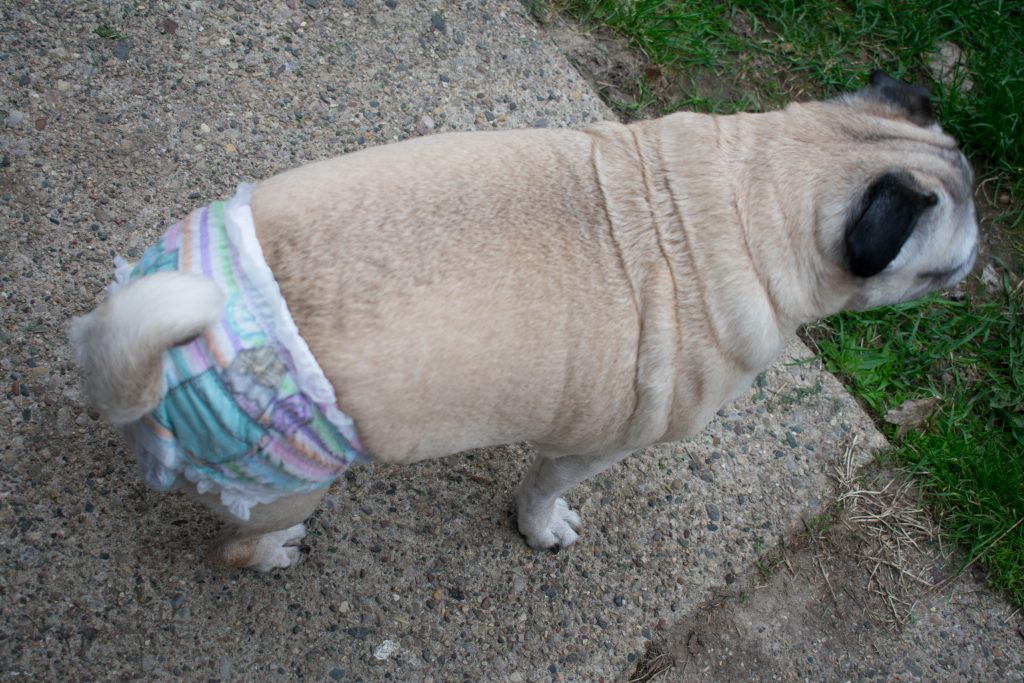 We bought Pampers Easy-Ups because there was a $3 off coupon. The sticky tabs on diapers can easily come off if a dog moves around a lot. Or, if you are like us, and need to take the diaper off and on multiple times per day so the dog can still go potty outside. The benefit of using pull-ups for incontinent dogs, is there is no tab to come undone, or t lose it's stick. Pull-ups and easy-ups have a WIDE elastic band, designed to be elastic over the whole area of the child's hips/sides. On dogs, this means there is elastic over their hips and lower back.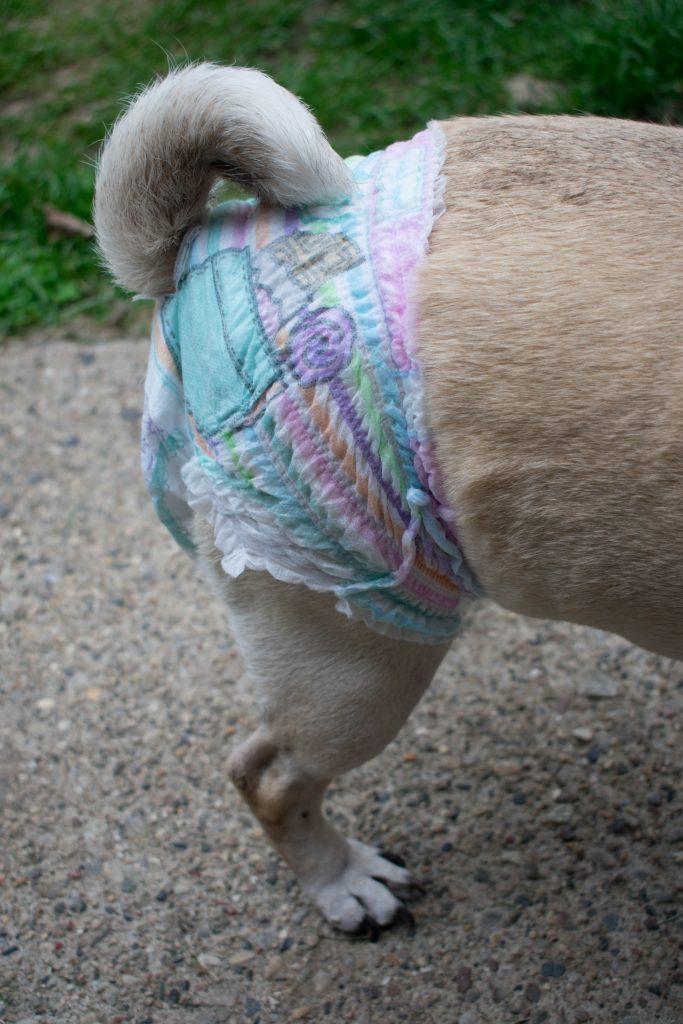 We bought size 3/4 easy-ups, and these are a bit too big for my 24lb pug. We've made them work for now, but I plan to buy size 2/3 because after extended wear, the belly side doesn't stay tight against her anymore which is why I feel they are too big. If your dog is too small for size 2/3 easy-ups or pull-ups, Huggies makes "slip on diapers" or "diaper pants" that are available in sizes 3-6. The easy-ups are the biggest diaper we have tried so far, yet they seem to droop the least in the belly/underside area which I find interesting. They are $9 for a pack of 22 in the 3/4T size, so about the same price as the regular Pampers diapers. They stay on longer than any of the diapers, but they can still fall off if she lays around and stands up multiple times. We found a solution for keeping dog diapers on all day long, regardless of which diaper or pull-up option you go with. Check out my post How To Get A Diaper To Stay On A Dog for that info.