I purchased my custom cross stitch pattern on my own using my own money. This is not a partnered review or sponsored post. I just loved this service and thought that custom home cross stitch patterns would make an excellent memorial gift or grief gift for others, too. I just wanted to spread the word about this unique memorial gift idea. There is an Amazon affiliate link in this post. 
A year after my grandfather passed away, I was browsing Etsy looking for gift ideas for my mom. About six months prior I had started to learn how to cross stitch. I had purchased cross stitch patterns on Etsy so I think their algorithm probably knew I was into cross stitching. It was a couple of weeks before my mom's birthday so I didn't have a whole lot of time, and wasn't planning to make anything. However, when I came across an Etsy shop listing for a custom home cross stitch pattern, I instantly fell in love.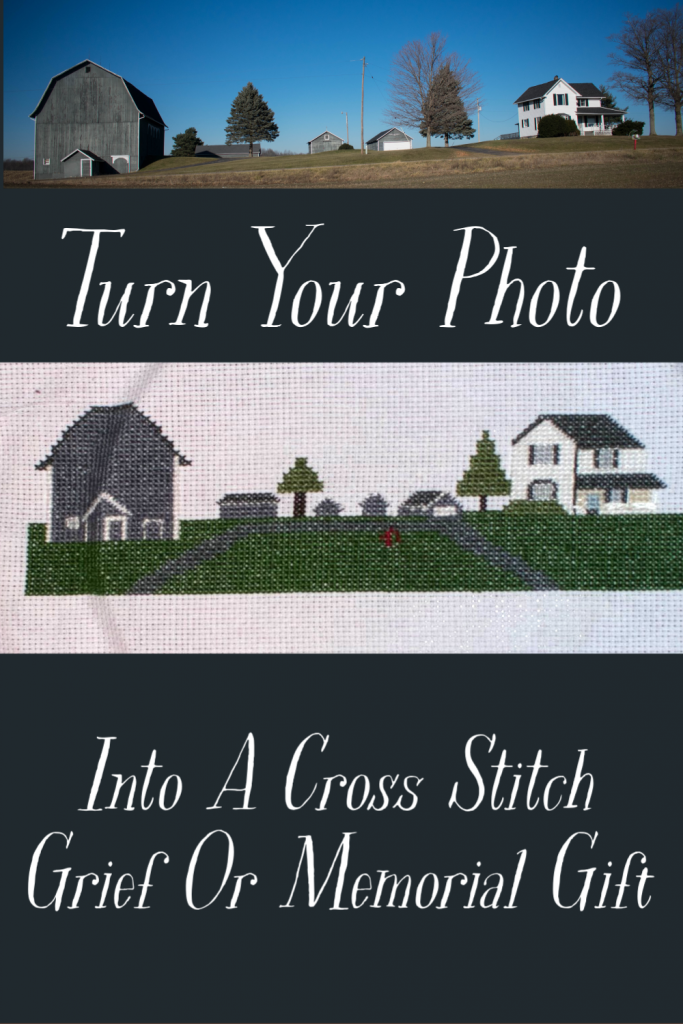 My grandfather's farm was in the process of being sold. He had bouht his farm a year before my mom was born so the sale of the farm was difficult for all of us, but especially her as it was her childhood home.
The custom home cross stitch listings were said to make great moving gifts or housewarming gifts. I can definitely see these making awesome gifts in those cases. However, my first thought was, what an awesome memory gift or grief gift. We were a few months away from the family farm being sold, but if I had a photo of the farm turned into a custom cross stitch, it would be a great in memory gift.
It was too short of notice to try to use this for my mom's birthday present, but mother's day was only a few months away so I decided it would be her mother's day gift. I can see why it might seem depressin to some to use a grief gift as a mother's day gift. However, I knew this would be a really meaningful gift for my mom. I also know that ever since her own mom passed away, mother's day is always a little bittersweet for my mom. Personally, I think it's okay to acknowledge that truth even on a 'happy' day like mother's day.
I really wanted to capture the entire farm instead of just a house. I saw a lot of custom home cross stitch listings on Etsy (with a huge difference in price range, by the way!) but none that were custom farm cross stitch patterns. I reached out to one of the more affordable pattern makers (PeaceAndStitches) to ask if she could create a custom pattern for an entire farm and she said she could – and for the same price as her custom home cross stitch patterns – just $7.29!
At first, I sent her photos from google street view. However, none of them could capture the entire scene in a single photo which caused some issues with creating a single perspective. So I went out to the farm, ran out into the field on the other side so that I could get back far enough to capture the entire property. Here is the photo I got.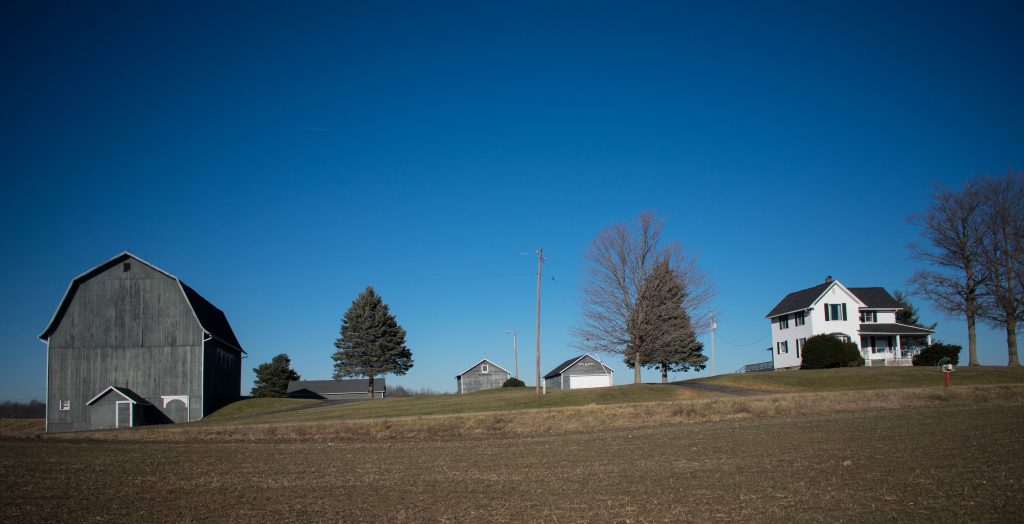 I also sent her addidtional photos of the house to capture the details of the porch area in particular. While chatting, i explained how there are currently just the house and four other buildings, but there used to be one more. We had to knock it down before selling the house. I told her where it was, and pointed it out in the google streetview photos. She said she would be able to add it into the pattern still which I was really excited about, as that building had always been there when it belonged to my grandparents. I also mentioned how these photos don't show it, but there was an old fashioned water pump in the middle of the front lawn that I'd love to have included in the pattern as well.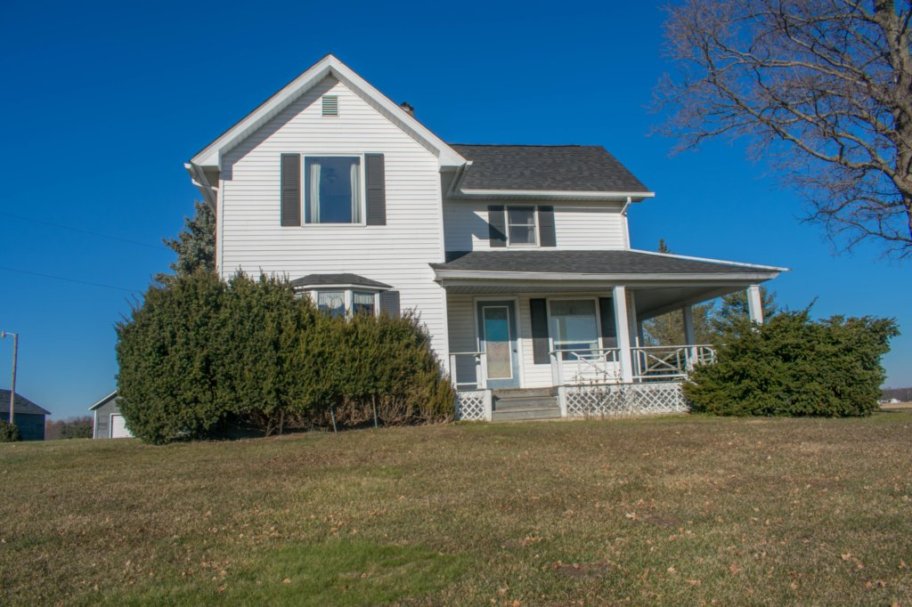 I also mentioned how the bushes have become quite overgrown as the house had sat empty for a year and a half, but I'd like to show the lower windows in full instead of having the bushes up so high.
From there, she went to work making a little graphic.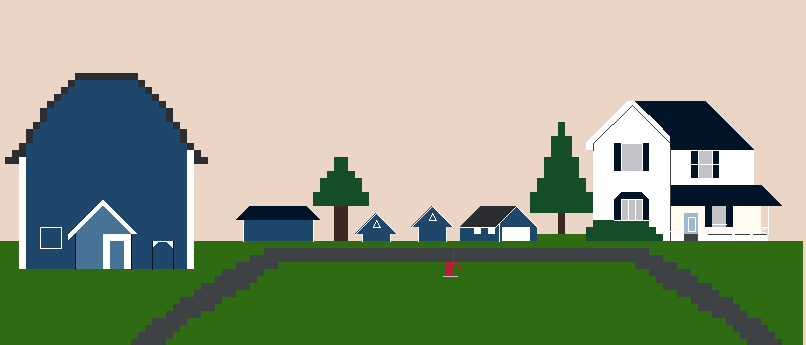 I was so excited to see this custom farm cross stitch pattern, I could tell it was definitely my grandparents' farm! She asked if I needed and changes. I said that the out buildings all seemed a bit too 'blue', I wish they were more gray. I also said I'd like the peak of the house to match the roof to help outline the house (Even though it is not that color in real life…the house just seemed too white?). I also asked for the entire barn to match in shade, and for the driveway to be pulled back a bit, because it goes down from the garage and doesn't extend that far over in front of the house. I also explained how I thought the entire porch being all white made it hard to see depth between the railing of the porch vs the house. Before I knew it, she was back with a new preview!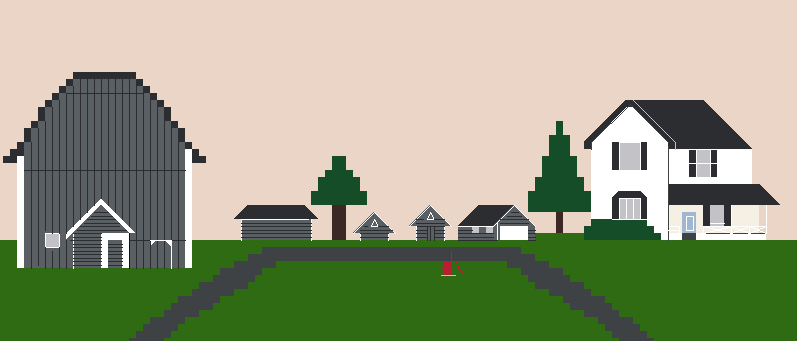 I loved it! So from there she went ahead and turned it into a full pattern for me. I don't feel it would be right to share the full pattern but it is very similar to a cross stitch pattern you'd find in a professional kit. It shows the design on a grid, with symbols in each space to let you know which spaces to fill in which colors in order to create the piece. IT includes a guide for which colors of DMC embroidery floss to get the customized look. I was able to purchase all of the floss I needed from 123stitch.com for less than $15 including shipping, and aida is fairly cheap as well. I purchased this set for $7 shipped, and only used less than 1/2 of a 1 piece. So in total I had invested around $30 in this gift but that left me with 3 additional pieces of aida as well.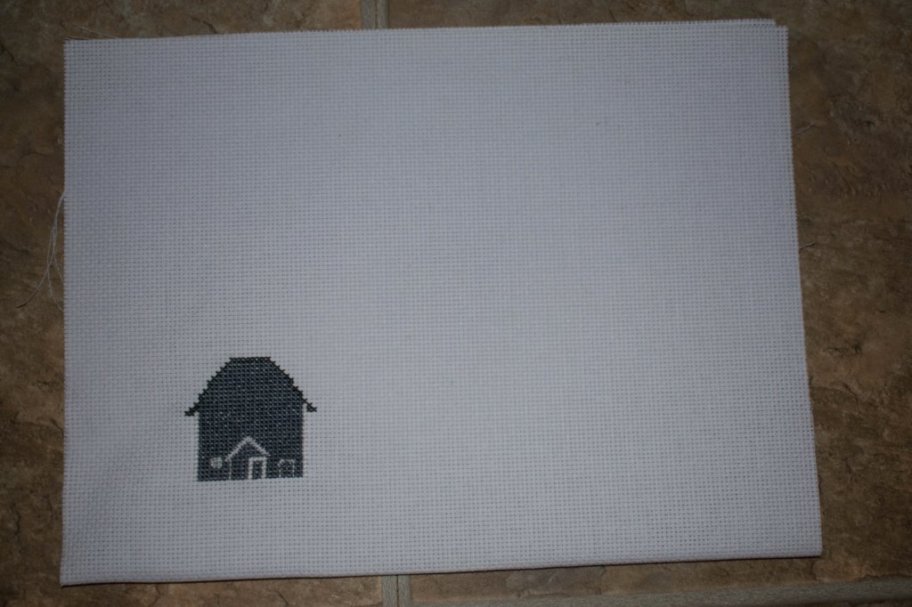 At the time, making this pattern for my mom was the biggest cross stitch piece I had completed, even though it is only about 3 inches tall and 8 inches wide. It was also my first time following a pattern that had 1/4 stitches included but I was able to figure it out without too much problem. It was quite newbie-friendly. Cross stitch in general is a great newbie craft because it is just filling in the squares with floss, for the most part. You don't have to have any drawing skills or anything of that nature.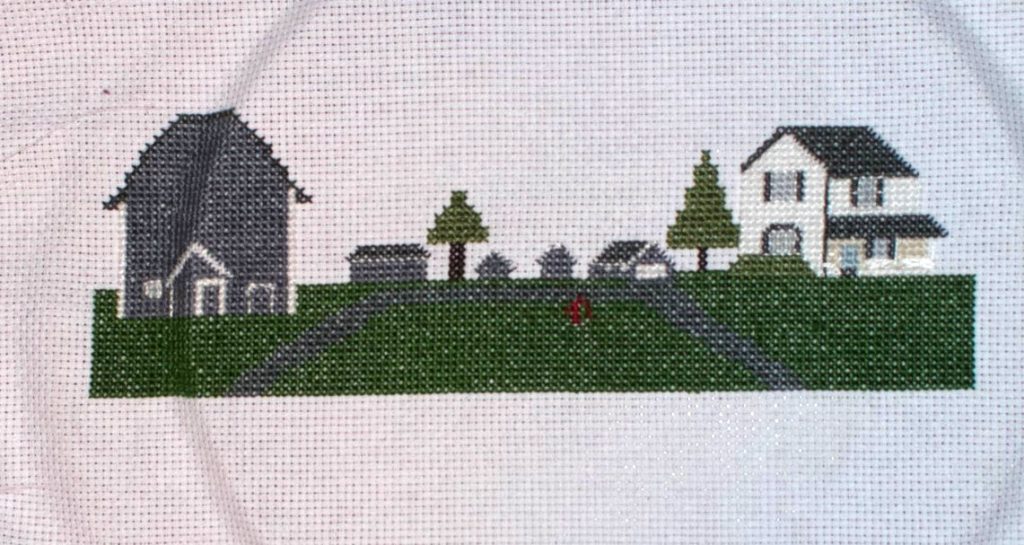 Before my grandparents' estate was auctioned, I was able to walk through their home and take any keepsakes that I might want. I found a tin of my grandmother's old embroidery floss. She had been gone about 17 years by then. I rememered her showing me how to "braid" using embroidery floss, so when I found a little braid in the tin of her floss it blew me away. It was a little piece of my childhood captured in time in this little tin. I decided to take the embroidery floss. I loved the idea of using my grandma's floss to make something new. And it occurred to me that I could find a way to incorporate that floss into this piece for my mom. What an awesome way to make this memorial ift a little more special, right? So I decided to look up a border pattern that would include some flowers because my grandma loved flowers. I knew that would give me a chance to use some of my grandma's pink floss.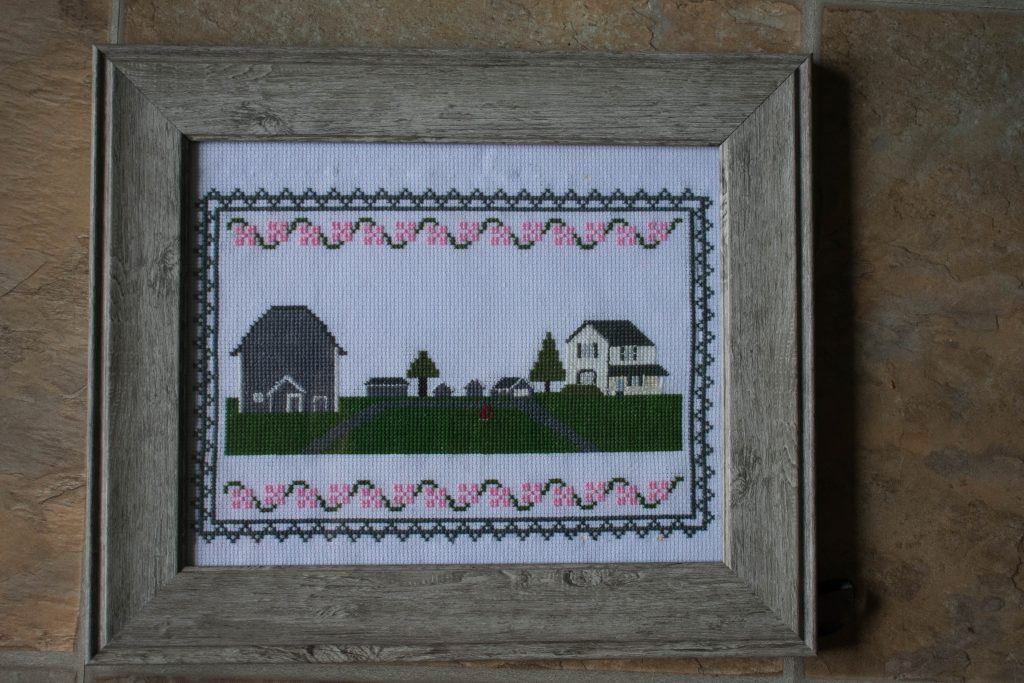 Here is my completed piece in an 8×10 frame. I was pretty happy with the final outcome! My mom loved it when I gave it to her for mother's day. If you are selling a family farm or moving from a special family home, I think these make gorgeous grief gifts, bereavement gifts, memorial gifts – however you'd like to call it. However, I also think it would work nicely as a housewarming gift for someone who just moved into a new place, too. I just love customized gifts because they feel so special. Plus, I recently used the pattern to make myself a similar piece. For myself, I used the flower border but skipped the other border. Now I get to have a keepsake of my grandparents' farm for my house, too.
The Etsy shop I ordered this from, PeaceAndStitches, is currently on haitus to catch up on orders as of me posting this in March 2020. If they aren't available when you see this post, searching something like 'custom home cross stitch' on Etsy should bring up similar shops who offer similar products. Many Etsy shop owners are willing to do custom orders so if you have something slightly unique – like my request to stitch a farm instead of just a house, message a seller and ask if it's something they could do. Many would be willing to work with you, most likely.