There is an affiliate link in this post.
It's been almost two years that I've been following the curly girl method now! My hair will have a true curl (ringlet) or two on it's best days, but it's primarily wavy hair not curly hair. Though most people don't really differentiate between the two – if hair is clearly not straight most people call it curly. I get comments about my 'curly hair' all the time.
In my almost-2 years of following the curly girl method I've experimented with different products, but gel or other products with hold is the area where I have experimented the least. I tried the $2 a bottle LA looks gel early on and it worked just fine for me so I've never really seen a reason to try other gels for the most part. However, I recently got reading the /r/curlyhair subreddit and found a few posts from fellow wavy haired curly girls discussing how much better mouuse works for them vs gel. In general, wavy hair seems to get weighed down more easily than hair that is truly curly. Mousse is more lightweight than gel so it can sometimes provide better results than gel for people with wavy hair. However, many wavy-haired people also have thin hair, while mine is thick both in density and in individual strands (I had microscopic hair analysis done so this is confirmed, not suspected).
I decided to test it out. Mousse vs gel for wavy hair. Which is better?
I looked up some curly girl approved mousse options and looked at my local store. I wasn't able to find the real cheap herbal essances totally twisted mousse at my local Meijer. That is commonly recommended for trying out mousse because it is curly girl approved and very cheap (around $4). I did find Not Your Mother's Curl Talk Mousse for about $8 and decided to give it a shot. I absolutely love Not Your Mother's Naturals ahitian gardenia flower & mango butter shampoo, so I thought I'd see what the brand had to offer in the way of mousse even though this is a different line.
Here is my hair one day a recently after using my regular LA looks gel.

I read others say that while gel works best on dripping-wet hair, mousse seems to work better on very damp but not soaking wet hair. So the first time I tried the mousse, I didn't use it upside down after finishing my shower (which is how I would use gel) but instead got out of the shower and got dressed before adding the mousse. I air dried, which I never do with gel because gel makes my hair take 10+ hours to dry so it's just not an option. But with mousse, I wanted to see if I could air dry. Here are the results that I got:

I wasn't happy with these results. Even after scrunching out the crunch, my hair felt hard and looked wet, hard and/or greasy. My scalp even felt a bit sticky so I knew I had used too much mousse. I found it was harder to tell if I had covered an area of my hair with mousse, where with gel I can feel my hair to see where it's at. Once you scrunch in mousse, it feels like nothing. However, I also didn't like how small my curl clumps were, and how stretched out my hair looked. I decided to go against what I had heard worked for others, and to tryr adding mousse to my hair upside down shortly after getting out of the shower to see if that helped me get biger clumps. I also decided to diffuse upside down to try to get more volume, and to see if drying my hair a bit quicker would keep my waves/curls from getting stretched out.
So in short, the second time of trying mousse I applied it shortly after leaving the shower, I applied it upside down, and I diffused for about 20 minutes. This left my hair perhaps 50% dry. I let it air dry the rest of the way. Here are my results the second time:

This time my hair had more volume, was less stretched out, I was able to scrunch out the crunch to get rid of the wet look – and I got more spirals! I was happy with these results. I think they were on par or slightly better than the results I get with gel.
Here are a side by side of mousse vs gel for wavy hair.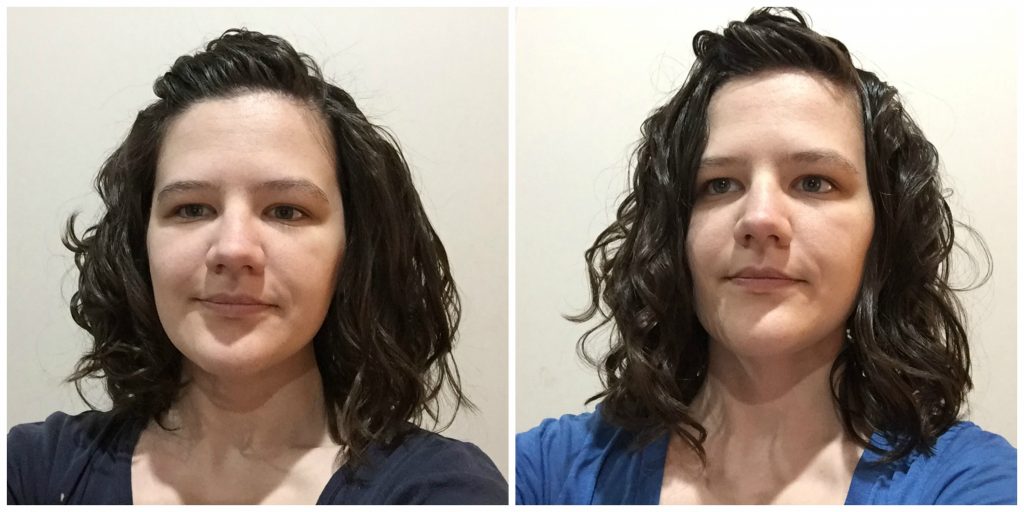 So far, it seems that the mousse results do flatten out quicker than the gel. With gel, I don't usually refresh my hair at all. With mousse, my hair loses its definition by the end of the day or by the next morning even if I pineapple my hair at night. If I were to regularly use mousse, I'd have to wash my hair more often. However, saving the diffusing time is a huge bonus for me. With gel, I have to diffuse over an hour. I can definitely see myself using mousse on days when I want my hair to look good but don't have the time required to use gel and diffuse for a full hour.
If you have naturally wavy hair and follow the curly girl method I'd love to hear what you think. Mousse vs gel what works better for your hair? If you do find that mousse works best for wavy hair, do you diffuse after using it or air dry? How do you apply it? What type of mousse is your favorite?