There are affiliate links in this post.
Starting the curly girl method can feel a bit overwhelming! I did a lot of reading before I jumped in, and I've done a lot of googling since then! I like being frugal when I can, but I don't want to compromise too much quality. I tried doing an extremely cheap curly girl routine to start, but I just could tell that some of the products were not working out well. I've since switched to some products that are a little more expensive but have a big jump in quality. If I could go back, I would start with these products instead of going with the super cheap ones. So, let's get to it. Here are what I recommend for an affordable way to start the curly girl method. Granted, this is not cheap compared to a simple hair care routine. However, I've managed to avoid high-end products which seems hard to do in the curly girl world!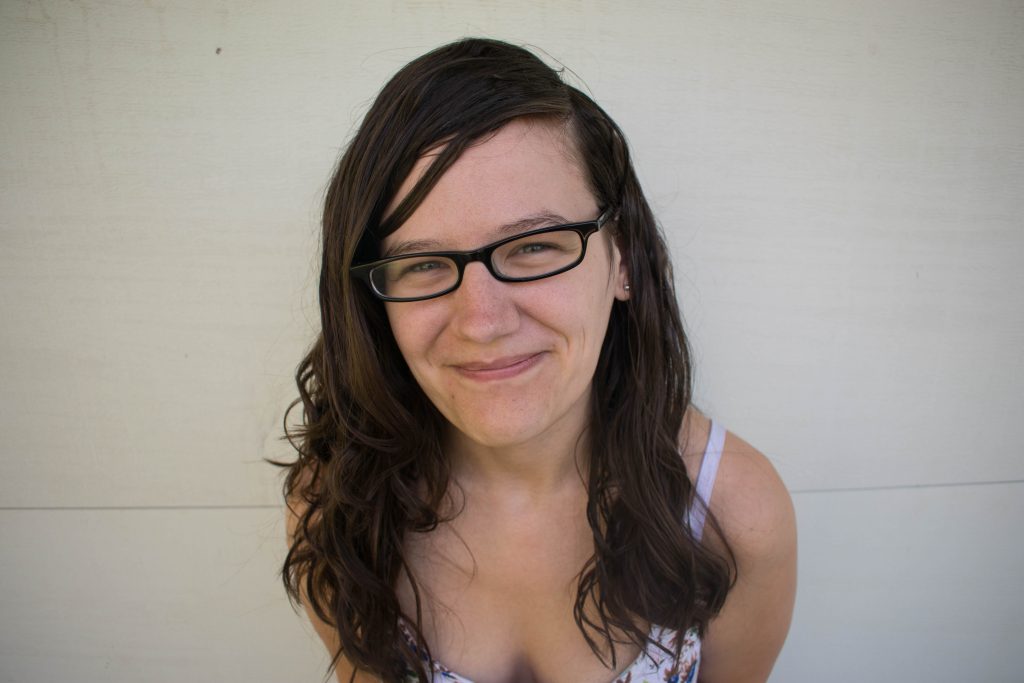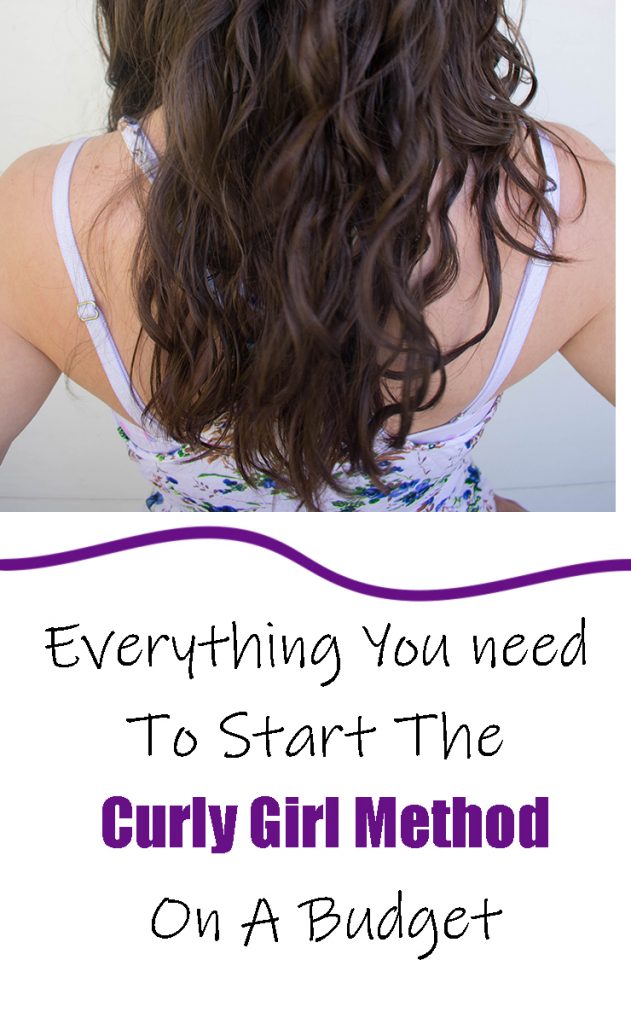 Before starting the curly girl method you need to use a clarifying shampoo to strip the silicones out of your hair. This is one I feel very comfortable going cheap on. I used Suave daily clarifying shampoo. I have been using this about every 3 weeks since then because even without silicones, I get some build up due to having hard water.
If you want to use a low-poo I would go with Not Your Mother's Naturals coconut milk and african marula tree oil shampoo. EDIT – I've since tried Not Your Mother's Naturals Tahitian Gardenia flower & Mango butter shampoo and love it even more so I'd now recommend that variety. This is available at my local Meijer so you can probably find it 'on the ground' in your area. It is $8 a bottle at my store. This is a really 'light' low-poo, so if you have wavy hair it will not weigh down your waves like heavier products will. I started with Shea Moisture shampoo but it was too heavy so I've since donated that to my mom who has curlier hair than I have and can probably handle the heavier oils in it.
If you want to go with a cowash, I recommend As I am Coconut Cowash. This is available at my local Walmart and Meijer for around $9 for the container. I was scared of co-washes at first because I read that wavy-haired curlies tend to get greasy hair if they co-wash. With this cowash, I do not get greasy hair and I feel like my hair gets clean enough at last with occasional use. I still am a little nervous about exclusively using a cowash so I rotate between the Not your mother's naturals shampoo and this. EDIT – I now prefer to just use low poo full time as my hair feels cleaner that way. I'd still recommend As I Am cowash to those looking for an affordable cowash though.
For a conditioner, I absolutely love Great Value Products Conditioning Balm which is made by Sally Beauty. I live in a rural area so it's not super convenient for me to get to a Sally's. It's about twice it's usual price on Amazon so I didn't want to buy it there. However, after trying the really cheap options (Suave essentials and v05 herbal) conditioners and seeing the dramatic difference, I am hooked. This is about $6 a bottle and I use about 1/2 as much of it, as I did of sauve essentials. I used a bottle in about a month, and I already placed a new order on Sallybeauty.com. They had a deal on haircare products that was buy 3, get $5 off, automatically removed without a coupon code. I bought 3 bottles which was originally $21 or so. Then I also used a coupon code for $3 on a $10 order, so I got three bottles shipped to me for about $18, roughly $6 a bottle which is what it costs in store. If there is one product that I know is my "holy grail" curly girl product so far, it is the GVP conditioning balm. EDIT – this is still my #1 favorite conditioner, but Tresemme Botanique Nourish and Replenish Conditioner is almost as good and much more readily available (it's at walmart, target, etc for just under $6 for 25oz). If you don't have a Sally's nearby, I'd recommend the Tresemme Botanique.
The curly girl method recommend only coming hair when your hair has conditioner in it, in the shower. No other time! Some simply finger-comb their hair but I hate the feeling of wet hair between my fingers. I tried a few wide tooth combs that worked okay, but they left me with stringy curls. I went looking for an extra-wide tooth comb and came across Cricket Ultra Clean comb set and I LOVE the shorter one in this set. It has wider teeth than any of my other combs, and they come to a point. I don't know exactly what it is that makes this comb work so well, but it detangles my hair so easily. Well worth the $5.
The only leave-in conditioner I have tried is kinky curly knot-today leave in. It seems to work well, it smells nice. But, I haven't tried any others for comparison. My bottle has lasted me over 2 months already, but I've heard As I am leave-in conditioner is also great and it's slightly cheaper. EDIT – I did try the As I Am leave-in, I didn't really see any difference between the two so I'd use whichever you can find or get a better deal on.
Gel is another one where I have been fine with my the really cheap option, LA Looks gel is about $2 a bottle and can be found at Walmart and Meijer. The LA Looks max spikes gel (rated a hold of 12+ and greenish) does not have glycerine, while the others (sport which is blue, or mega which is yellow) do have glycerine. Glycerine can react poorly to humidity so I've found that the max spike works best for me here in Michigan in the summer. The blue sports gel with glycerine was sticky n humid days, so I am holding onto what I have left of the sports version to use in fall or winter instead.
Deep conditioners. This is something I didn't read much about when I was first learning about curly girl method. If you currently have a lot of frizz, your hair probably needs lot of moisture, so deep conditioning regularly (once a week or so) until your hair gets back to being healthier is a good idea. All of the curly girl youtube channels that I follow who recommend deep conditioners recommend really high-end ones that I just can't justify spending money on. So far I have tried Maui Moisture Strength & Anti-Breakage + Agave Nectar Hair Mask and SheaMoisture Jamaican Black Castor Oil Strengthen & Restore Maque. I honestly don't see a big improvement in my hair after using either of these, just a mild improvement. I've been applying them in the shower once per week and then leaving it on for 30 minutes before rinsing out. I think the SheaMoisture one leaves my hair feeling a bit more conditioned than the Maui but I won't be repurchasing either. Still, if you want a cheap ($5-$10) deep conditioner they are good to start with and it's definitely better than not deep conditioning at all.
For deep conditioning, you'll want a shower cap. I bought mine at Meijer for around $7.
When doing the curly girl method, you'll want to leave your conditioner on your hair in the shower for several minutes before rinsing it out. I like t use a big, sturdy hair clip to hold my hair out of the way during that time so I can shave and wash my body and so on. This clip is huge and strong. Even before I had my haircut (when my hair was almost down to my pants!), this held all of my hair in place. Well worth the money, especially if you have long and/or thick hair.
I had never been a hair clip person when my hair was straight/poofy, but now that it is wavy, I find that my waves/curls get in my face, so I have to clip them back. If it's just a tiny curl, I use tiny clips, if it's a larger piece, I use a slightly larger clip and place it farther back on my head.
To avoid frizz and to protect your hair at night, you'll either want to buy a satin pillowcase or to wear a cap. I don't like the feeling of satin on my cheeks/face, so I've been using bonnets at night. I bought one that ties, and one that is elastic. The elastic one was too tight on my head and gave me headaches, so I took scissors and snipped it a tiny bit in back, and now it is big enough to not give me headaches, and it still stays on tight. I like it better than the one that I have to tie because it stays on tighter.
Curl clips. If you have wavy hair, you are likely to find that your curls don't start right at the roots, and so your roots and perhaps a few inches downy our hair will look flat. When using gel, this hair can even stick right to your scalp! The answer to creating volume near your roots is curl clips. I bought cheap ones on Amazon and they work well.
If your hair takes a long time to dry, you'll probably not be able to let it air dry, in which case you'll need a diffuser. The XTava diffuser is not universal, but it fits on blow dryesr that have a 1.8 inch barrel which most of the top-selling blow dryers do. It fit on the blow dryer that i've owned for years, but measure yours to be sure.
If you're on the curly girl method and have found affordable products that you work really well for you, leave them in the comments below. 🙂