Ryan's family has a bit of a family tradition for Mother's Day. They go camping at the Muskeon KOA campground. It's really close to Michigan Adventure, but their tradition is just to hang out to the campground itself. On Mother's Day weekend they run a special deal, where if you buy one night, the second night is just $10, regardless of what type of site you get. We got a lot that was just for a tent, because animals aren't allowed in the cabins. Ryan's mom rented a regular cabin, and Ryan's one brother rented a cabin that includes a bathroom and shower.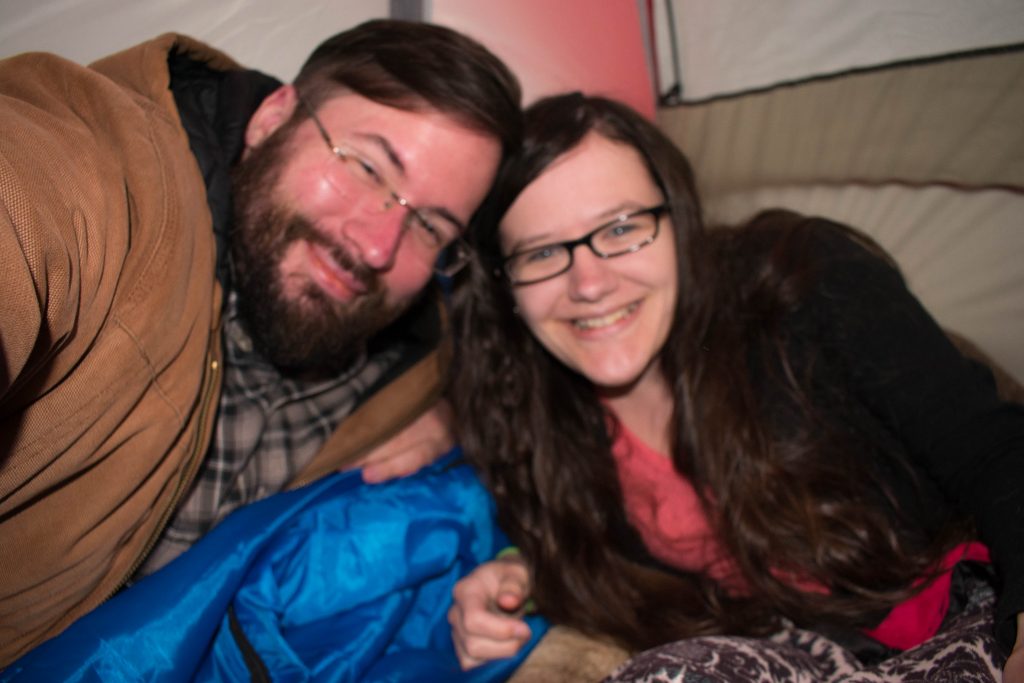 Staying warm under blankets in our tent! 
We stayed Friday and Saturdy nights. I was unseasonably cold. It stayed 42-45 degrees the whole day/night and was windy and rainy. This made for rough camping in the tent! Our tent was right up against the water though, as was my mother-in-law's Cabin. It's a nice, relaxing view. Saturday stayed more like 45-50 degrees, which was still quite cold for May in Michigan, but we wore coats and went fishing (catch and release only), jumped in the jumping pillow, checked out the playground and went on walks.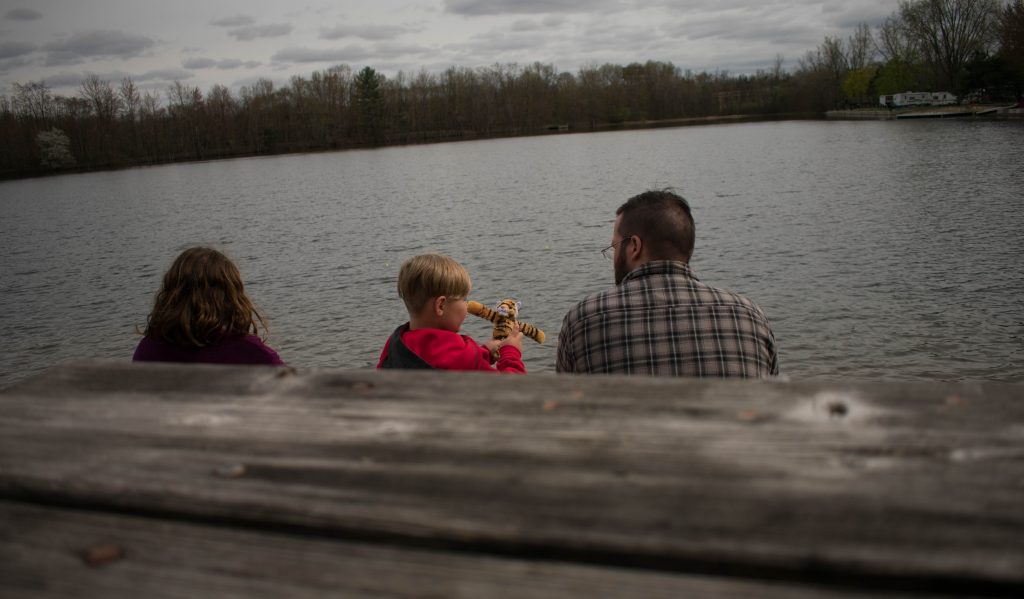 I had never seen a jumping pillow before. When the air is on, it forms a hill that kids can jump on. We stopped by it multiple times with my niece and nephews and there were always groups of kids enjoying it.

There is a zip-line over by the playground that was also a huge hit. It needs to be tightened though, it sags heavily under the weight of kids. Kids older than about 8 found that their weight pulled the zipline too close to the ground to keep moving! It was interesting to see the highway so close to the playground because the camping area feels rather secluded.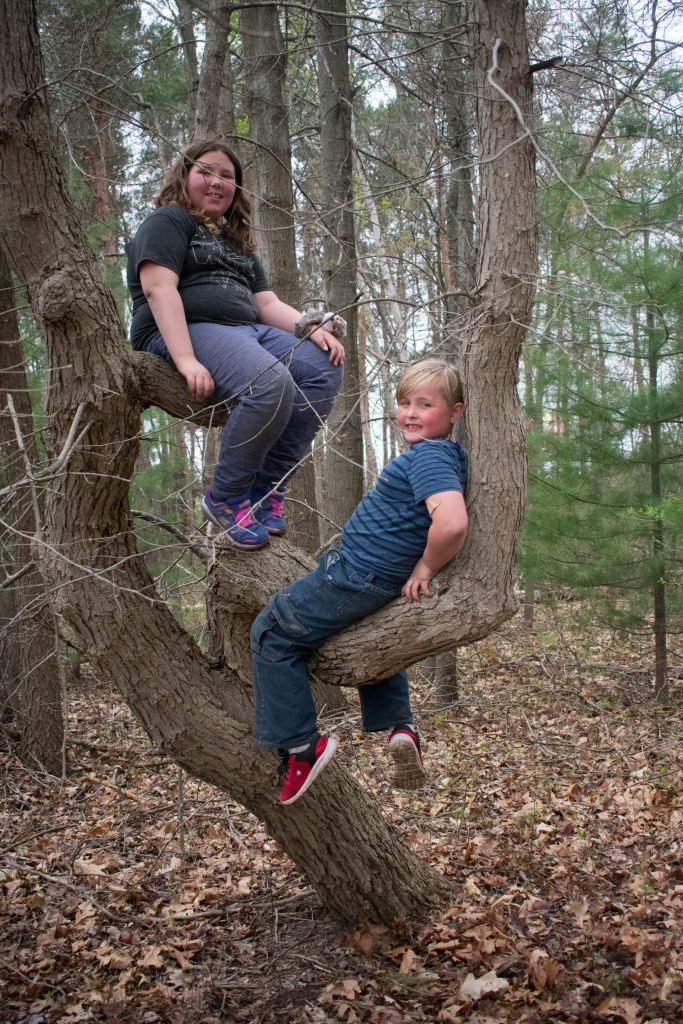 The kids had really wanted to go swimming, so they were bummed about the weather being too cold for that. They still stayed happy and entertained for the most part though!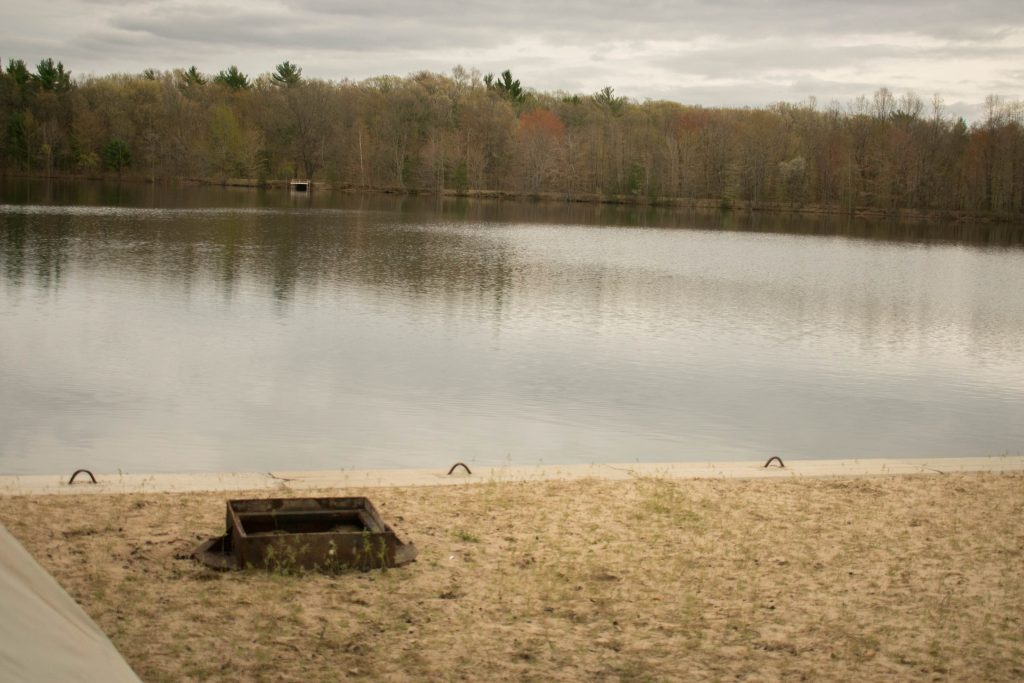 We brought the pugs with their coats to keep them warm. They enjoyed walking the trails and exploring.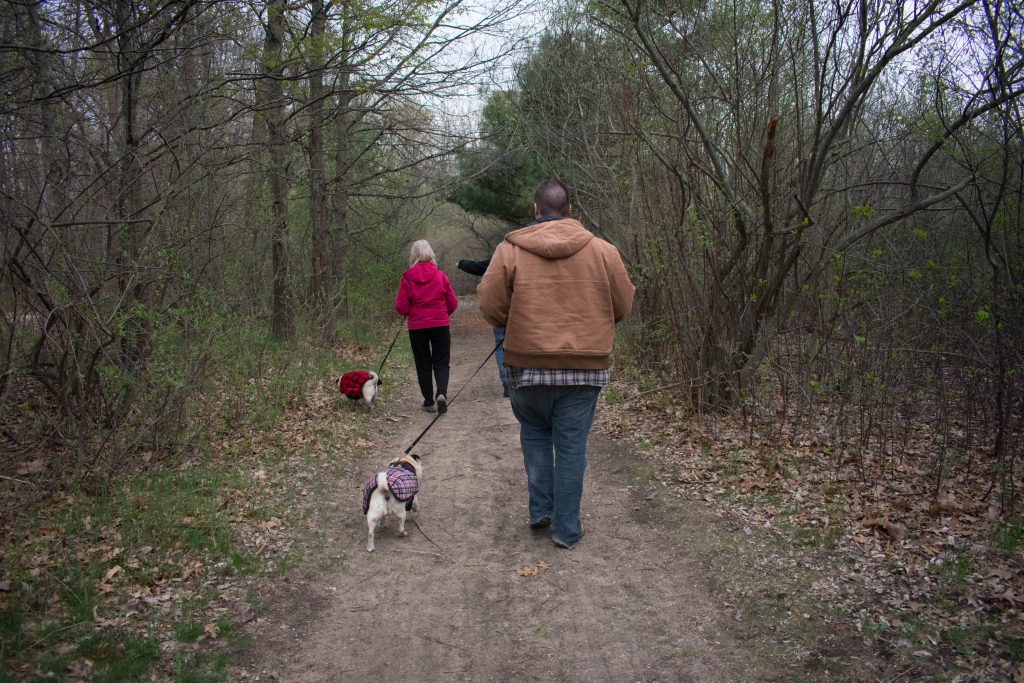 Overall we made the best of the difficult weather and had a fun time. The only real downside we ran into was the bathrooms were in rough shape. More than half of the stalls in the women's restroom had out of order signs on the doors. Of those left over, multiple of them were really filthy at times. My brother-in-laws cabin had its own bathroom so we started using his because it was nice and clean.
See more posts like this:
Michigan