There are affiliate links in this post.
I tried another amazon sample box. If you aren't familiar with Amazon sample boxes, they are boxes of samples that you can purchase. They typically are somewhere between $7.99 to $19.99 per box. You get a credit for using in a certain product category on Amazon when you purchase. This way, if you regularly purchase from that category, the sample box kind of pays for itself.
I purchased the Women's Skin and Hair Care Sample Box for $9.99. In return I get a $9.99 credit to use n beauty products. I often buy beauty products on Amazon, so I know it will pay for itself in time!).
I primarily ordered this box because it included Carol's Daughter Black Vanilla Shampoo & Conditioner. I recently mentioned how I am trying the Curly Girl Method, and these products are some that are available in my local store that are curly girl approved. However, I thought I would also find use for the lotions, wipes and towelettes.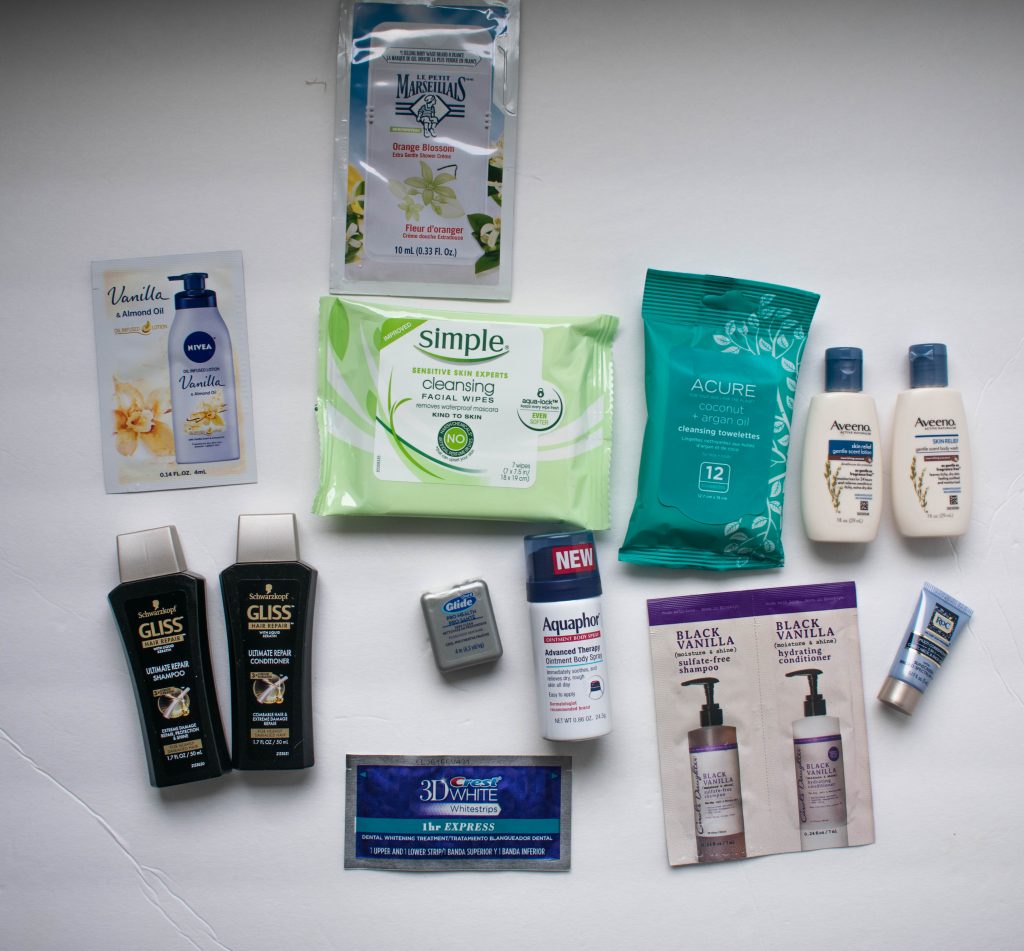 This box includes:
Aveeno Skin Relief Gentle Scent Lotion For Extra Dry Skin (small plastic bottle).
Acure Organics Coconut and Argan Oil Cleansing Towelettes (12 wipes).
Carol's Daughter Black Vanilla Shampoo & Conditioner (foil packet size)
Nivea Oil Infused Lotion Vanilla and Almond Oil (foil packet size)
Aquaphor Advanced Therapy Ointment Body Spray (mini spray bottle)
Aveeno Skin Relief Gentle Scent Body Wash (small plastic bottle)
Roc Multi Correxion 5 In 1 Anti-Aging Cream with SPF 30 (Small tube)
Oral-B Glide Pro-Health Deep Clean Cool Mint Flavor Floss
Le Petit Marseillais Extra Gentle Shower Cream (foil packet)
Simple Cleansing Facial Wipes (7 wipes)
Crest 3D White Professional Effects Whitestrips ( 1 strip)
GLISS Hair Repair Shampoo & conditioner (in small bottles).
I was a little sad that the Carol's Daughter packets are very small, and not very full. The packages almost seem flat! I don't think I will even be able to get a full wash out of these packets, but my hair is long. Still, I will use several of these samples, and I will be buying more than $9.99 in beauty products on Amazon in the future so I'm not out any money in the end.