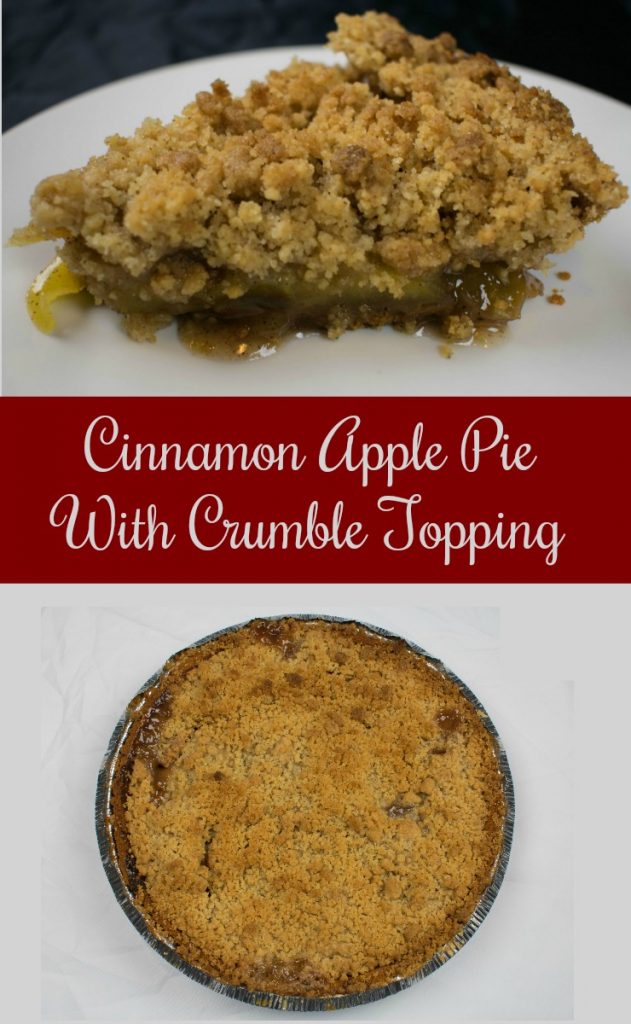 Around Thanksgiving I was looking for a homemade apple pie recipe. I had purchased a pre-made graham cracker crust and apples and I was hoping to pull a pie together from the other ingredients I had at home. I didn't purchase a pie topping so I went looking for one I could make with simple ingredients and came cross this Crumble Topped Apple Pie recipe that I largely used, but tweaked slightly. It was the best pie I had ever made. I've made it a few times since then, so I thought I would share. In the past, my apple pie recipes lacked flavor in the crust and topping. It felt like the pie crust and topping were just there to hold the filling. That isn't this pie. This pie has a crust you'll actually want to eat as much as the filling!
Cinnamon Apple Pie With Crumble Topping
A cinnamon apple pie with crumble topping. Made from scratch except for graham cracker crust. 
Crust
1

egg yolk

1

Graham cracker crust
Cinnamon Apple Pie Filling
2-3

Large McIntosh Apples

2/3

cup

sugar

2

tbsp

all purpose flour

2

tbsp

melted butter

1

tsp

Cinnamon

1/4

tsp

Nutmeg
Crumble Topping
2/3

cup

Flour

1/3

cup

Sugar

3

tbsp

Golden brown sugar

1/4

tsp

Salt

5

tbsp

chilled butter

1/2

tsp

Cinnamon
Crust
Preheat Oven to 350 degrees.




Brush egg yolk into bottom and sides of graham cracker crust

Let crust bake in oven 5 minutes, then remove and let cool while you prepare filling and topping. 
Apple pie filling
Peel apples and cut into slices approximately 1/4 inch thick. 

In a medium bowl, place melted butter, sugar, flour, cinnamon and nugmeg and combine. 

Add apple slices into the bowl and mix until well coated. 

Add the filling into the pie crust. 
Crumble topping
Combine the flour, sugar, salt, brown sugar, and cinnamon. 

Cut your 5 tablespoons of chilled butter into small cubes. 

Mix butter cubes into the mixture. I found it easiest to use my hands and squeeze the butter into the sugar/flour/etc mixture. Keep going until the cubes of butter are well mixed into the mixture. The texture should be similar to clumpy sand. 

Spread crumble mixture over the top of the pie filling. 
The pie
Preheat oven to 400 degrees. 

Place pie tin on a cookie sheet and place in oven for 10 minutes.

Reduce heat to 350 degrees, and bake an additional 45 minutes. 

Let the pie cool for 45 minutes before serving. 
I just love cinnamon, so adding cinnamon to both the topping and the filling adds a lot of flavor in my opinion. I also really like adding in that little bit of nutmeg. I prefer making this apple crumble pie with McIntosh apples, but when I made it recently I just used some leftover apples before they went bad. I don't even know what kind they were, but they were not particularly sweet we had purchased them as snacking apples, but they worked just fine in the apple pie filling. I find the crumble pie topping much easier than making lattice toppings, and I like how it can fill in the gaps in pie filling as needed. Adding the yolk to the graham cracker crust is also really key. I think it makes the crust almost taste like a brown sugar cookie!
If you give this cinnamon apple pie recipe a try, let me know how you like it. Or if you make any minor edits feel free to share how that goes!
See more posts like this:
Recipes