I started doing reviews on my blog Emily Reviews back in 2009, though it had a different name and URL at that time. I had originally started the blog to promote my Etsy shop, but I found other review blogs. I started branching into promoting other Etsy shops, and doing some reviews of Etsy shops. Shortly thereafter I got contacted by brands who weren't Etsy shops at all, so it kind of went from there.
At first I didn't have any friends who were bloggers at all. So I didn't really have anyone to ask for how to do it all. I kind of winged it, which resulted in some tough lessons but I got through to the other side okay anyway. I thought I would share some of the basics that I wish I knew before I started review blogging.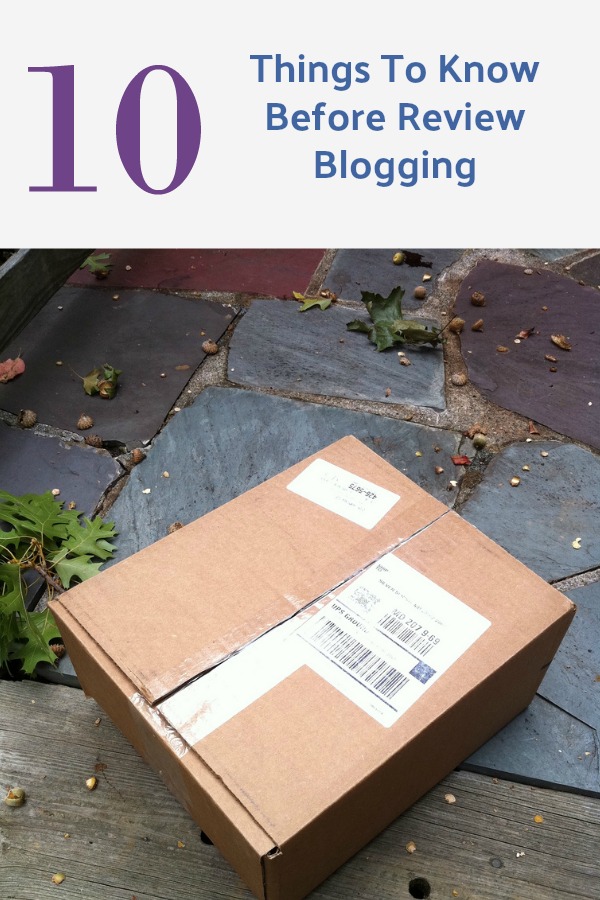 1. Reviews have value, and so does your time. Early on I accepted an offer to review lotion from some personal care brand. They sent me a foil packet of lotion, instead of a full sized bottle. That sample packet was probably worth 20 cents. I felt tricked that they hadn't sent me a regular bottle, but they hadn't specifically said how much lotion they would send, so I felt stuck. It was one of my first experiences working with a brand and I didn't want to seem like I was trying to scam them. I thought refusing to do a review would look unprofessional on my side. So I did a review. Which leads me to #2…
2. It's fair (and a good idea!) to get very specific details about your review agreement ahead of time. Brands and PR workers should understand that if you are taking their product as compensation for your time and effort, as well as the promotion that they receive from your blog. So it's okay to say you arent' willing to do a review for a 20 cent sample, or a $5 bottle of lotion. You get to decide your worth. Of course, brands get to decide if they want to work with you as well. So if you say that you require $200 worth of products to do a review they may well turn you down. But you absolutely get to set your own product requirements. It's important to be upfront about exactly what you want them to send in return for a review before you send them your address. That way there is no gray area or confusion. I also warn against agreeing simply because the rep says "I'll send a wide variety!" or "well send several products" etc. Unfortunately, in my experience their idea of a a wide variety or a lot is quite small. It sounds negative, but in my experience most (not all!) brands send as little as they can unless you clearly express what you want. It took me a while to realize that a brand being very well known and having a larger marketing budget doesn't mean they will be generous with review samples. Often I find that larger brands are actually less willing to send multiple products or large product sizes, etc.
3. Have site policies. If you tell them that you are requesting 3 specific items, and they agree, but then they send just one of those items – what then? Well, if you have a site policies page (you should!) include that you do not commit to doing a review if they send less products than agreed upon, or different products than agreed upon. I've had clothing companies send me the wrong size and want a review. I point to my policies page as to why I can't do the review. Also have details for how you will handle the situation. For me, I offer to return products to the brand if they pay the return shipping costs.
4. You can get in trouble with Google if you do not add a rel="nofollow" tag to your links within reviews. Some brands will try to convince you that nofollow tags are only needed for sponsored posts. This is NOT true. If you don't know the basics of HTML or how to add nofollow links, google it before doing your first review. If you fail to add a nofollow tag, you may get "in trouble" with google and it will impact how your blog posts show up in search results.
5. FTC requires a disclaimer for reviews. Google this and make sure you are covered as well!
6. Pictures matter a lot! Taking great photos is time consuming, and even today it's always a goal of mine to improve my photos. I didn't realize early on how much photos help make a post seem personal, and how much they help readers feel connected to you as a person. Seeing a post with just stock images from the brand just isn't as warm or relatable as a post showing your family enjoying the item.
7. Brand ambassador programs vary widely. Some brands use the term brand ambassador to label a relationship where a blogger does sponsored posts once a month. Others use it for ongoing review relationships, where the blogger is sent all new products as they come out. In other cases, it's a label given to bloggers who don't get any product, but who will earn a small commission if they write about a product and their readers buy it using affiliate links. If you get offered a brand ambassadorship read closely what is expected of you and what you will get in return.
8. Some companies are open to giveaways but won't offer it unless you ask. If you are doing a review and are open to a giveaway be sure to ask if they want to set one up. Important details to get from them are what the prize is (they may not offer the exact item(s) for the giveaway that you were sent for review), which country or countries to open the giveaway to and how many winners they want to have.
9. It's important to have a backup plan for when you do not like the product. Add your plan to your policies page. Mine is that if I do not like a product or find it to be low quality, if it breaks, etc, I will contact them before posting a review. I will ask them if they want me to share my experience or if they would prefer that i do not share anything about their brand. I will never post a dishonest review, but I am okay with just not reviewing items that I have bad experiences with.
10. There are alternatives to straightforward reviews! If a brand wants to send you an outfit, you don't necessarily have to just bluntly review the outfit. Of course, it depends on what the brands goals are. However, many companies are open to having their product mentioned in a blog post more subtly. For example, a boutique may be open to the idea of you photographing yourself wearing their outfit in a blog post about back to school, and then just a quick mention of how the items came from their boutique with links, while the rest of the blog post is about back to school prep. Sometimes having a less "sponsored" feeling post is more palatable for readers so some brands prefer this method. If you don't want to do a straightforward review, ask the brand about adding their product into a post more as "product placement" to see if that interests them.