There are affiliate links in this post.
I've lived in four different apartments over the past six years or so. I've learned more than I really ever cared to know about renting! However, some of what I have learned has helped me to make better choices each time we move. In large part this came down to budgeting differences between apartments. My boyfriend & I have always stuck to the lower end of our budget range when moving just to be safe. I have friends who did the reverse, and then had financial trouble because they realized they were over-budget after the fact, due to small fees and other details.
I thought I would share my list of things to check when considering one apartment over another. You can't neccesarily rely on just the rental fee listed in the newspaper or on Craigslist to find out which apartment is more expensive. In other words, check whether or not these things are included in the cost of your rent, and if not compare your price options.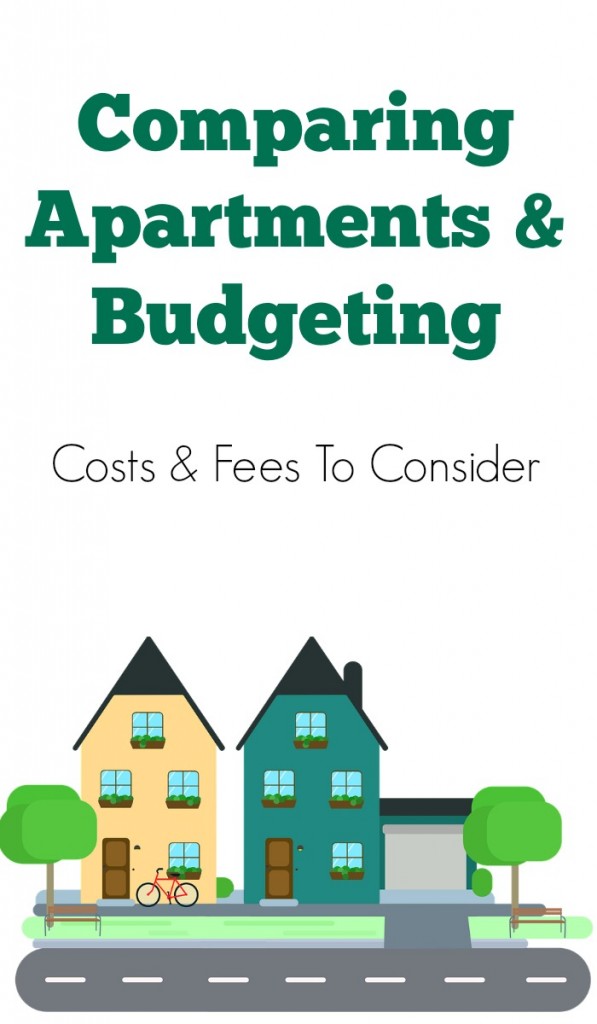 1.  Heat. Unless you live in a really urban area, there are probably multiple heating options. Here in Mid-Michigan "true" electric heat (with radiators) are in some apartments, while forced-air electric heat is also common, as is propane and fuel-oil heat options. Many homeowners here heat their homes with wood, though it's less common to see that in rental homes it does happen sometimes. We have always chosen apartments that had some form of electric heat because we knew that fuel-oil is extremely expensive, and propane price fluctuate a lot. My mother-in-law was paying about $800 a month for fuel oil heat in her 4 bedroom house! So we knew to avoid fuel oil apartments or duplexes. Occasionally landlords will include heat in the cost of rent. That happened to us in a complex we rented where they had a boiler for heat.
2. Electric. Sometimes electric is included in the cost of rent, so if it is or isn't factored in would change your overall budget amount.
3. Laundry. When we moved in 2015 it was to a house that had a washer and dryer hookup. Prior to moving here, we were paying about $60 a month at the laundry mat. We did have to get the machines but in the longrun this is much cheaper than paying for the laundry mat each month – plus it's so much more convenient. If you're considering a complex with a shared laundry room see what the prices are. We lived in one that was just 1 quarter per wash and the dryer was free. Others that we've lived in were just as expensive as a laundry mat (so closer to $3 total per load).
4. Repairs. Generally speaking landlord take responsibility for repairs. However, I've had landlords who refused to fix things like an extremely leaky gutter that was right over our entry door, and my stove that would turn on but did not match the oven dial. We got an oven thermometer and when the oven thermostat said 200 degrees the actual temp was 450 degrees! It was impossible to cook in the oven without burning things yet he refused to fix it because it "wasn't broken". For us, we decided that certain repairs were worth the out of pocket cost to us, like replacing the oven. On a much more minor note, some landlords in complexes or condos will take care of really minor details like replacing lights, so depending on the landlords policy you can actually save a bit of money that way too.
5. Cable or internet options. We once lived in a complex that had done a partnership with one cable company, that had run cable into each apartment in the complex. We were not allowed to buy cable or get internet through any other company while there, so this cost us more money because we couldn't shop around.
6. Pet fees. If you have a pet, or multiple pets then apartments that charge a pet fee might be more costly for you. One place we rented wanted $50 more per pet per month. I have two dogs so we would have had to pay $100 extra per month. They also required a $600 non-refundable pet deposit.
7. Late rent fees. It's very common for landlords to have late rent fees. However, some are a bit trickier than others. Our current apartment is owned by a realtor company as opposed to an individual. The realtor company is not based within our own state, and they only accept rent payment via check. We have to remember to mail the check so that it arrives before it is due. The state boarders our own, yet it seems to take 3-4 days to deliver so we had to pay a $50 fee once because we only sent the check 3 days before it was due and it didn't arrive in time.
8. Yard word expenses. Sometimes snow removal and lawn mowing services will be included. It usually is included for apartment complexes with a shared yard and shared parking lot. However, duplexes or renting an individual house is likely to require that you take care of the lawn yourself. In my area snow removal for a driveway outside of city limits is $30, so that  can easily add $100 or more in added expenses during the winter months if it snows a lot.
9. Fees for month-to-month. We renewed our lease a few months back, because we were pretty certain we didn't want to move in the next year. However, we were a little put-off by how it was handled. When we moved in here, we were told we would sign a 12 month lease, and then after the first year we would be able to switch to month-to-month if we wanted. We had the same experience with previous apartments so we didn't check the fine details. In November when our 12-month lease was up, we were given the option to switch to month-to-month, or to renew for 12 months. If we did the month-to-month, they would add on a $100 fee. With our old apartments there was no additional fee, it was simply month to month after the first year.
10. The cost of purchasing items you'll need to customize the place. One house that we moved into had no closets whatsoever. So we had to buy a coat rack to hang on the wall (the one linked is really sturdy, we've been using it for years now!), a cube style organizer for storage, a mop/broom organizer to hold them in place against the wall, some shelves for storage, and so on. If you move into a house that requires that you do your own snow removal, lawn mowing, or that has washer/dryer hookup you'll have those upfront expenses for purchasing the lawn mower, the washing machine, etc. Also, most apartments come with a fridge and a stove but occasionally they don't. Whether or not a microwave is provided seems to vary. I lived in one apartment complex that had an over-head microwave that was built in, but the others I lived in didn't have one provided.
Have you ever moved into an apartment only to realize that the additional expenses damaged your budget? If there were any unexpected costs or fees with your apartment that I didn't mention please leave a comment so others can avoid making the same mistake.