I first got serious about living frugally and saving money about 5.5 years ago. I was in college and it money was tight. I quickly realized that while most of our bills such as rent, car insurance, and so on were not flexible at all. However, a few bills were We could use sweaters and blankets so that we could keep the thermostat down. We could turn off lights or appliances that weren't in use to save on electricity. However, even when we did our best we only saved about $50 a month on our heat and electric. I wanted to save more than that. I knew that the remaining money in our regular budget was groceries. I started shopping sales and couponing and it made quite a difference! For a few years I rarely bought anything that wasn't on sale. This lead us down a path of eating a little worse than we had prior to that. Many junk foods that we enjoyed were easy to get at a really great price using coupons. For example, the individual boxes of pizza rolls would go on sale at Meijer as part of their 10 for 10 deal. Meaning you get 10 for $10, and the 11th is free. So if you buy 11 they average out to .90 each. Then there would often be .40/2 coupons that would double to .80/20, bringing the cost per box down to .50 which made them a yummy, filling and cheap meal. We would get the small bags of chex mix for free as they would also be 10 for 10 and there would be .50/1 coupons that would double to $1.00 off.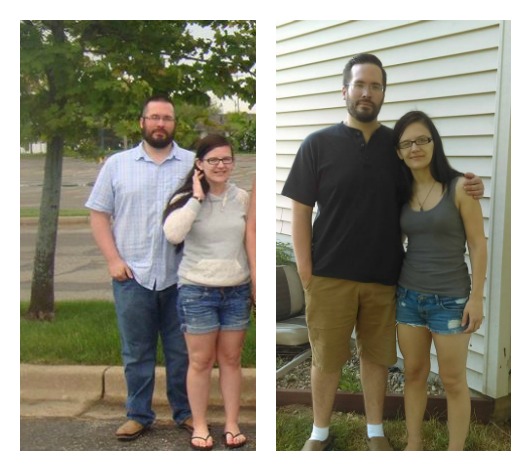 When my boyfriend & I decided to start eating better in the summer of 2015 one of the hardest parts for me personally was letting go of our grocery budget. Even though we were then in a position where we had more discretionary income it was tough to let go of that watchful eye that I had on our grocery bill. My instinctive reaction is to always save money as much as possible, even if we don't really need to. Other than our electric bill, our grocery bill is the only one we can have much control over so it was hard to let go of that control for me. We now spend almost twice as much on groceries in the average month as we did back in 2012 or so when I was couponing heavily. And that is with my boyfriend getting Nutrisystem provided to him through my review blog! However, since 2015 my boyfriend has lost 60 pounds, and I have lost about 25. Paying for more expensive bread, low calorie butter, turkey sausage, low calorie chips, greek yogurt, cheese, etc all adds up but we have lost weight. I often see people posting about how to get the cheapest meals that are healthy. It is possible to eat really cheap foods that can help you lose weigh, such as rice, beans and lentils. Those items are very cheap when purchased plain. However, for my boyfriend & I, eating that plainly would have been a really big flavor sacrifice. So for us, we choose to spend the extra money on low calorie foods that are still high in flavor, and in some cases even convenience foods. While other things would be healthier, I like keeping el monterey taquitos on hand because when I am having a busy day it just takes 5 minutes to pop 3 of them in the oven for a 330 calorie dinner that tastes good while providing about 10g of protein so they are filling.
I still watch sales and use coupones when I can, but I don't feel bad paying more for low calorie and/or healthy foods if I can't catch them on sale anymore. I feel like the weight loss is worth it regardless.
Do you stick to couponing and budgeting tightly despite eating healthy? Or do you prioritize one over the other?