Many people refer to people who blog for a living as professional bloggers. I blog for a living. My job is being a blogger. It has been my full time job for about two years now. Still, I'm not quite used to the title of professional blogger.
I hear from friends or family members that my job seems awesome. I get to work from home. I get "free" products sent to me from brands. I get paid to write blog posts. I get paid to tweet. I can set my own hours. I don't have a boss. In general I really love being a blogger. Many people seem to think that if a professional blogger does one blog post per day that they are probably only working for about an hour a day, just long enough to write the post. A lot more goes into it than that! I thought I would share a day in the life of a blogger explaining my day today to show what it really looks like. This was a pretty typical day for me, with the exception of the phone call I took. I only speak on the phone once a month or once every other month and it's usually a result of a unique scenario with a campaign.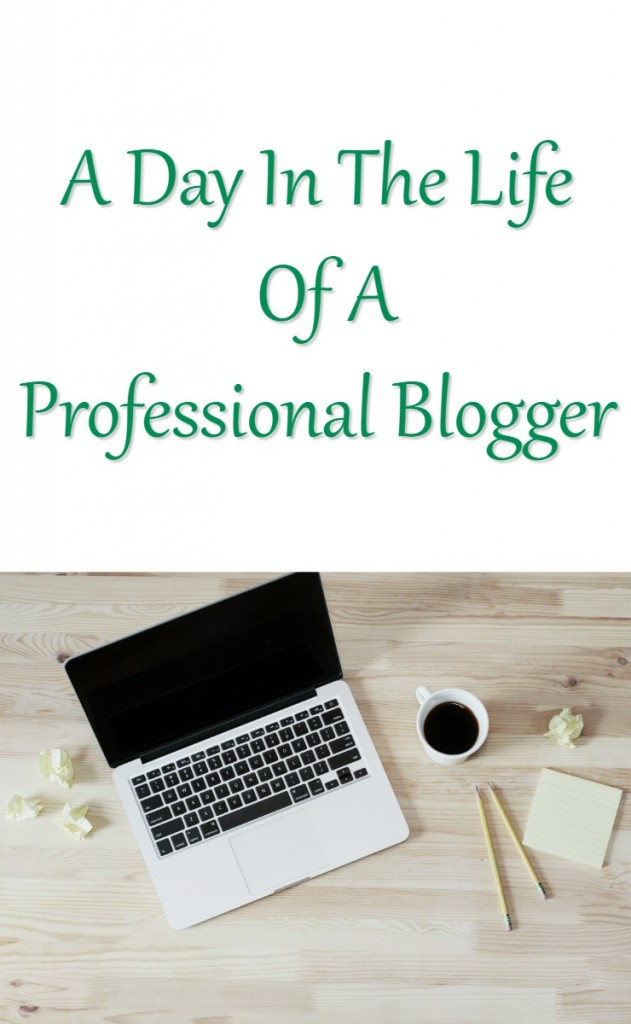 I woke up at 9:30. I made breakfast, got dressed and sat down at the computer a little before 10.
I scanned my inbox for any time sensitive emails. Usually these are emails where I "opt in" to a campaign or respond to a question or request for help from one of the 4 other women who write for my site. This morning I replied to two emails.
Next I looked at my google doc where I keep my schedule. I transferred my schedule onto paper. I like being able to scratch things off (physically) as it brings a sense of accomplishment. The first item on my to-do list was a review. This particular review needed a video demonstration of a two-person game. As a result, I had to recruit help from my boyfriend. I asked him to try to make himself available to play the game with me for the purpose of making a video as soon as he could.
I dig the tripod out of the closet because we both need to have our hands free to play the game during the video.
While I wait on my boyfriend to clear a few minutes of of his schedule (he works from home too) I answer some emails to avoid wasting time.
10:30 – We play the game on video a few times to get a good shot and adjust lighting.
From about 10:45 to 12pm I work on the ZEGA review. Writing the post, adding pictures that I took on a previous day and uploading the video. Then editing it and saving so it can be published tomorrow.
Next on my list is publishing today's blog posts. These were finished yesterday so they are ready to go. Some are mine, which I publish and then send the link to the sponsor for the post. Others were written by my contributors, so I publish those and then email the contributor the link so they can email the link to their sponsor. Any that include giveaways I link up on my current giveaways page, too.
12:15 I check my to-do list. Next is a paid tweet through a blogigng network. I log in, read the requirements twice to make sure I get the tweet just write. I publish the tweet and submit the URL for verification. I open a document where I track my income and make note of the task I did and what I will later get paid for the tweet. I then take that URL and go to Facebook groups that have "retweet chores" each day. This involves dozens of bloggers leaving tweet links in a single thread to get retweets. If 50 bloggers link up, I will have to retweet all 49 other links. In return, all 49 other people will retweet mine. This is how I get extra eyes onto my work to help promote my sponsors content. I make a note of how I linked up the tweet in groups so I will remember to go back and do the retweets once the chore has closed for the day.
12:30 I check my list and next up is sharing 3 posts to Instagram for my gift guide. Today all 3 are for my writesr. I check my email and find where they emailed me the images to use. I upload them to my Amazon Prime Photos account, then open my iPad and download the images from the Amazon app so I can add them to instagram. I upload each one, creating a caption and adding hashtags. I then take the URL's for each instagram post and email them to the writer they belong to. I also take each of these 3 links and link them up in blogging groups to get 'likes' on the image. In return I will have to 'like' the Instagram pictures of other bloggers later tonight.
12:45 I check my list. It includes writing a blog post for my new blog (this one that I'm writing on now!). I open a document where I have listed blog post ideas and decide on one. Today I went with a day in the life of a professional blogger. I start working on this post. It takes about an hour to complete the text portion. I estimate the rest of my day based on my to-do list after this point so I can complete the post before moving on.
1:45 I have finished the writing portion of the post and move on to creating an image. I want to share the post on Pinterest so I need to create an image that is pin-worthy. I use Creative Commons to find an image related to blogging and to add text. This takes 20-30 minutes. Once finished I add the image to the post and hit publish.
2:15 I take a break for lunch. A quick sandwich will do.
2:30 I pin my new blog post to Pinterest adding a descriptive caption with words that I think are searchable. I take the pin URL and link it up in several blogging groups, and add it to my Tailwind tribes to get re-pins from other bloggers to help the pin "get going". I make a note of which groups I have linked up in so I can reciprocate repins for other bloggers later.
2:45 I take a call from a woman who works at a blogging network I work in. I was originally included in a large, 5 month long blogging campaign that was cancelled unexpectedly. The call is to address how they will handle the campaign now that the sponsor has backed out.
3:00 I sit down to work through all of my emails from yesterday. Many are junk that I just delete after scanning. Others are important and require a lot of time and effort to respond to, such as sponsors who want to agree on details for a review or a sponsored post. Others are opportunities to apply for paid campaigns. This takes an hour to an hour and a half depending on the day.
4:00 – I check my Facebook page and Twitter for any messages or tags that I need to re-share or interact with.
4:15 I stop for a snack, to let the dogs out and to check the mail. New packages have arrived for future posts. I open them, grab a foamboard to use as a background for really simple photos of the items still in packaging in case I later want to show how the items appeared on arrival.
4:30 – I open a google doc where I keep track of my posts and which ones have been linked up for re-tweets. I go through all of my blogging groups and link up one post per group. I write down which groups I linked up in so I can reciprocate later.
5:00 – A few of my blogging groups stop accepting additional links at this time, so I can start to reciprocate in these groups. I retweet about 100 tweets before stopping to avoid "twitter jail". To be safe, I stop at about 100 retweets per hour. I write down the time so I will know when I can do a second round of tweets.
For 2-2.5 hours I continue to reciprocate in all of these chores. Retweeting 500+ tweets, 'liking' a few hundred Instagram photos and re-pinning a couple hundred images. I also visit my Tailwind tribes to repin a few per tribe as required as reciprocation for including my pin in the tribe earlier in the day. The amount of time promoting is perhaps the most misunderstood aspect of blogging.
7:30 I make dinner and eat.
8:00 I look over tomorrow's schedule to see if there is any kind of prep work that needs done in advance. I see that I will be sharing a few more Instagram posts for my writers, so I make sure I received those images from them. I look at what is on the posting schedule for tomorrow and read their drafts to see if there are any edits that need made. If there are I email them asking for the changes to be made before posting time tomorrow.
8:30 I visit my Facebook fan page and schedule posts to automatically publish throughout the day tomorrow so I don't have to do it manually mid-day.
9:00 If there is no additional prep work for tomorrow then I am done for the day. I shower, do dishes, clean the house and relax for a few hours before going to bed between midnight and 2am. During my "relaxing" time I often slowly go through my inbox again to reply to any new and important emails.
Of course, the type of blog that someone has can dramatically change their schedule. Mine is a little unusual because I have additional writers. As a result of having several writers we publish multiple posts a day which dramatically increases my workload when it comes to promoting content on social media. Still, I feel like the most misunderstood aspect of professional blogging is how much social media promotional work needs done to bring traffic to posts. If I publish posts without tweeting and getting retweets or shares then it will get dramatically less visits.
Do you blog for a living? How does your average day compare to mine?