I decided to work on trying to lose weight a little over a year ago. My boyfriend was ready to make a lifestyle change and I wanted to support him by joining in myself. He was on a specific plan (Nutrisystem) but it required that he purchase a few grocery items to supplement the food they sent him. I started looking around online to find low calorie swaps to make it easier to cut calories. I saw all kinds of posts featuring things like "mashed potatoes" made out of cauliflower, "pasta" made out of tiny strips of zucchini and things of that nature. I understand that those types of swaps are awesome ways to save calories. However, I am a really picky eater and I highly suspected that those swaps would be too different from what I was used to, to taste good to me or be sustainable long-term. I dove deeper into online research and read nutrition labels in the store constantly. I've found several swaps that I really enjoy and that are "worth it" for the calorie savings for me. However, most of them do require a minor amount of sacrifice when it comes to flavor or texture so for others they might not be "worth it". I have five swaps that are 100% painless in my opinion. These are the 5 swaps that I don't feel like I am sacrificing anything to make. If you're trying to ease into counting calories I would recommend starting with these swaps because they were extremely easy for me to make.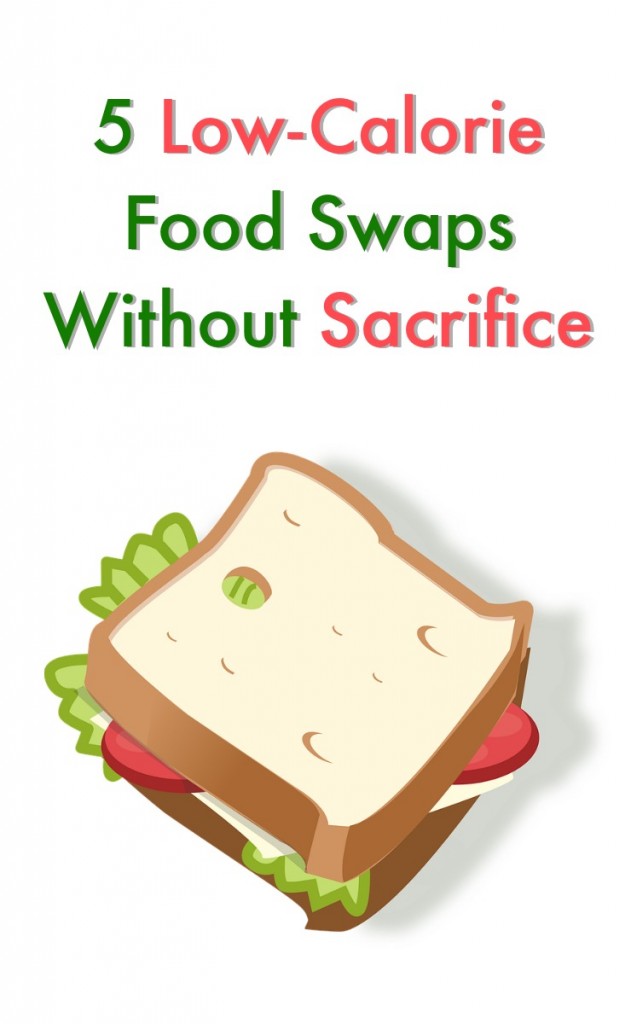 1. Bread! Bread has a huge range of calories if you look from one brand to the next. We bought Hillbilly bread for years because it was what I grew up on and I just never put any thought into it. Hillbilly bread is 60 calories per 1 slice. This actually isn't terrible, many breads go up to 90 calories per slice. However, I learned we could do better. We switched to Aunt Millies 35 Calorie Whole Wheat bread. This bread is just 35 calories per slice and the texture and flavor don't seem any different to me than hillbilly bread. This switch saves me 50 calories per sandwich. It also has 1g more protein and 5g more fiber per 2 slices. Fiber and protein keep you feeling fuller longer so it's more filling for the calories, too.
2. Butter spray. I can't believe it's not butter makes a pump spray bottle that you can use on toast, bread, rolls, etc that is 0 calories. I was used to using a spread (country crock) which is 60 calories per tablespoon. I used at least 1 tablespoon when having toast so this saves me 60 calories.
3. Syrup. Ryan's meal program sends him high-protein pancakes and waffles which is great, but syrup is pretty high in calories. Switching from our "regular" store brand pancake syrup (210 calories per 1/4 cup!) to Log Cabin Sugarfree Syrup which has just 20 calories per 1/4 cup, saving 190 calories. I am brand-specific on this. We tried other sugar-free syrups that did have a noticeable taste difference, but the Log Cabin brand doesn't have any noticeable difference from regular syrup in my opinion.
4. Ground turkey for tacos. Early on we tried switching to lean ground turkey for hamburgers and it was an absolute bust. It tasted nothing like hamburger. I was really hesitant to try it for tacos but after seeing repeatedly that you don't notice a difference in tacos I did try it. When using regular/traditional taco seasoning I feel like I notice a minor difference in flavor. However, we prefer to use a hot or spicy taco seasoning anyway and with the spicier seasonings I notice no flavor difference at all. My local grocery store only has Jennie-o ground turkey rolls so that is the only brand that I have tried so far, and I am not sure if other brands would be similar or not.
5. Turkey breakfast sausage. I tried a few turkey breakfast sausage patties and links that did not work for me at all. However, with the ground breakfast sausage I notice no difference. Again, my grocery store only has ground-turkey sausage from the Jennie-o brand so I'm not sure if my experience would be similar in other brands or not. I like to use ground breakfast sausage in scrambled eggs. In the past I didn't bother to use non-stick spray because pork breakfast sausage provides enough grease to prevent sticking. This doesn't happen with turkey sausage because it is leaner and doesn't produce as much grease. Other than having to use a non-stick spray I don't notice any difference in this swap.
What are your favorite low calorie swaps?