On my other blog Emily Reviews, I run a lot of giveaways. As a result, I have some sweepers or sweepstakes addicts who enter my giveaways and occasionally email or private message me. They usually say things like "Thanks for posting giveaways so frequently!" or "I love your blog, you have GREAT giveaways!" etc.
I really enjoy hearing from my readers, whether it's just a 'thank you' for a giveaway, or a deep, personal response to something else that I posted about. I'm happy to hear from my readers publicly or privately. However, it's interesting to me that the sweepers who thank me for the giveaways usually do so privately, in email or on a Facebook message, for example. It got me thinking that maybe sweepers or giveaway lovers don't realize that interacting with a blog or giveaway publicly can help encourage brands to keep working with that blog. I decided to compile a quick list of ways that sweepers can help bloggers provide more giveaways.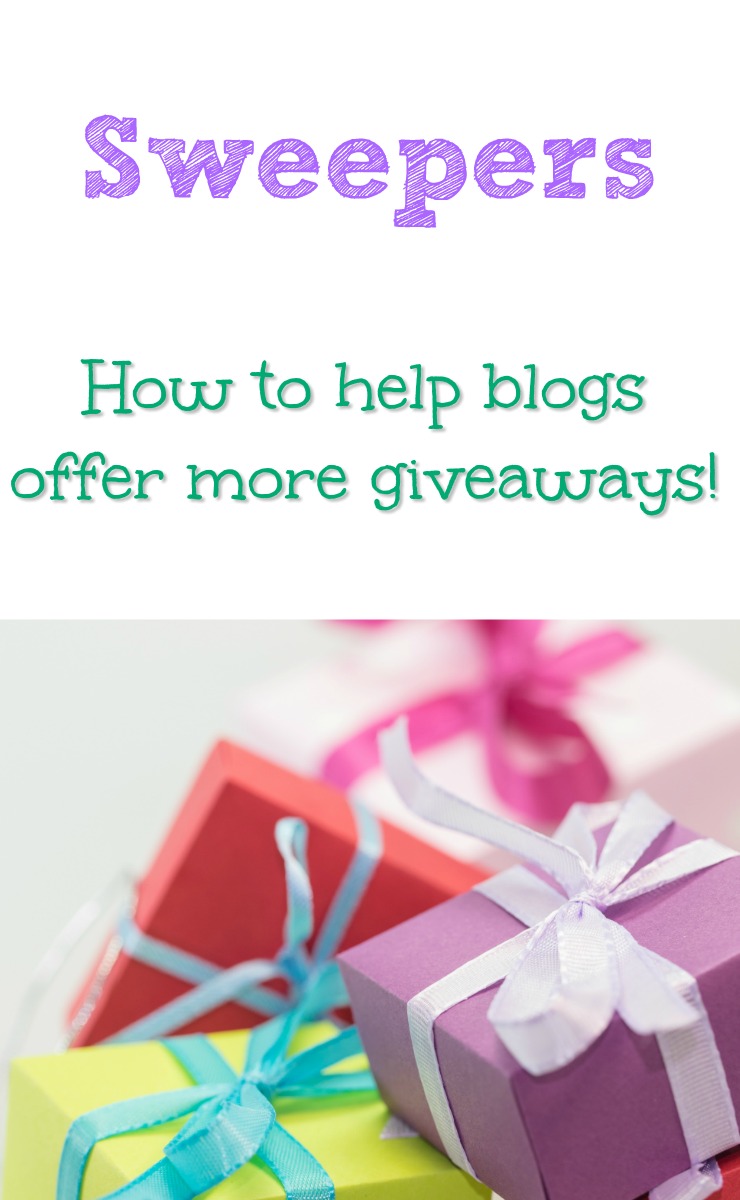 Most bloggers who share giveaways are not purchasing the items that they giveaway. Instead, they partner with the brand who sells the product, and the brand provides that product as a giveaway prize. The brand does this to get exposure around their brand or product, to increase their social media following and to create an online discussion about their product. There are tons of blogs out there to choose from, so brands have to decide which one(s) they want to work with. There is a ton of factors that might go into this decision, such as the topic of the blog, the age of the blogger, the demographics of the blogs readership, how many social media followers the blog has, how many entries their giveaways get, and how active the blogs readers are on social media.
As a blog reader or giveaway entrant, you can't impact all of these areas as many of them are for the blogger to control. However, several you can help with!
You can follow the blogger on social media, and you can interact with their content. If you see a blog post that you like, comment with your thoughts. If you see the blogger share a blog post on social media, like it, comment on it or retweet it. Interacting with the social posts shows brands that the blogger has engaged followers. Plus, on some social media platforms (such as Facebook) posts with high interaction get shown to a higher percentage of the followers. With Facebook, if a bunch of people 'like' or comment on a post, more of the fans from that page will then see the post.
Enter giveaways! The giveaway entry forms have entries specifically for the brand in most cases, such as following the brand on twitter. Do those brand-specific tasks when possible. Also do any that involve sharing the giveaway or spreading word about the brand (such as tweeting about the giveaway). Brands love seeing their social media count increasing, and discussion about their product or brand on social media.
If you win a giveaway, take a photo of your prize once it arrives. A photo of someone in your family using the item is most ideal. Then share the image to the blogs Facebook page, and the brands Facebook page to say 'thank you'. Or, post it on your own Twitter or Instagram and tag the brand and/or blogger. On occasion I get emailed asking if my giveaways are scams or if they are real. Having past giveaway entrants share the prizes they received can help others to accept that blog giveaways are legitimate. Plus, it adds to the online conversation about the product or brand which makes brands happy.
Tell your friends and family members about your favorite blogs. If you see a giveaway for an item that a friend or family member wants or could use, let them know so they can enter too!
It isn't reasonable to purchase things just to help a blogger. However, if you ever do decide that you want to make a purchase after discovering a product from a blog, tell the blogger that they helped you find the product or make that decision! With many aspects of online advertising, it can be difficult to track how effective the promotion is. In the past I've had readers email me to say 'thank you' for sharing a review because it helped them to discover a product that they knew their child/husband/etc would love and they purchased it, and their whole family loved it. In many cases, the ultimate goal for brands who do reviews is to get word out about their product and encourage sales. So if you do decide to make a purchase and have a positive experience, giving credit to that blogger so they know they have helped make a sale for the brand, that is a really nice thing to do. Whenever I have forwarded emails like that onto brands (with the permission of my reader, of course) the brands have always been tickled pink.
If you're looking for blog giveaways to enter, check out the Current Giveaways page on my other blog Emily Reviews.