There is an affiliate link in this post.
I had an industrial piercing done on my right ear a little over 10 years ago. I haven't really thought much about the piercing in several years, but I have recently been considering letting it heal closed. This got me reflecting on why I made the decision to begin with. I thought my experience would be worth sharing here on the blog because it was so different than what I had in mind when I got it. Maybe other people are considering getting an industrial piercing, and have the same misconceptions that I had going in.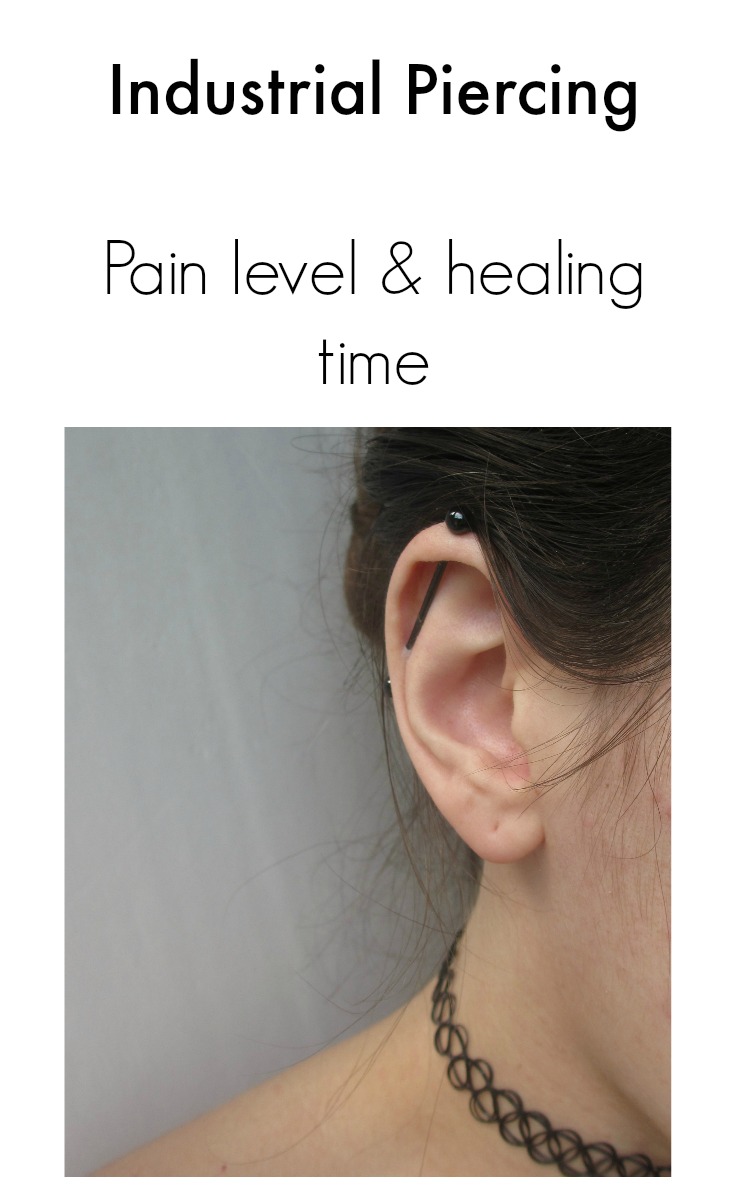 10 years ago, when I w as 15, I decided to get the industrial piercing for a few reasons. One was I wanted a piercing that wasn't exclusively feminine. I never had any interest in belly piercings and the piercing I had in my ear lobes seemed pretty plain-jane to me. Yet, nose, eyebrow and lip piercings didn't appeal to me for various reasons. I thought an industrial piercing was unique enough to stand out while not being traditional super-girly jewelry either. At the time being unique was really important to me and I didn't know anyone else who had one, so I went for it.
Prior to getting the industrial piercing I only had one regular set in my ear lobes, and my tongue pierced. I just assumed on my own that the piercing would be more painful than getting my ear lobes pierced, but wouldn't be as bad as my tongue was. When I had my tongue pierced everyone told me it would be awful because it's a muscle.
The industrial pain was worse than having my tongue pierced, in my opinion. However, I've talked to people who had both and who thought the tongue piercing was worse. When I had my tongue pierced the place I went had me swish really strong mouthwash for a really long time – I want to say 2 minutes? My whole mouth was burning and tingling, anyway and then they quickly went from that into piercing my tongue so I think the mouthwash may have aided in a loss of sensation to my tongue.
Anyway, even the industrial piercing wasn't terrible. On a pain scale I would say maybe a six and a half. My eyes got watery but didn't actually lose a tear, and I found myself holding my breath for a few seconds but it was doable. Though the rough part was it's done in two portions. They force a needle through the outer edge of your ear, and then pause and re-group before poking a hole on the top portion of your ear, so it's a two-step process of pain.
The worst part about the industrial piercing experience was the healing process. I was told it would take a few weeks to heal. I tried to keep it clean, and to twist it as I was told to but it still took 2 months to heal. That entire time it was sensitive to the touch. For the first six weeks or so, if I rolled over in my sleep and the weight of my head was resting on that ear, I would wake up from the pain of it. The difficulty sleeping was really annoying. Even that early on, I sort of regretted getting it because it was disrupting my sleep and nobody had commented on it at all. Having that realization made me feel silly even at 15, because I didn't think I had gotten it to show off or anything. However, the fact that nobody had commented on it made me realize that nobody was really even SEEING it. So I was going through pain for something that I thought looked cool, but nobody else was even seeing it. I've always kept hair that is roughly shoulder length, and I don't put the top half of my hair up very often so the top halves of my ears are usually covered with my hair. Even when my hair is up, it's not really very visible.  Perhaps it's a better piercing for men seems how their ears show more often.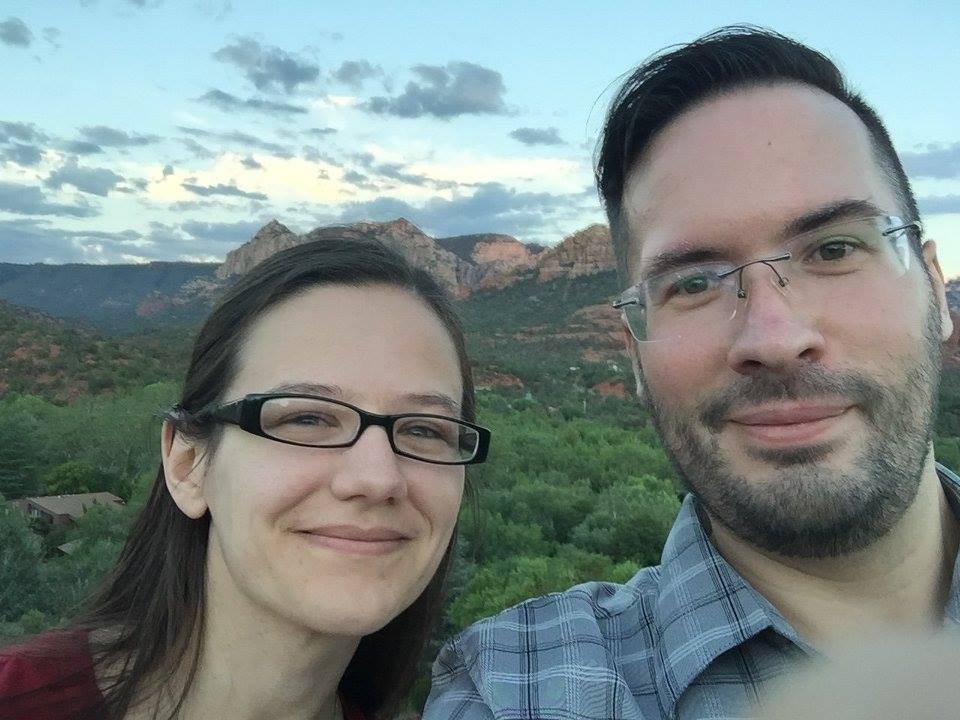 After about 2 months it was mostly healed. Then my dad and I were joking and I was sort of pretend-sassing him. Being goofy he tried to grab my ear, I guess sort of like the mock idea of how parents used to pull their kids by their ear when they had misbehaved? It was goofy, but anyway when he tried to grab my ear he pressed on the piercing and it HURT. That started another few weeks of it being sore and sensitive to the touch, almost like it had to re-heal. Then just a month or so after that, I went to hug a friend at school who was much taller than me. It was sort of a side/shoulder hug and he had on a hoodie with strings that got caught up in my hair and piercing. We didn't realize this had happened so when we broke the hug it pushed against the piercing really badly and a tiny bit of my ear actually tore. That was extremely painful and the piercing had to re-heal again. When it did heal it didn't heal as flat or smoothly as it had originally. Now it had a small lump or bump around the top hole of the piercing.
Thankfully, that was the last injury and after that point I didn't have any pain. However, after a few months I decided to purchase a zig-zag industrial from Hot Topic. I thought it looked cooler than the plain silver bar I had been pierced with. So I bought it, only to be disappointed when I went to put it in and it was too short. I got online and found out that industrial piercings don't get done in a set length. From what I have read, in part this is because people have different sized ears, but also some industrials are more horizontal or more vertical than others. So the jewelry is just made in estimated lengths. Apparently mine is a bit longer than a lot of people's because I've bought several industrial that were not long enough. None of the curly, zig-zagged or otherwise not-straight jewelry that I tried to buy was long enough to fit. I was really bummed that I was left with just plain barbells.
I've basically kept my industrial piercing in because the healing process was so tough. I didn't want to take it out because I thought it would all be for nothing. However, I have never had a haircut where the lady at the salon didn't accidentally snag the tip of the barbell when combing my hair. When it's windy and my hair blows it often gets tangled around the piercing and I have to unwind it. It's not a big problem, but I don't really feel like there's a purpose in having in because nobody sees it. Just int he past year I had a family member who I see VERY regularly notice it for the first time ever!
So, now that i'm 25 I just wonder what the point of keeping it in is. I don't think I have a very good reason so I think I'm going to let it close.
If you have an industrial and want an affordable one, I recommend this one on Amazon. I had an MRI a couple years ago and had to remove my barbell for the test. After the test I forgot to get it back, so I ordered this one quickly so it wouldn't close. I've been wearing it for 2 years now without any issue which I thought was impressive for the price.
Have you ever had an industrial? Did you like having it or find it kind of useless?