It's been 7 years since I moved out of my parents' house. To date I have lived in two apartment complexes and two duplexes. In my experience, both have some pros and cons. Most people I know tend to move into apartment complexes as young adults. I think people tend to forget, or maybe just don't know, that you can rent duplexes for around the same price in most areas. For me, apartment living felt quite a bit different than duplex living. Here are the pro's and cons of apartment complexes vs duplexes in my experience.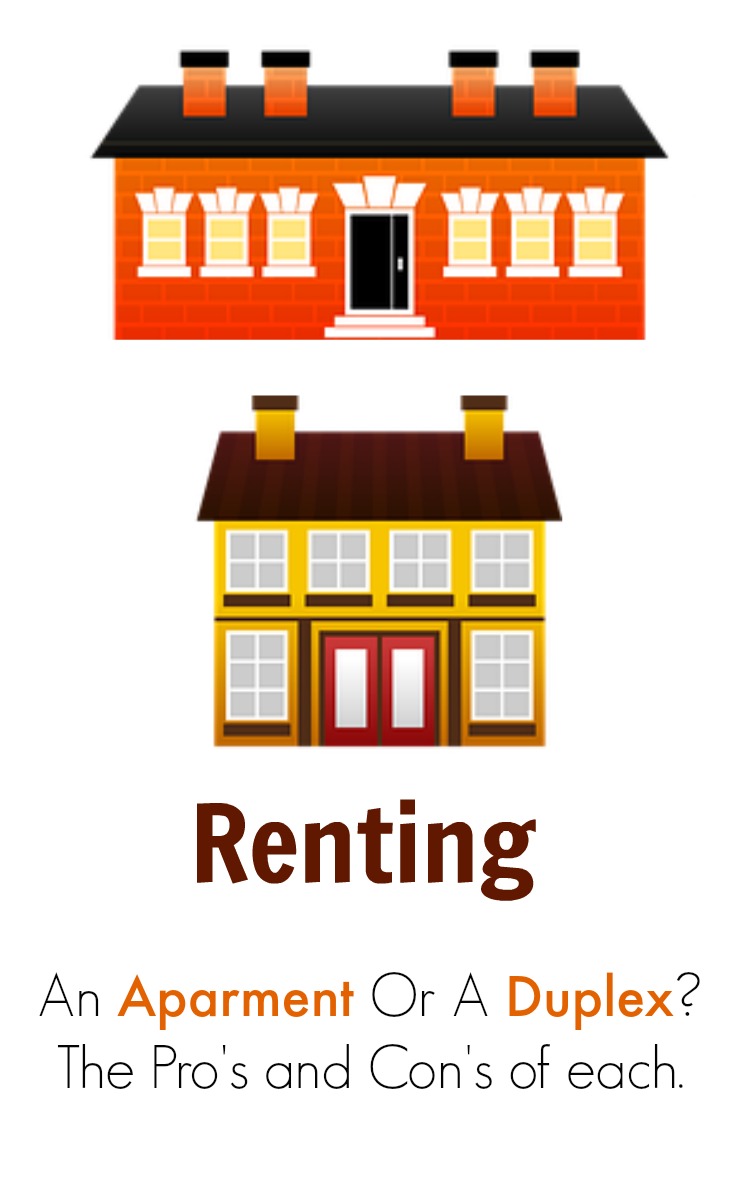 The benefits of living in an apartment complex:
They are usually very easy to move into. If you have a very short time-frame to find a place to live, you can sometimes get a lease signed on an apartment building within a day or two. Most apartment complexes have an empty unit at any given time so it's fairly easy to get in because they have so many units. Duplexes come up for rent less frequently because there are fewer units.
A maintenance man. Most apartment complexes have a hired maintenance worker who will show up if anything in your apartment breaks. This isn't always true for renting a house or duplex.
Free trash service. Most apartment complexes have a shared dumpster that all of the apartments can use free of charge.
Neighbors. If you are a social person, or have children, having several neighbors can create a fun community experience that you can benefit from.
A park. Many apartment complexes have a playground area that is nice if you have younger children. One apartment complex that I lived in also had a community pool and a "club house" which was basically an upstairs garage with a couch, bean bags, a video game set and free WiFi.
Air conditioning & a dishwasher. Most apartment complexes provide each unit with an air conditioner (or central air) and a dishwasher.
Free snow removal and lawn mowing. It's so nice to not have to worry about these chores!
It can be very cheap. In my area, some complexes have efficiency apartments which are lower in rent than anywhere else I have found ,by about $100 a month. If money is extremely tight then going with an efficiency apartment could be your cheapest option.
The cons of living in an apartment complex:
Lots of neighbors. You will likely have people living on both sides of your apartment, and above and below you. If any of these people are not mindful of their noise-level, that can be problematic.
Frequently changing neighbors. People tend to move more frequently in and out of apartments. In one of our apartment complexes, we had great neighbors at first but they moved and were replaced with more rowdy neighbors.
Yearly leases. In the complexes I have been in, they require that you sign a fresh 12-month lease at the end of each lease. With duplexes, we've signed a 12 year lease up-front but then it became month-to-month. Of course, read the lease before moving in to see if this is how your apartment or duplex lease will work.
No private yard. While your complex might have some yard, it will be shared property with other residence so lounging around outside alone isn't really realistic.
Cheap furnishings or decor. Most apartment complexes that I have been in have very cheap, thin carpet, and those thin, easy-to-break window blinds. My town does have some higher-end apartment complexes but they tend to be rather expensive to rent.
The benefits of renting a duplex:
A more private yard. While you will be sharing it with another person or family, it's pretty easy to divide a yard in half if the duplex is side-by-side. When renting duplexes I try to consider 'my yard' the area from where my half of the house begins over to the edge of the property line. The other tenants have just naturally assumed this as well so we have our own 'halves' and don't feel like we are invading their space when spending time outdoors.
More space. Duplexes tend to have more living space than apartments, especially in the bathroom and kitchen areas.
It feels more personal. When I was living in an apartment complex, seeing all of the apartments lined up and all my neighbors made it obvious I was 'borrowing' a portion of a building. My duplexes are more spread out, and had a bit of a yard, etc so it feels more like my own space.
They can sometimes include additional space such as an attic, basement or garage. At my current duplex we have a two car garage. In my first duplex we had a small shed outside that we could use to store yard or garden items that weren't in use.
More freedom to customize. Our landlords were happy to let us paint, garden in part of the yard, plant flowers, etc. These are nice benefits for anyone interested in gardening, improving decor or planting flowers but they also help me feel like the space is more 'ours' seems how we have customized it a little.
Only one neighbor sharing a wall with you. When you only have one person sharing walls with you, the odds of dealing with noise late at night or early in the morning is lower. I also personally found it easier to become closer with my neighbor when I only had one. They were the only people I knew who had the same landlord, and they were the only people sharing the building with me so if I had questions about anything it was natural to want to talk to them about it.
The ability to choose location. When we began looking at duplexes, we saw some in town, some in suburb-type areas and some in the country. It's pretty rare to see apartment complexes outside of a city, so if you have an interest in country living than duplexes can be a great benefit in that way.
More likely to have washer/dryer hook-up. Complexes tend to have a shared coin laundry area. Duplexes are often converted from single-family homes so they have a higher chance of having a washer-dryer hook-up. One of my favorite benefits of living in a duplex is having my own washer and dryer so I don't have to use a coin-operated laundry room or go to a laundry-mat anymore.
The cons of renting a duplex:
No on-site maintenance man. If you need something repaired, you will need to contact your landlord and wait for them to either hire someone for the job, or to fix it themselves. In our first duplex, our landlord would say he would hire someone to make repairs for us when he had the money, but after months of nagging he never got around to it.
Lawn and snow care is usually your own responsibility. This requires more time and effort on your side if you can do the job yourself, or you'll have to spend money to hire these services.
Quality of the house can vary a lot. When renting a duplex it's really important to look really closely at the home before signing a lease. We looked at some duplexes that looked okay at first, but on closer inspection had water leakage issues in the sink area and we realized the roof leaked due to stains on the ceiling. Not all landlords are willing to make major repairs such as a new roof for tenants so it's important to know what you are moving into before signing anything.
The home-owner/landlord may still live in the other half of the home. I have friends who rented a duplex, and the home-owner lived in the other portion. The home-owners still had the attitude that the entire home was their own, which left the tenants feeling like the duplex wasn't really 'their space' which was uncomfortable for them.
In my experience, apartment living is ideal if:
You value the convenience of not having to take care of your own yard work, garbage and/or household repairs.
You are very social and enjoy living in a busy community.
On the other hand, duplex living is more ideal if:
You value having a large yard, and lots of space to yourself.
You prefer a quieter space that feels more your own.
If you still have conflicting feelings about whether an apartment or a duplex is right for you, try looking for the best of both worlds. For example, maybe you don't want to pay for snow removal ,but you would like a space for your children to play outside. Perhaps the 'best of both worlds' for your family would be choosing an apartment complex with a playground and pool. Or, maybe you can find a duplex with a landlord who is willing to hire snow removal services for you when needed.
Have you lived in an apartment complex and a duplex? Which did you prefer?