I get a lot of perspective hedgehog owners on my posts How Much Work Is A Pet Hedgehog? and Must Have Products For A Pet Hedgehog. One question that I have seen a few times in response to those posts is, I am ready to get a pet hedgehog! Where can I buy a hedgehog? Or, where do I find a hedgehog for sale? There are several ways to find a pet hedgehog to buy.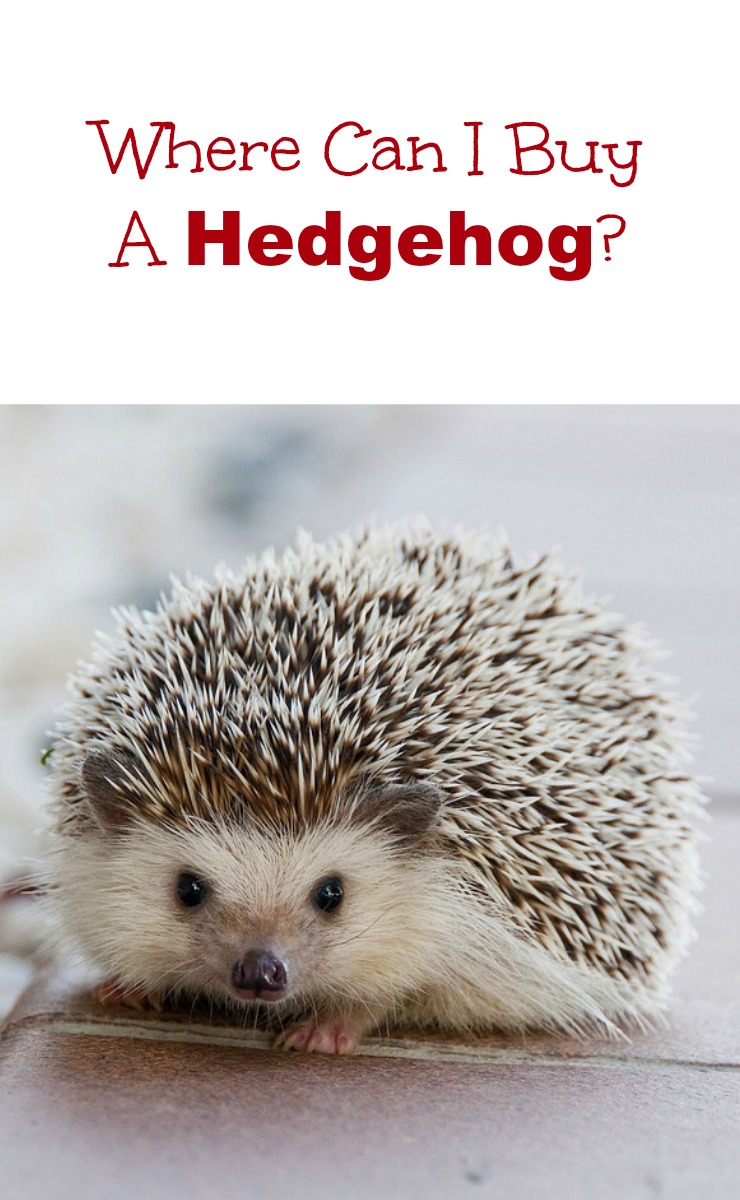 1. Buy a hedgehog from a pet store. Larger pet stores sell hedgehogs. In my area, the nearest pet store has a ton of fish, and a small assortment of birds and hamsters but that is about all. However, there is a much larger pet store about half an hour from me that has a much wider assortment of pets including reptiles, birds, ferrets, guinea pigs and so on. That bigger pet store sells hedgehogs. If your nearby pet store doesn't have hedgehogs, try looking online for a larger pet store.
2. Buy a hedgehog from craigslist. Individuals who own hedgehogs and breed them will often list them on craigslist. This is how I got my hedgehog. Any time you buy a pet from an individual breeder there is a risk that they are not a skilled breeder so research the person you are considering purchasing from thoroughly if you go this route. It's fairly common to see hedgehogs for sale that aren't just babies. So if you are looking to buy a hedgehog that is grown, this is a great place to try.
3. Find hedgehogs for sale in the newspaper. Similar to craigslist, individuals who have a litter of hedgehogs will post their hedghogs for sale in the newspaper.
4. Buy a hedgehog from a local exotic pet group. Hedgehogs are considered exotic pets. I know of a Michigan group called Even Keel Exotics that sells a variety of exotic pets in Michigan. I haven't researched them much (so don't take this as a recommendation) , but I know that this particular group regularly has baby hedgehogs for sale. Do a quick google search for exotic pet and your state and see if your area has a similar group.
5. Find a hedgehog breeder to buy from. Hedgehog Central has a hedgehog breeder list to help you find out where to buy a hedgehog in the us, canada, the UK & europe.
Regardless of where to decide to buy a hedgehog, be sure to really look into the person. Be sure to look up wobbly hedgehog syndrome, as that is a problem that you certainly want to avoid. Write down a list of questions to ask the breeder or seller, such as the hedgehogs age or birthdate, their current diet, and so on. Look around online for more advice regarding picking a good hedgehog breeder and a healthy hedgehog so you can make an informed decision.