There are affiliate links in this post. I was sent some of these dog toys for review in the past on my other blog, Emily Reviews. However, I was not asked to include them in this post. In fact, the brands have no idea I am posting about these toys for this post. These are just my pugs favorite toys toys and a couple of them happened to be sent to us for review back in the day.
My pugs frank and beans didn't play with toys for the first few weeks that we had them. I thought they just didn't care for dog toys. After a few weeks they became more playful which was really exciting for us. Still, it took a while to learn what types of dog toys the pugs did and didn't like. Over time we realized they don't care for balls, rope toys, squeaky/rubber toys or basically any toy that isn't a plush dog toy. So I started buying plush dog toys for them, and the pugs would go crazy for some and ignore others. In time we realized they prefer smaller toys. My pugs have pretty small mouths so toys that are mid-sized or larger are hard for them to get a good grip on  unless they have a long skinny arm, leg, tail, etc. However, with some of the smaller toys we tried buying they would be destroyed in 15 minutes time. After 3 years of having my pugs we've found five tried and true toys that they just adore. These have lasted us so long that I'm not sure they will ever need replaced but if they do, we'll probably be repurchasing these ones because I know they are tried and true. My pugs favorite toys that have been built to last.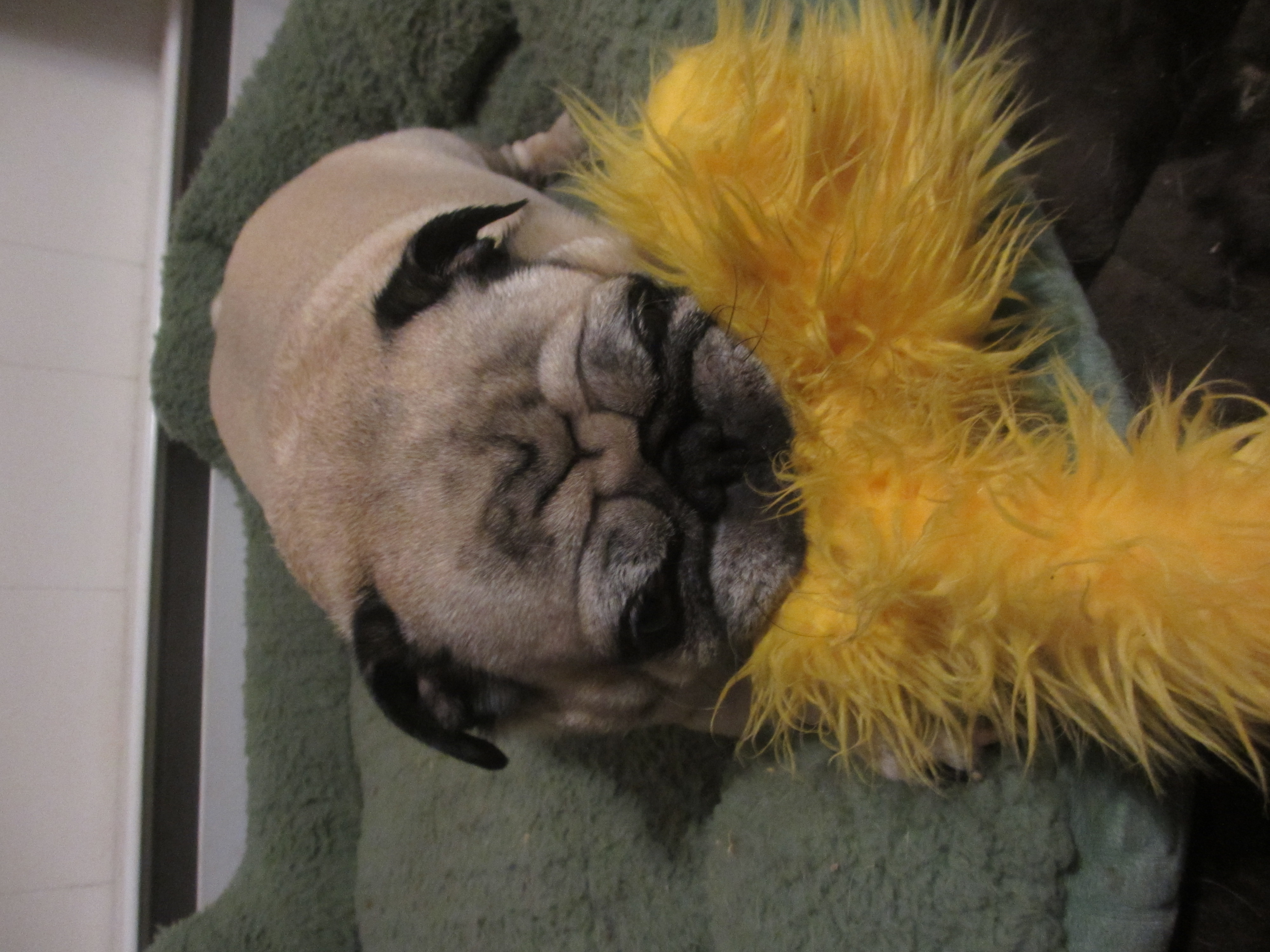 Baby salsa is my pugs' favorite toy of all time. I've had a soft spot for cute monsters since I was a teenager. So the "Baby salsa" toy from West Paw Designs stood out to me when I was offered a review a couple of years ago. I was thrilled when both of my dogs went crazy for it. We originally had the yellow baby salsa and it held up great for a year. So the following year for Christmas I got the blue baby salsa as a back-up. They like both, but the yellow one seems to be the ultimate favorite for some reason. Now almost 3 years later, the yellow one is holding up great even though it has been through the washer and dryer dozens of times. So I don't think we ever needed a back-up anyway! It's a bit pricey at about $17 but we've certainly gotten our moneys worth in the past 3 years as this is a toy that gets played with daily, often as a tug toy and has yet to lose any stuffing. The squeaker even still works!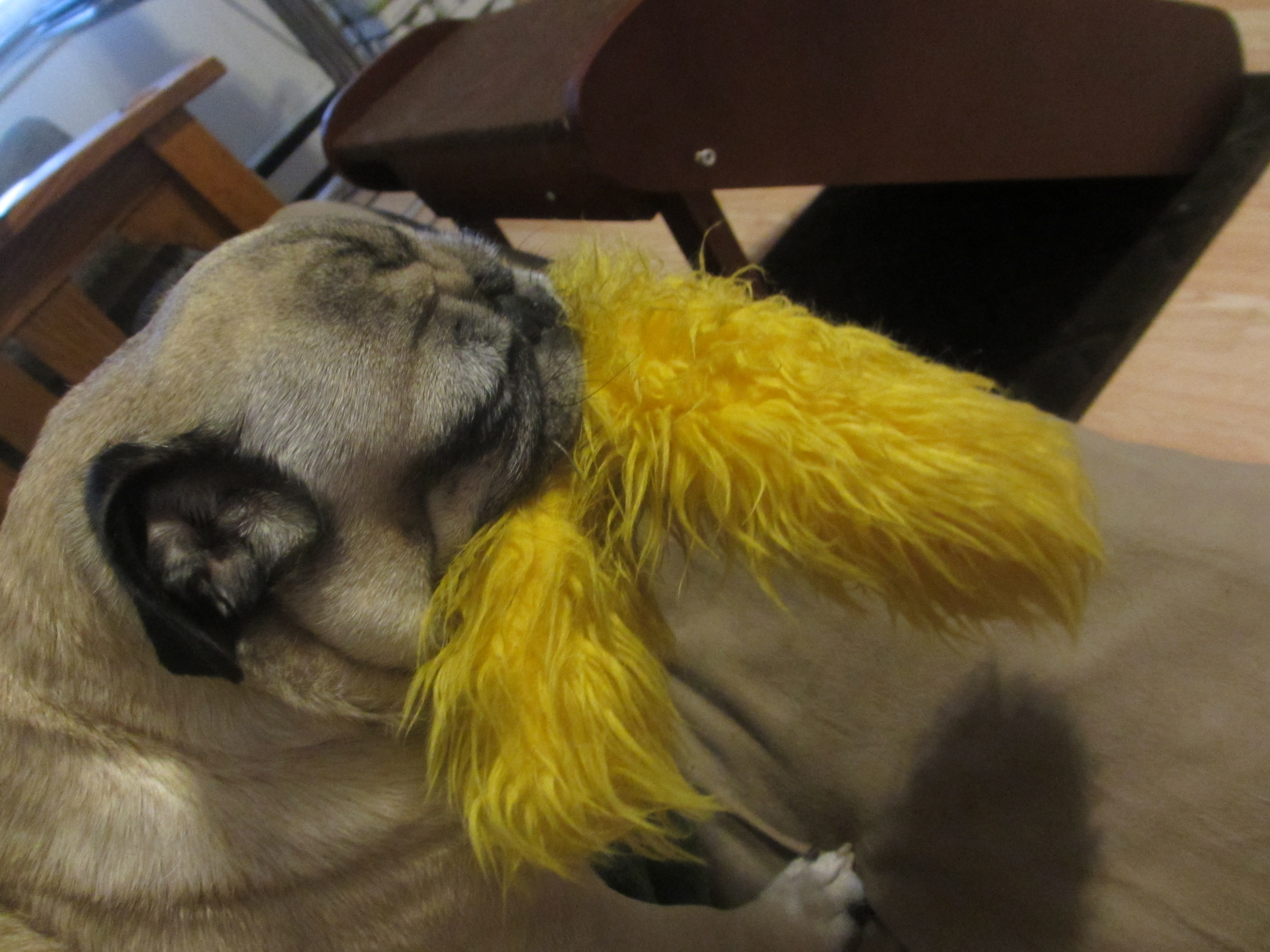 Beans carries baby salsa around like this all the time.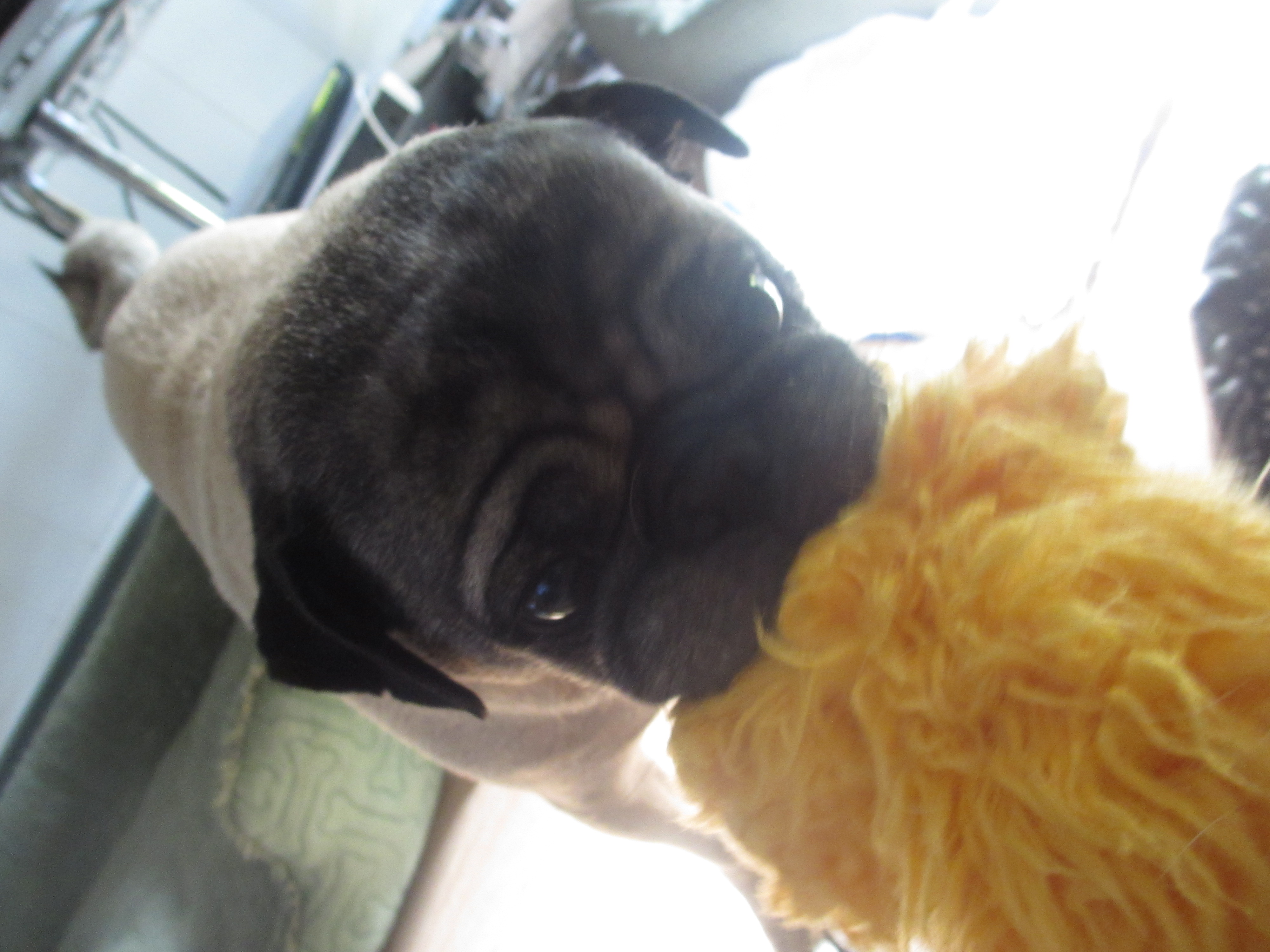 Frank with baby salsa.
Salsa. Salsa is a larger version of baby salsa. I was able to work with West Paw designs on a review after we had already owned baby salsa so I opted to give regular salsa a try. The arms and legs are thin enough that the pugs can get their mouths around it. My pugs were just as excited about regular salsa as they were the blue baby salsa. Unfortunately we lost our salsa when we moved and seems how our other dog toys have held up so well we haven't replaced it. However it's only about $2 more for this size than baby salsa so I'd definitely go this route if you have a larger dog or just a dog who prefers the larger toys.
Tango is another favorite from West Paw Designs. Yes, we are a little crazy about this brand. Though we have owned two west paw designs prodcuts that my dogs just werne't as crazy about – the spring chicken toy interested them but they just weren't extremely into it. My dogs show a lot of interest in the boogie toy from this brand but it's too big for them to get a good grip in their mouths. Anyway back to Tango. My dogs just seem drawn to their dog toys because of the long furry material that they make their dog toys out of. Tango caught my attention because he has really long arms and legs. We use baby salsa and salsa for tug all the time and we often get a three-way tug going between a human and both pugs at once. It works, but we don't have much extra space left over. I thought Tango would be perfect for doing 3 way tug and it really is. Tango is really long so my pugs don't carry tango around the house (or to bed) like they do baby salsa. If they do carry tango most of the time one of his limbs hits the ground. However, they get excited if I use tango to get them to play with me and he really is great for playing tug with. We've had Tango for about 2 years and he's held up great.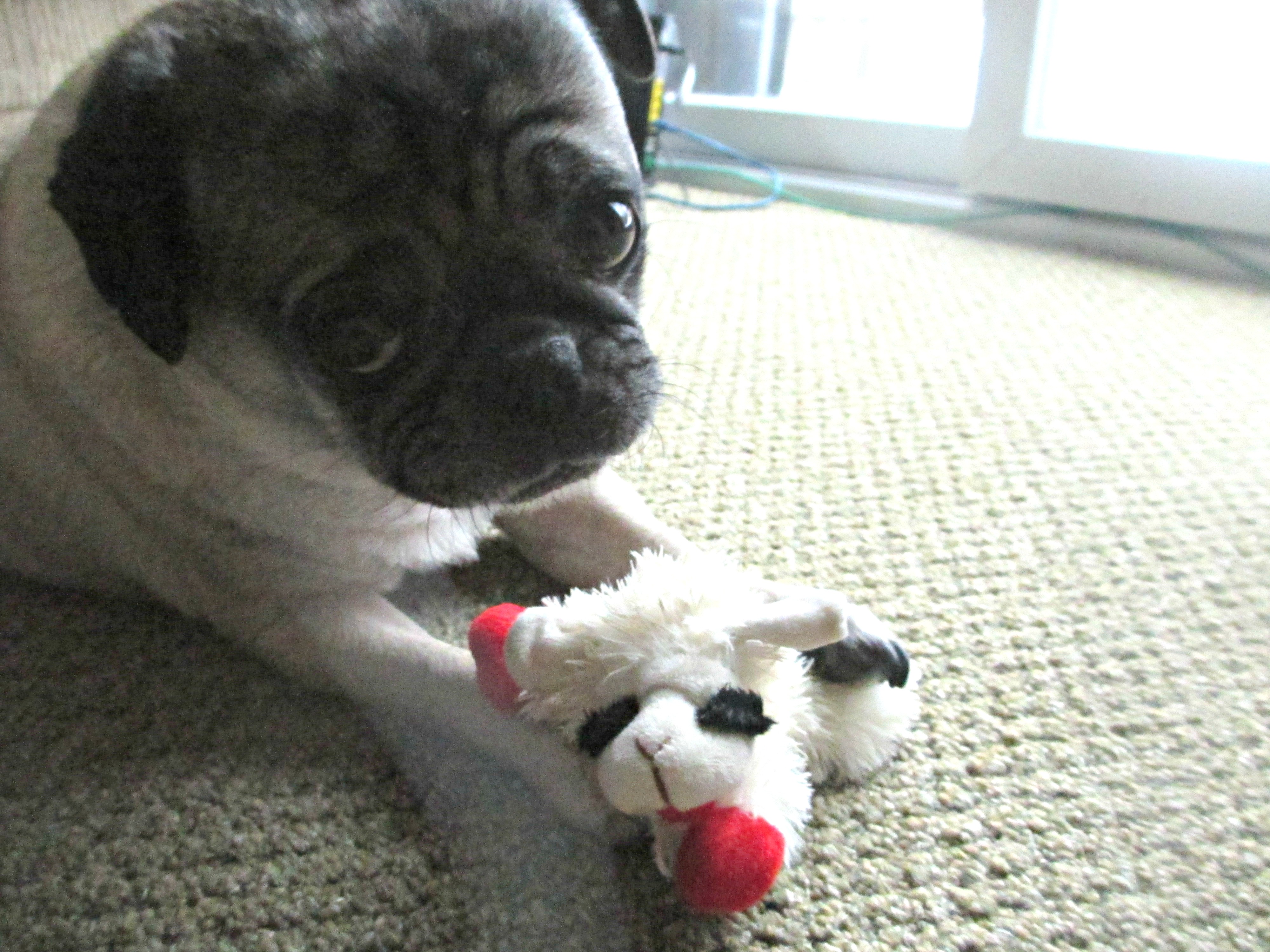 Lamb chops from multi-pet. I loved lamb chops the show as a toddler so I just found this toy so cute. It was really cheap, I think I paid a little under $4 at a local farm supply store. It has thick, soft fur and Frank was super interested in lamb chops from the moment he set eyes on her. Beans has never really taken to lamb chops for some reason but Frank loves it. Both of my dogs prefer to use their toys with a human but Frank occasionally will just lay and chew on a toy and if he does that, he almost always picks Lamb chops. We've had this toy for almost a year now and have put it through the washer/dryer several times without any issue. This is definitely a great buy for the price.
The day Frank tore up the kyjen junior hedgehog.
Junior sized hedgehog from Kyjen. This toy has a special place in my heart because it's the first toy we found that both of our dogs went nuts for. I had frequented some pug related forums to see what pugs favorite dog toys seemed to be and this toy came up several times. I knew my dogs preferred smaller toys so I ordered the junior size and was a bit surprised that it wasn't all that small in person. It wasn't too big though and both pugs loved it. We got about 18 months of play in before one of the dogs bit the top of the nose off and then eventually the stuffing came out. However, they still play with their now-flat hedgehog from time to time. For about $7 it was a great buy.
If you have a pug or another small dog breed feel free to share what toys your dog loves the most. I'm always eager to read about long lasting, quality dog toys that dogs really take to.