As a kid my family wasn't able to travel. We live in Michigan and we went camping at camp rounds on lake Michigan a few times, but that was the extent of our traveling. My first flight was just over a week ago, and I am 25. My boyfriend is 30 and he had never flown either. Neither of us really knew what to expect but we were excited and nervous. When you're a first time flyer, there are a lot of little details that you probably don't know. People who have taken many plane rides simply don't think to fill you in because it's such basic knowledge to them. So I thought I would share what I learned on my first time flying on a plane so you can be more prepared for your first time flying.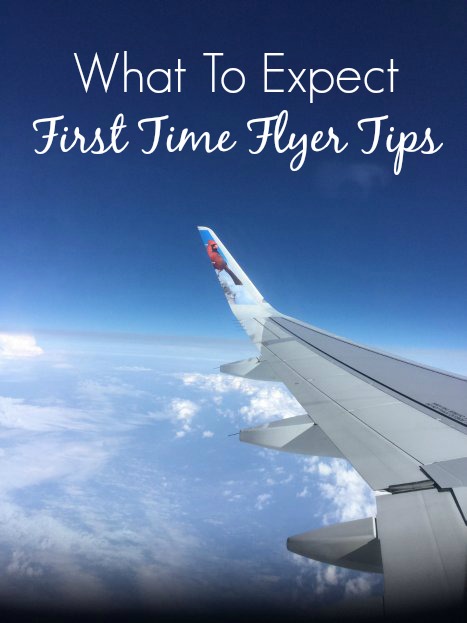 Some airlines offer free carry-ons, while others do not. For example, delta lets you bring on a carry on suitcase and a 'personal item' like a purse, laptop bag or small backpack free of charge. However, Frontier airlines charges $40 for a carry on. If you are taking a shorter trip many people will find that choosing an airline that allows a free carry on bag is the best deal because you can avoid paying any luggage fees. I made the mistake of choosing the airline that was the cheapest ticket price, only to realize they did not offer a free carry-on. So after the cost of paying luggage fees it was not the cheapest route after all. Newbie mistake!
Buying luggage bags is expensive. Luggage starts around $60 a bag from what I could find online. If you have a friend or family member who can travel, borrowing their luggage is awesome if you can. If not, be sure to calculate the cost of buying the size of luggage that you need into your overall cost. While paying to check a large suitcase is likely to be more expensive than a carry on, if you are traveling with someone else and the two of you can share one large checked bag, that might be cheaper than doing two carry-ons if you have to purchase the suitcases.
What is allowed in carry-ons. For your carry on and personal item, carefully go over what is allowed according to your airlines website and the TSA website. The most common problem is liquids or gels (including toothpaste and personal care items) are limited to very small sizes of about 3.4 ounces or less. If these items are in your carry on they will make you throw them away. If you are uncertain for any particular item, google it. My boyfriend smokes and just assumed he would not be able to bring cigarettes or a lighter and he was very stressed when trying to get to a gas station to purchase some after we landed. Before flying home he googled if you can bring cigarettes or a lighter on a carry on, and you can so the stress was for nothing.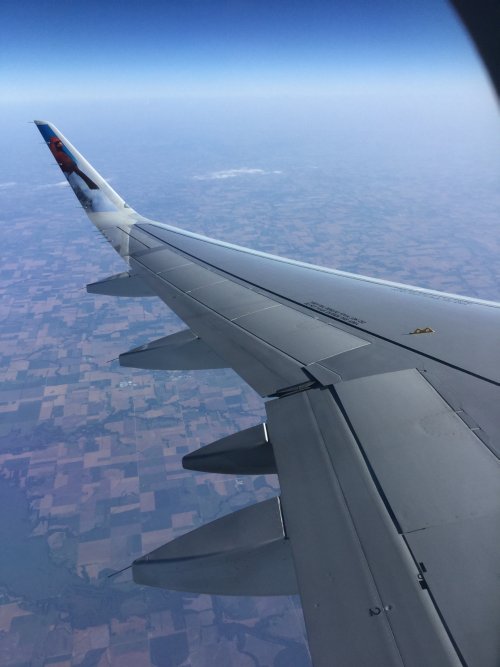 Not all planes offer movies or WiFi. The flight I took on Frontier did not have TVs or WiFi. My flight was 4.5 hours which is quite boring even as an adult! If I had been traveling with a child I certainly would have wanted to be prepared with a movie on a tablet or computer for them. My sister in law told me that the flight she took recently did offer a movie but they only offered headphones free on the flight to their destination. On the way home they did not pass out headphones so that's something to be aware if you want to listen to the movie on the way home, keep headphones on you!
What to expect in the TSA area. The TSA area at the Detroit air port is huge and there is only one worker there who is explaining what to do. He was so far away that we could not hear what he was saying. There is a line where they request your ticket, and then let you come through. Inside there is a simple conveyor belt with plastic tubs (like dishpan tubs), and then a line for a TSA scanner. You have to empty your pockets and put the contents of your pockets into the pan. If your carry on has electronics or metal (like a computer, tablet or coins) you have to take those out of your carry on bag and put them in the tub as well. Then use a second tub for your carry on which you can leave zipped up. Do not put your carry on bag on top of your electronic devices. Take off your shoes and put them in a tub as well. The tubs will run through a scanner that looks for anything suspicious, while you wait in line to go through the human scanner. It's pretty tough to know what will set off the scanner, but if it goes off they will request to look through your bag. Of the 10 or so people surrounding me, my bag was the only one to be looked at. The TSA agent asked me if I had a lot of cards or papers in my bag. I explained that I had a box of business cards in the bag. She asked to look in the bag, I agreed and she felt around, found the cards and then approved my bag. I had the same business cards in my back on the return flight but it didn't upset the scanner that time.
What to know about going through the TSA scanner. The TSA scanner has feet stickers stuck to the ground that you line up on. You then just place your hands over your head and you can see the scanner circle around you. The TSA agent will motion for you to step out. You have to wait a few seconds until the computer approves or denies you. The first time through we both got through fine. The second time I was denied, the TSA agent said the machine picked up something in my waist area and asked me to hike up my shorts. I did and he had me try again and then it approved me. Once you have finished through the TSA scanner you can gather your items from the tubs.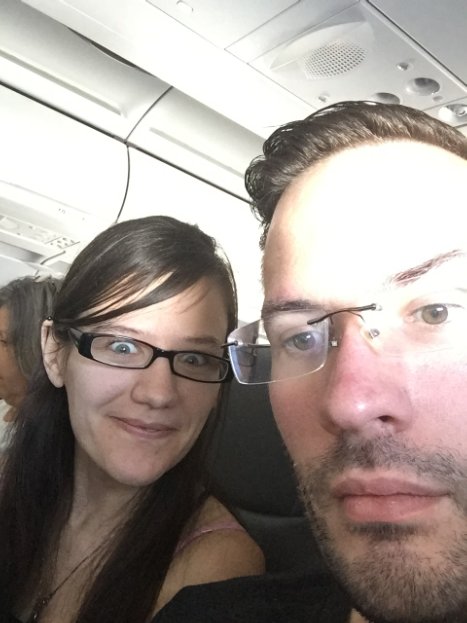 Silly selfie while waiting on our first flight to depart. We had no idea what to expect!
Snacks and drinks for flights.  Once you're through the TSA line you can access restaurants, vending machines, etc in the airport to purchase food or drinks that you can take on the flight with you. Both airports we visited had water bottle filling stations near the water fountains so if you bring an empty water bottle you can fill it. The vending machines and restaurants in the airports were pretty pricey. The mid-sized bags of chips (usually .89 or so at a gas station) were $1.99. 16-20 oz bottles of soda were $2.50-2.75 or so each. Not cheap, but cheaper than the in-flight options for Frontier at least.
Personal Item Size for flights. I was surprised that our personal item was not measured, even though the website tells you the exact measurement requirements. Instead, it has to fit reasonably well under the seat in front of you on the plane. The bag we were using was within 1/2 an inch of being too wide according to the website but it fit easily under the seat so it was not a problem. I am pretty sure that we could have exceeded the website measurement limits without anyone noticing or caring though do that at your own risk of course!
Finding your checked bag on the airport conveyor belt: If you check a bag that is dark, you can 'decorate' it in some way to make it easy to find on the conveyor. I saw people who used scarves, ribbon, etc to the handle of their suitcase so it was easy to pick out on the belt.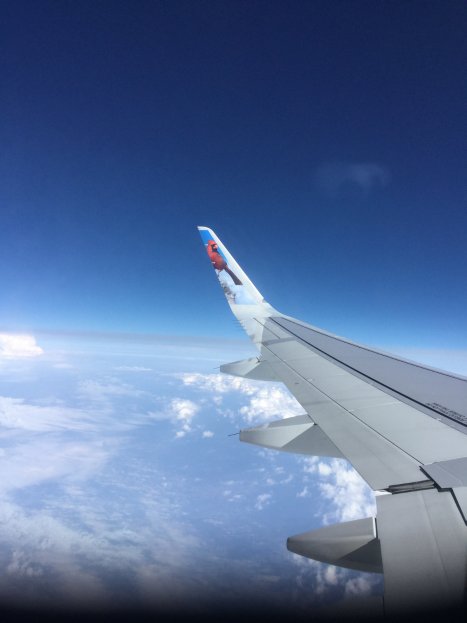 Light on the airplane. The plane is kind of dark! It didn't seem dark at first because they had lights on, but once we got ready to take off they turned the lights off and it was kind of 'dusk' level of brightness inside the plane. They have 'reading lights' for each seat, but they are a few feet above your head and are not very bright so they don't really help much. There is a cover for the window of your row which can be opened or close to let light in from outside which makes a much bigger difference than the lights.
Temperature on airplanes: The plane is kind of cold! We traveled in June, when it was in the 90s in Michigan (where we left from) and around 110 in Phoenix where we traveled to, but I was cold enough that I put a sweater over my legs because I had shorts on. If you get cold easily consider wearing jeans and long sleeves or bringing a small throw blanket.
Not all flights offer drinks or snacks free. Some airlines give out peanuts, water, a soda, etc per flight. The one I was on (Frontier) doesn't give anything complimentary. You can purchase drinks (soda or alcoholic beverages) or snacks (chips, jerky, pretzels, etc). Again, prices are pretty high. The "Deal" was paying $9.99 for two cans of soda and two of those tiny chip bags (normally .50 in a vending machine). My flight only came through once at the very beginning of the flight requesting orders, if you don't order that first time through they don't allow orders later. The prices were roughly the same as the airport, but the snack bag and soda size are smaller making it a worse value.
Arrive to the airport very early. The time on your ticket is the exact time your plane wills tart moving. You have to be boarded before that. I believe entry to our plane stopped 15 or 20 minutes before take off. We were supposed to start boarding 45 minutes before that though. My airport recommended arriving 2 hours before your take off time, which is what we did and we were left sitting for about 45 minutes before being able to board. If you are renting a car, bringing small children or have other reasons why you might be slower to navigate the airport I would arrive more than 2 hours early.
Some advice that you didn't ask for: relax! Fear of flying is really over-hyped in my opinion. I heard a lot of people say they can't stand take off, can't stand turbulence or hate landing. I had prepared myself to be panicking during take off and landing at minimum. I am afraid of heights and do not like roller coasters or even fair rides. That "upside down" stomach feeling from amusement parks is really upsetting to me. You do get a BIT of that feeling during take off, or during acceleration or changing directions but it's extremely mild compared to an amusement park ride. We flew through a few storms so we did have turbulence and weren't able to stand up or walk around for about an hour on one flight but it was far less bumpy than riding on a school bus.  The first landing was a complete breeze, no discomfort at all. The landing on the way home was very long. I heard someone say 'this is the longest, worst landing I have ever experienced!" but it still wasn't bad in my opinion. It just felt like we were decelerating for 10+ minutes, but it was not bumpy and didn't bother my stomach.
Are you going to be a first time flyer soon? What questions do you have? Or if you're an experienced flyer do you remember your first ever plane ride? What surprised you about your first time flying?