When you're considering moving into an apartment or rental house, whether its your first apartment or if you're a renting pro, there are several aspects of moving that you could consider. I've separated them into three main categories – budgeting, red flags and to-dos.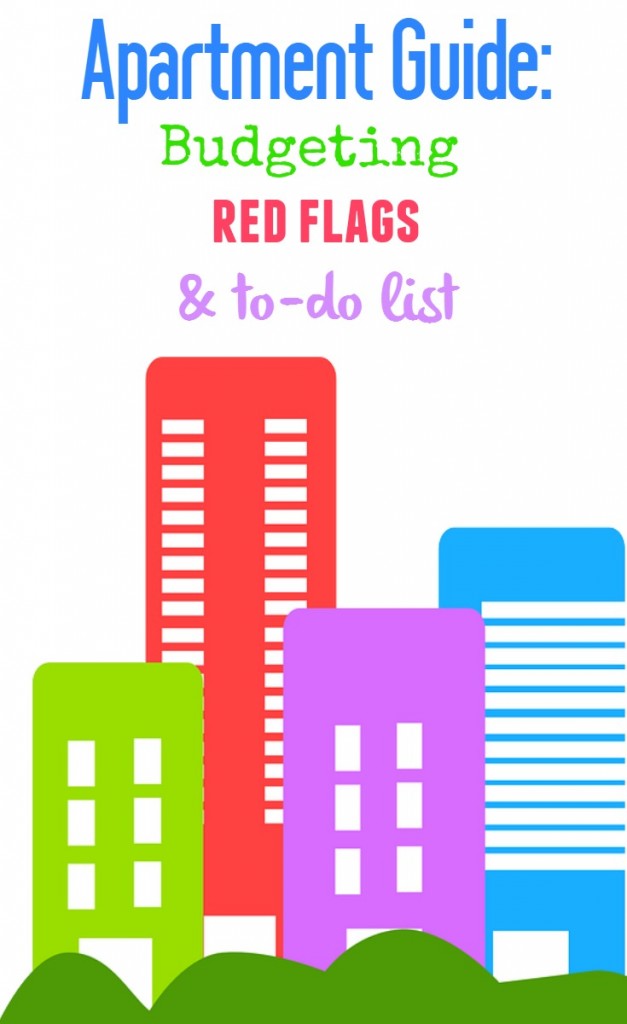 Budgeting:
Making sure that you can afford the apartment is important. Many budgeting experts suggest having your rent or mortgage payment be 30% or less of your monthly budget. So if your monthly take home pay is 3,000, you should look to find a place that is $1000 a month or less. However, this is just a general guideline, as your bills in combination with your rent will determine if you can really afford it or not. Seeing two apartments listed at the same price in a newspaper or on craigslist doesn't mean they will both cost you the same out of pocket, as one might include your water bill, snow removal and garbage removal while the other does not. Of course, leaning on the cheaper side is always a safer bet.
Be sure to pay attention to whether or not the following bills/fees are included in your rent or not:
Heat
Electric
Snow removal
Lawn care/mowing
Water bill
Garbage removal
Recycling
Pet fees
Laundry (if there is laundry on-site, is it free or coin operated?)
Parking/Car port
To-dos and questions to ask:
Read the lease line-for-line. If you negotiate any terms, make sure that your landlord reprints (or at least writes the edit on your lease and signs it).
Is there a late fee if your rent is late? How much is it?
What appliances come with your apartment? If they break, will they be repaired or replaced for free or will that be your responsibility?
How long does the least last? After the lease period is over, will it switch to month-to-month or will you need to renew the lease?
What will happen if you need to break the lease before it is finished?
If your life situation changes such as you date someone new, can someone else move in later?
If you have a roommate or housemate, ask what will happen if one roommate leaves but the other does not.
Make sure have extra money saved up prior to moving. Most rentals require a deposit that is the same size as first months rent, plus the first months rent upfront. For example, if rent is $600, you'll need $1200 to move in.
Also look into activation fees for utilities or other expenses such as internet, phone, etc.
Most landlords will give you a print off where you can write down any damage or imperfections that exist in the apartment before you move in. Be very diligent to include every scratch and ding that you see. Anything that you don't write down could potentially be blamed on you and the cost of replacing or repairing that item can be kept form your deposit. If your landlord doesn't give you one to fill out, make your own (two copies) and staple one to your copy of the lease and the second to your landlords copy of the lease.
Red flags
When touring the kitchen and bathroom, sniff near the toilet and sinks. If you can smell a mold or mildew smell there is likely a water problem.
When touring an apartment, keep an eye on the ceilings to see if there are any water stains/damage.
Sit and make a list of ALL of your monthly expenses and one-off expenses (such as Christmas, license renewal fees, etc). Having a budget that leaves you with $0 remaining is a red flag because unexpected expenses will pop up sooner or later. Make sure to set up your budget so that you have a certain amount of "left over" that you can put into savings each month to pad you against expenses.
If you have a roommate, have a conversation with them about how household chores or duties will be divided. Also discuss how finances will be divided. If this conversation is a struggle, it is probably a red flag that you don't have good enough communication with this person to navigate living with them. Having a happy roommate relationship requires a high level of communication and negotiation.
What factors do you consider when moving into an apartment? If you've had negative experiences with apartments in the past, please share your experiences below so we can all benefit. Were there any red flags that you missed?