*There are affiliate links in this blog post.
If you're working on living on a budget, paying off debt or living a frugal lifestyle it's unlikely that your dog care costs will come to mind early on when thinking about your budget. I know that I spoil my dogs more than some families, but I didn't realize how much the costs really add up until I sat down and wrote it all down – and that's with neither of my dogs needing surgery or having an injury in the almost-2 years that i've had them.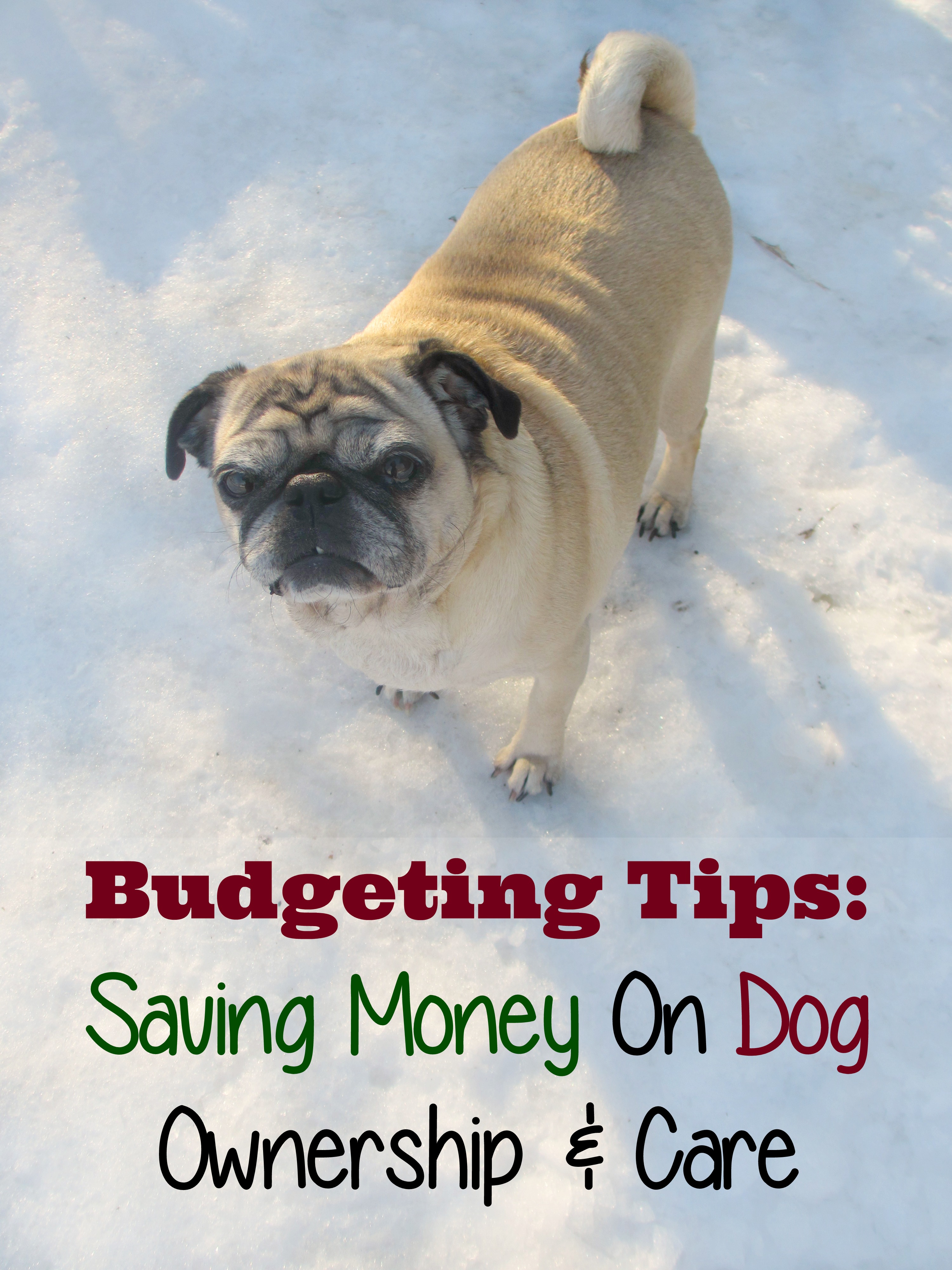 We're really trying to pinch pennies to pay off some debt and I've come up with several ways to cut back on the amount of money I spend on my dogs without reducing their quality of life.
How to save money on dog ownership and care:
1. Buying "chews" or bones online instead of in-store. Bully sticks at my local supermarket are $7 for a pack of two and they are literally as thin as a pencil! At Petflow.com they the bully sticks are easily twice as thick and are just $.99 each. I order trachea, pig ears, etc online as well and save at least 50% over petstore or supermarket costs.
2. Buy a used dog crate. I browse Craigslist and facebook groups for buying/selling items in my local town and county regularly and see even extra-large size dog crates for under $50 in like-new condition.
3. Buy a personalized collar instead of a collar and a tag. I love my pugs' collars from HotDogCollars – they were about $13 each and they include their names and my phone number so I don't need to pay for an ID tag.
4. Buy dog toys based on online reviews. Whenever I purchase a random dog toy from a pet store or supermarket, my dogs shred it to pieces in just a few rounds of play. When I shop on amazon or other online stores I look for toys that have higher overall ratings and read reviews to make sure people are saying it was a long-lasting toy. While supermarket plush dog toys may only cost $3, I have purchased plush toys in the $5-$8 range on Amazon that have lasted 6+ months so its a better deal in the long run.
5. Once you've found a high quality pet food that you & your dog are happy with, buy the bigger bags. Buying a 40 or 50lb bag costs you less per pound than the smaller bags.
6. Measure your dogs food. If you read online articles about dog care, it may seem obvious to you that you would measure your dogs food out each day. Yet, most people I know just leave a full bowl out for their dog(s) at all times. Most people recommend limiting portion size to prevent obesity in your dog but it has the added benefit of saving you money if your dog isn't overeating.
7. Trim your dogs nails at home. Dog nail trimmers
 can be purchased for $8-$9 or you can pick up a Dog Nail Dremel
for around $25. My vet charges us $15 per dog to trim their nails so even with a dremel you save money on a single visit if you have two dogs.
8. Follow dog blogs and enter giveaways. Dog blogs regularly have giveaways for treats, toys or even pet store gift cards. Last summer I won a $100 pet store gift card that bought me two 40lb bags of my dogs food with a little left over so we didn't have to pay for food out of pocket for about 4 months. Score!
9. Use a piece or two of kibble as a treat. When I adopted my pugs it was obvious from how excited they got upon coming inside from going potty that they were used to getting a treat each time. I quickly learned to break treats in half to make them go farther (and to reduce the amount of calories the pups were getting via treats each day). However, I later realized that if I hold a single piece of kibble, my dogs get REALLY excited for it just like it was a treat. So we now give them a piece of kibble upon coming inside and they don't seem disappointed at all. Much cheaper than buying dog treats!
10. Have an "emergency" fund savings. If you're trying to live on a budget it's great to have an emergency cost for any unexpected costs. If you have a pet, you should increase your emergency fund a little bit more than non-pet owners because you have the added risk of a pet getting hurt, needing surgery, etc. My local 24 hour emergency vet hospital charges $300 as a flat fee per appointment and it of course goes up from there based on any scans, tests, etc.
Do you have any other tricks for saving money on pet care? I'd love to hear your ideas!