*There are affiliate links in this blog post.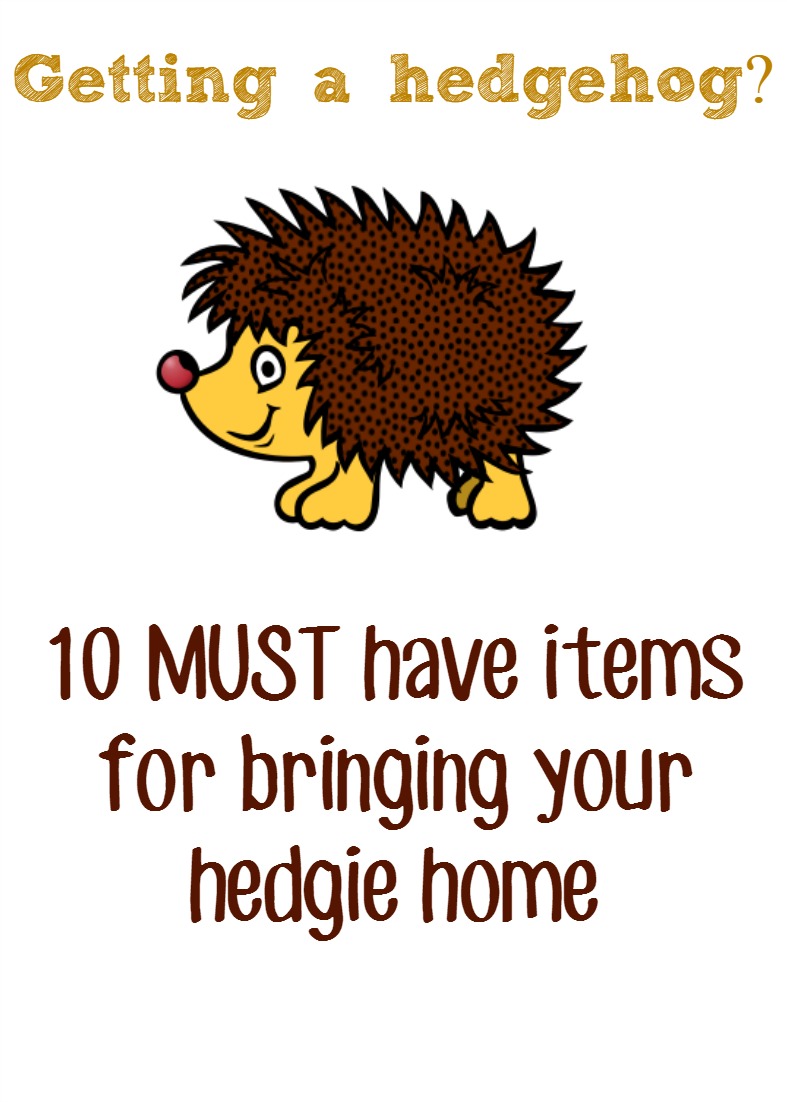 Hedgehogs are a fairly low-maintenance pet. However, if you're getting a hedgehog for the first time you'll need to acquire a few things before bringing home your new hedgehog friend.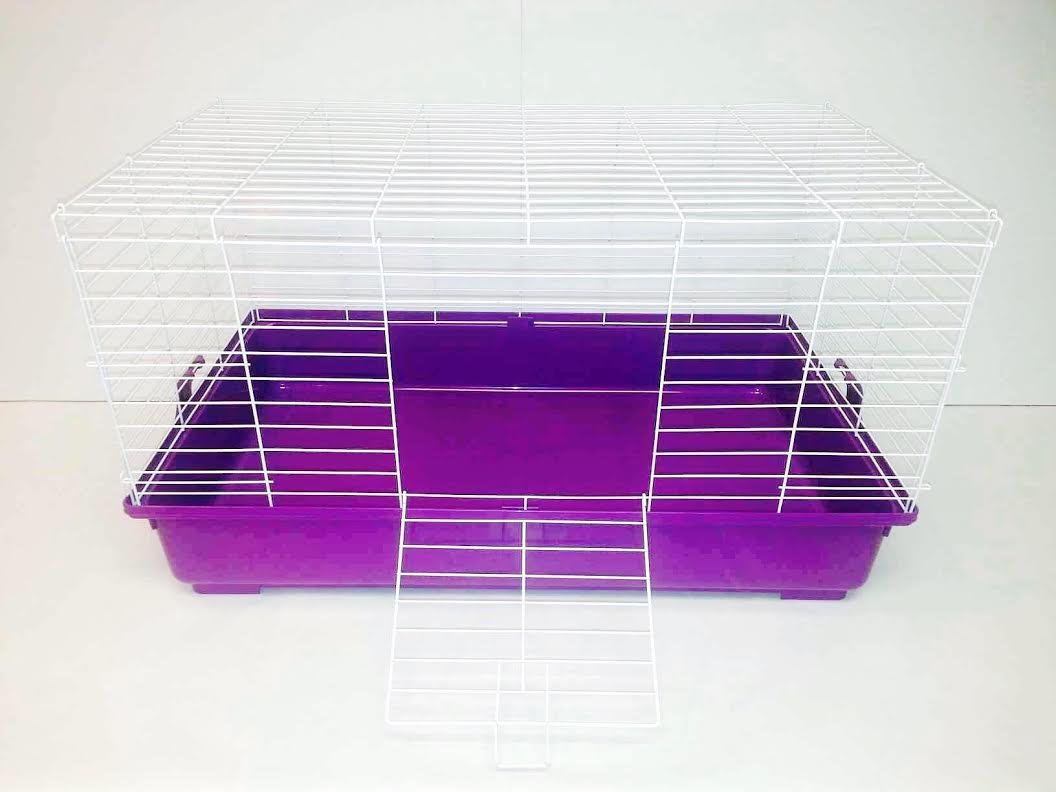 1. A cage that is at least 18″ by 24″ in size. Yes, this seems large compared to how small hedgehogs are. The reason they need a large cage is to make room for the items below and to give them room to walk around. In nature, hedgehogs travel a large distance each day so putting them in a tiny cage would be unnatural for their exercise needs and unhealthy for them. Henry had the Super Pet My First Home
in size large which is currently $42.95 on Amazon.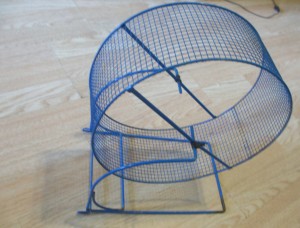 2. An exercise wheel. As I mentioned above, hedgehogs are used to traveling a large distance on a daily basis. As a result, an exercise wheel is an absolute must for hedgies. I had a hamster with a wheel as a child and only saw it run on the wheel once. My hedgehog ran on his wheel every single day – for several hours straight. A wheel with a 11″ or greater diameter is recommended (smaller wheels will cause your hedgies back to bend backwards when they run which isn't healthy for their spine). If the cage isn't in a bedroom, a wheel with a solid surface is best (such as the Kaytee 12-Inch Giant Silent Spinner Exercise Wheel
is best). Despite its "silent spinner" name I found this wheel to be EXTREMELY loud – I couldn't sleep with Henry running on his silent spinner in another room. So I eventually switched to the Super Pet Run-Around Giant Exercise Wheel, 11-Inch
) instead. This wheel was truly silent but it isn't as safe for hedgehogs because it has tiny holes in it that they can catch their nails/feet in and get hurt. Henry used it for 4 years without an issue but it's a risk.
3. Food dish. Of course, your hedgehog will need a bowl to hold his food in. Even as a full grown hedgehog, their mouth will only be slightly more than an inch from the bottom of the cage so it needs to be very shallow. My hedgehog liked to push lightweight items around his cage and would spill his food all out with the first few food dishes that we purchased. So we tried a few bowls without much success until I was throwing out a scentsy warmer and realized the top of it was very shallow but VERY heavy. So I cleaned it thoroughly and then used it as a food dish which was perfect. Of course, most people don't have a scentsy warmer top laying around so I would recommend going to a pet store and picking up a variety of hamster, mice, rat or guinea pig food dishes and buying the heaviest one you can find.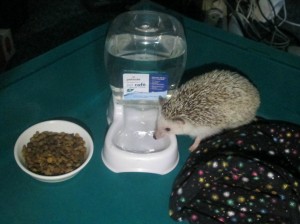 4. Water dish or bottle. Some people like to use water bottles (similar to a hamster or rabbit water bottle) for hedgehogs. My hedgehog would chew on the edge so I quickly got rid of it. Hedgehogs do NOT have an endless 'supply' of teeth so if they break or lose their teeth they will not regrow so its important to prevent your hedgehog from damaging his teeth. Like the food dish problem, I tried several varieties before finally finding the Petmate Pet Cafe Pet Waterer
in the 1/4 gallon size wich is a gravity waterer like you often see for cats or dogs but it only holds 1/4 of a gallon of water so its small enough to fit in a hedgehog cage. The bowl portion is shallow enough for hedgehogs to reach. The 1/4 galon of water is heavy enough to hold it into place. See my full Petmate Cafe Waterer review for more info.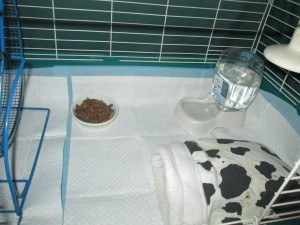 5. Liner, pee pads or bedding. To keep the cage clean you'll need some sort of protection for the bottom of your hedgehog's cage. Some people use wood shavings (like hamster bedding) but it's important to avoid brands that are dusty because hedgehogs have sensitive lungs. It's also important to avoid cedar-based shavings because cedar shavings contain toxins that are bad for hedgehogs. Most people I see on hedgehog forums use fleece liners which are sewn rectangles of fleece that are made to the cage size. Most people buy a couple and then rotate them when the other is in the wash. These can be found on Etsy or handmade (Be sure to check for any loose strings before putting in the cage to prevent a foot getting tangled in the strings. I personally opted to use doggy pee pads. Some people warn against these because some hedgehogs will try to chew/eat the pads which isn't safe. In the 3.5 years that I had my hedgehog before he passed, he never once tried to chew the pads but it's something to be aware of.
6. Food. Hedgehogs can eat cat food but only certain varieties. It's important to research which cat food varieties have been approved for hedgehogs. We used Blue BuffaloWeight Control Dry Cat Food
. The 3lb bag is around $12 at my local pet store and lasted over 6 months (maybe closer to 8?) per bag.
7.  A moisturizing lotion or body wash with oatmeal. Several months after getting my hegehog, he started scratching CONSTANTLY. My first worry was that he had fleas or mites or something, but I quickly learned that he simply had dry skin (it was winter). To prevent dry skin in hedgehogs, use a natural oatmeal-based mositurizer in their bath water. I saw Aveeno Daily Moisturizing Lotion
recommended in hedgehog forums so that's what I used. I put it in the water itself instead of directly on him and it stopped the itching.
8. Ceramic heat emitter. Pet hedgehogs are not designed for typical US climates. They are comfortable at temperatures much higher than we are and they can try to hibernate if left at a typical room temperature of 68-72 degrees. To keep them warm you'll need a heat emitter that does not shine light (they are nocturnal and need the darkness) but instead just produces heat. Ideal cage temperature for a hedgehog is about 75-80 degrees. We used the Zoo Med Ceramic Infrared Heat Emitter 100 Watts
.
9. Thermometer and Thermostat for the heat lamp. Hedgehogs can overheat if their cage reaches roughly 82 degrees or higher. To prevent the heat lamp from letting the cage get too hot, you'll need a thermometer such as the Zoo Med Digital Terrarium Thermometer
to keep track of the cage's temperature. You'll also need a thermostat such as the Zoo Med ReptiTemp 500R Remote Sensor Thermostat
to regulate the heat emitter with.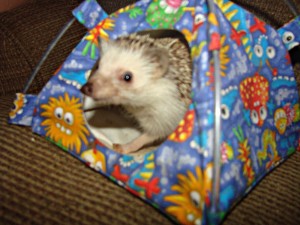 10. A bed or igloo. Hedgehogs are nocturnal and they sleep a lot. They will want to cover up and hide to go to sleep so they need somewhere to hide. Many hedgehog owners use a plastic igloo such as the Kaytee Guinea Pig Igloo Hide-Out, Large
for their hedgehogs. I tried an igloo at first but my hedgehog would try to crawl under his cage liner to sleep instead. So next I tried an etsy cuddle sack which is just a sewn fleece 'bag'. My hedgehog wasn't smart enough to use his nose to seperate the two layers of fleece and crawl inside. Next I fell in love with the hedgehog tents from Laurel's Zoo because they were super adorable. My hedgehog would go inside while awake sometimes, but wouldn't sleep in it. I think it was because it felt too exposed as a result of the opening. So I went back to Laurel's Zoo on etsy for her stay-open sleepsacks and thos ewere a huge hit. I wound up with two fleece sacks and one cotton one and my hedgehog always preferred the fleece ones. I am not sure if this was because of the fabric or if it was because the fleece sack would stay 100% open and untangled, where as the cotton one would occasionally have the two layers of fabric catch on each other where I would have to put my hand inside to straighten it back out. Either way, I highly recommend the Laurel's Zoo sleep sacks as we used ours for 2+ years before my hedgehog passed away so it was washed dozens of times but held up great. See my full Laurel's Zoo review for more info.