*There are affiliate links in this blog post.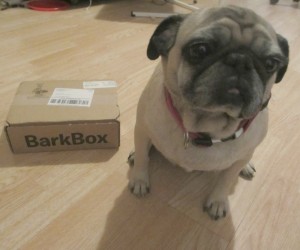 BarkBox is a monthly subscription box for dogs that includes toys and treats. I've been getting this box for my pugs Frank & Beans since November and we've really enjoyed it so far. I prefer it over the other dog subscription boxes because it doesn't include grooming products or accessories. We have three bottles of dog shampoo already so we likely won't use up what we have for a couple of years, and we already have brushes that we are really happy with, etc so I don't like getting random grooming or accessory items. I like how BarkBox offers different boxes depending on your dogs size (some are the same for all sizes of pets) because my dogs are easily intimidated by toys, and will only play with very small toys. Being able to choose the small box for my pugs means that the toys that we are sent are much more likely to suit their needs. I've seen people on the BarkBox facebook page tell the company that their dog is an aggressive chewer and BarkBox allows people to email them to say their dog is an aggressive chewer and their subscription will be tagged as a strong chewer box so the toys included in your box will be super durable.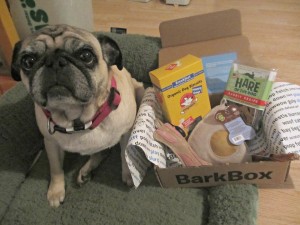 This month our box had two dog toys from the brand Aussie Naturals – one was an egg and the other bacon. These are a great size for my dogs but they didn't really care for them. My dogs are huge toy snobs so it's really hard to get them toys they enjoy.
The treats were Wagatha's breakfast biscuits and Hare of The Dog red apple & dandelion treats. Barkbox is selective about which treats they send in boxes, you won't find filler based dog treats in their boxes. So far, me and my dogs have both been happy about all of the treats that we have gotten through our BarkBoxes.
We also got a chew this month, it was a Barkworthies junior bully stick. My dogs love bully sticks in general and they seem to go a little crazier over Barkworthies than they do other brands. So this was another 'win' for us.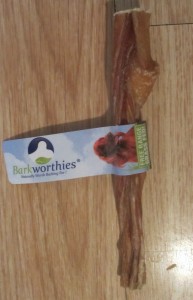 I love finding new products and brands, it's a fun way to get out of the habit of always buying the same products for my dogs. If you want to sign up, use my link to save $5!

*There are affiliate links in this post.