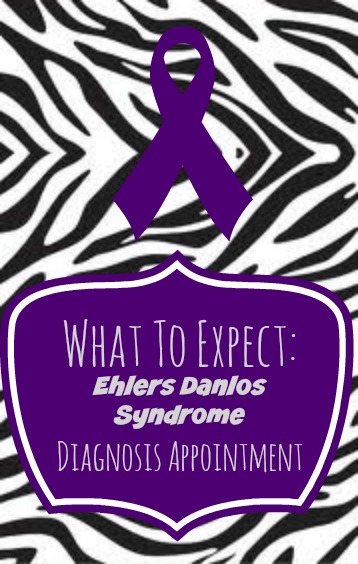 A few years ago I heard that my half-sister had been diagnosed with Ehlers Danlos Snydrome, which is a genetic condition. She believed that it came from our father's side of the family instead of her mother's. I did a quick google search and saw that it included symptoms that I had such as "double jointed" fingers and stretchy skin.
I wondered if it was possible that I had the condition, but I was healthy overall and my stretchy skin and "double jointed" hands didn't cause me any problems so I didn't seek out a diagnosis.
Back in October I had two tonic clonic seizures (previously called grand mal) and since then I've had a handful of different doctors and have been asked more questions about my health than ever before. At some point it was brought up that my sister has been diagnosed with Ehlers danlos syndrome (EDS) and that I showed symptoms. My primary care doctor said she had heard of EDS but couldn't recall the details of it offhand so she had me set up an appointment for a few days later so she could research it.
When I went in for that appointment she had me run through the Beightson scale test and she thought I was an 8 out of 9 so she referred me to a geneticist at the university of Michigan in Ann Arbor. My appointment was with Dr. Stern.
I had no idea what to expect from the EDS geneticist appointment. I read online that it would mainly be about diagnosing me and not treating. I was mailed a big questionnaire packet that asked about my health history and details about my family members' health conditions as well.
During my appointment with Dr Stern he started off by showing me a family tree that included health conditions that I listed for each member. He mainly had me verify that everything listed was accurate and he asked a few questions as well. For example, my grandma had cervical cancer and lung cancer and he was curious if the lung cancer resulted after the cervical cancer or if they were separate from each other. He asked if I knew details about the type of EDS that my sister had (I didn't really know anything other than she was diagnosed with EDS by a geneticist).
After we went over the family details he asked me about my own health history including asking about my pain level, whether I had experienced dislocations or subluxations, how my body handles bruises and scaring.
Once that was over he gave me a hospital gown to put on. When he came back into the room he thumped around on my back, felt my chest, looked over my legs, teeth, mouth and tongue. He turned the lights off and looked into my eyes with a light. He gave me a blanket to put over my legs, and then asked me to raise the hospital gown up under my chest to bare my stomach while he pushed on various spots. Then he went through the beighton scale "test" with me – having me bend back each pinky, put each thumb to my wrist, hold my arms out straight, stand up (to check my knees) and then he had me bend over and touch the floor with my hands flat on the floor. When I bent over he also checked my back for signs of scoliosis.
Once he was finished he had me change back into my regular clothes. When he came back in he explained that I scored a 5/9 (one point for each pinky, one for each thumb and one for putting my hands flat on the ground without bending my knees). Based on the 5/9 score he said he believed I had EDS and because I didn't show any signs of classical or vascular types that he felt it was type 3 or hypermobile type.
He gave me some papers with recommended books and websites to check out with more information about EDS and the appointment was over.
I didn't get any referrals or recommended for any additional testing, though I've read that most people are told to have heart-related tests done. Most days I am pain free which is rare for EDS so I assume that is the main reason why I wasn't referred elsewhere.
I'm sure other geneticists may do things slightly differently, and Dr Stern may have had me do other things if I had other symptoms, but I thought I would share my experience because I wanted to know what to expect at my EDS geneticist appointment before I went and wasn't able to find very many detailed experiences on the net.
If you've seen a geneticist for EDS testing let me know in the comments below how yours was similar or different from my visit.
See more posts like this:
EDS